Top hotel brand for Exhibition Centre Liverpool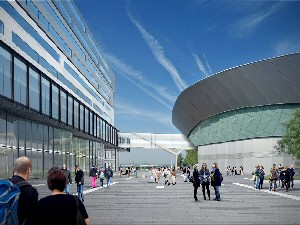 LEADING luxury hotel brand Pullman is on-board for Exhibition Centre Liverpool, with the announcement that an upscale 4 star hotel will be at the heart of the stunning new venue.

Pullman has hotels all over the world, including all the major European cities, but only one in the UK, in St Pancras, London. The Pullman brand is owned by international hotel company Accor.

While Pullman is selected as the hotel brand, Branded Hotel Management (BHM) has also been appointed as the preferred operator for the 200 room 'headquarters' hotel integrated into the £40 million exhibition centre at the Kings Dock.

Liverpool City Council and its partners can now drive forward with the design and construction of the £26 million hotel, with up to 10,500 square metres of floor space and seven storeys of rooms, above a ground floor reception, lobby, restaurant, bar, meeting rooms and gym.

A full planning application for the exhibition centre, which will form part of ACC Liverpool, home to BT Convention Centre and Echo Arena-and an outline application for the hotel, was submitted in February with a detailed application submitted on Monday, 22 April 2013. If planning permission is granted, construction of the new facilities will commence in autumn 2013, opening for business in spring 2015.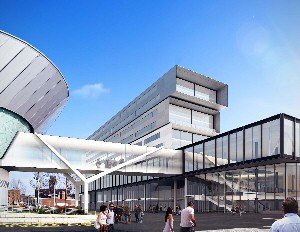 Mayor of Liverpool Joe Anderson said:- "Attracting Pullman to Liverpool is a major coup for our City and another massive step forward in the delivery of our world-class exhibition centre. We wanted to make sure we were able to bring in a high quality hotel brand and an experienced operator to match our ambitions for the exhibition centre, and we're confident that BHM with Pullman/Accor is the right appointment to enhance the venue's profile to national and international visitors, as wellas increasing the diversity of Liverpool's hotel offer. Exhibition Centre Liverpool is one of my major priorities as Mayor. It will build on the huge success of ACC Liverpool and help put us in the premier league in terms of hosting international exhibitions. It will also boost our economy by £40 million a year. All of the pieces are now falling into place for this fantastic facility. With the hotel operator now recruited and the planning application in, we can look forward to things moving forward quickly."

The selection of Pullman and BHM is another big step forward for the scheme, following the appointment of international construction company ISG - responsible for the construction of the 6,000 seat London 2012 Velodrome - and Denton Corker Marshall, who designed the Melbourne Exhibition Centre, as architect. ISG has been appointed to construct the hotel as well as the exhibition centre.

Bob Prattey, chief executive of ACC Liverpool, home to BT Convention Centre and Echo Arena, said:- "This is another significant step in enhancing ACC Liverpool's offering to all of our client groups. It is a real vote of confidence that Pullman and BHM have chosen Liverpool for their 1st new build hotel to carry the Pullman quality brand. The hotel development will strengthen and complement our existing hotel offering both on site and across the City to offer a complete range of star rated accommodation. The introduction of the 4 Star headquarter hotel will undoubtedly open new markets for ACC Liverpool."

Andrew Rouse, commercial director of BHM, said:- "We are delighted to be working with Liverpool City Council and Accor to operate the 1st new build Pullman hotel in the UK. We are excited to be involved in such a major development in Liverpool which will also bring significant employment benefits to the City."

Liverpool City Council is working with the Homes & Communities Agency (HCA); the current site owners of Kings Dock; on an agreement to release the seven acres of land adjacent to the existing arena and convention centre, to facilitate the development.

Funding for the facility is being raised through borrowing supported directly from the revenue generated by the expanded ACC Liverpool, so that the project will be at no cost to tax-payers. It will be wholly owned by Liverpool City Council and the exhibition centre will be managed and operated by the existing ACC Liverpool team.

Tennis tournament serves up training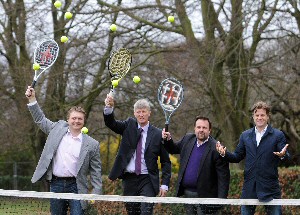 UNEMPLOYED people are to get the chance of a free qualification and a job through the Liverpool International Tennis Tournament.

A partnership between the City Council, stewarding company Control Event Solutions (CES) and Northern Vision will see those aged over 19 offered the chance to gain an NVQ Level 2 in Spectator Security, at the Calderstones Park event.

They will be mentored during on-the-job training at the tournament, which takes place from 20 June to 23 June 2013, and also take part in 3 days of study for the qualification.

All those who pass the exam will get a guaranteed interview with CES. They employ over 2,000 stewards and have contracts for many big events and the ECHO Arena.

Councillor Nick Small, Cabinet member for Employment, Enterprise and Skills, said the:- "This is a great partnership which is a win-win for everyone involved. It gives young people a chance to be involved in one of the most prestigious events in our events calendar, a worthwhile qualification and the chance of future employment."

Chris Shirling-Rooke, Director of CES, said:- "This is a fantastic opportunity for Liverpool, one that we're happy to support as a local employer. We've found working with the Council and the Liverpool International team has enabled us to deliver what is quiet a technical project, with relative ease."

Anders Borg from Northern Vision said:- "We are very excited and honoured to be part of such an unique and important scheme through the Liverpool International. The economy is indeed very difficult for our industry, but by helping unemployed into work in addition to showcasing what a great sport tennis is a fantastic way for Northern Vision to contribute to grow the economy."

Applications can be made through Liverpool in Work on 0151 233 5309 / 4605 or by visiting:-

► The Job Bank, Tunnel Road, Wavertree
► Norris Green Library, Townsend Avenue, Norris Green
► The Liverpool in Work office, South Parade, Speke

The closing date for applications is Friday, 3 May 2013.
Bright Club comes to the East Village Arts Club
AS part of its ethos to bring a diverse, inspiring and engaging range of arts and culture to Liverpool, the East Village Arts Club is proudly delighted to announce its collaboration with Bright Club.

The news heralds a clarion call to the City's academics, its universities for speakers and local comedians to participate in a series of forthcoming events which will expand the mind in an illuminating and humorous way. Bright Club is formed by everyone who participates in it, and needs people from scholastic backgrounds who would like to get involved to come forward. This can be talking about anything from the impact of global warming to the science of sleep, to what makes the sky blue or why bread always lands butter-side down; guests can bring any subject they know intimately to Bright Club's audience.

Bright Club already takes place in over 11 cities across the UK. Intriguingly titled topics including Bodies, Family, Consequence and Growth are presented by fascinating speakers including evolutionary psychologists, mechanical engineers, medieval historians, quantum physicists, economists, mathematicians, cultural linguists, philosophers, nanoscientists and many more. Bright Club is all about edifying fun and inspiring introspection, compered by comedians in an exciting experiential environment.

The original Bright Club started in London in May 2009, posing the questions:- "What would happen if we got a bunch of interesting comedians and combined them with all of the fascinating people who work for one of the UK's best universities? And what would happen if we did that combining on a stage, in front of an attractive and intelligent public audience? And what if we didn't worry about whether people were famous, or experienced, or had been on TV, and instead just picked people that we thought were brilliant at telling stories about what they know?" It's this engaging spirit of enquiry and developing knowledge which is coming to the Arts Club.

Bright Club needs Liverpool's local university speakers, academics and comedians to come forward and help create the 1st events. Training for public speaking will be provided.
For anyone who is interested, please contact:- david.laing@mamaco.com for more information to take part in something special happening at the Arts Club this year.