Dance to Neverland in an exciting new project from the Liverpool Empire's Creative Learning team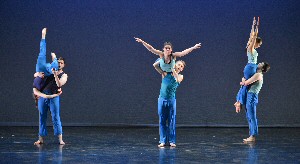 THE Liverpool Empire's Creative Learning Department is delighted to announce its latest project – A full scale dance production of the classic fantasy story Peter Pan!

The project will be choreographed by Liverpool Empire's newest member of the Creative Learning Department Lauren Taylor. A Laban trained dancer and choreographer, and fully qualified ballet teacher, Lauren said:- "As the Stage Experience productions have been so successful in the past I wanted to create something of the same calibre solely for dance. We want to introduce new people to the dance experience and to showcase all the talent we have in the North West".

On 5 May 2013, 100 young people between the ages of 11-21 years will be chosen from an open audition to take part in the project. "There really is something for everybody from Principal roles of Peter and Wendy, the fearsome Pirates and boisterous lost boys, to exquisite fairies and beautiful mermaids."

Laura Meeson, Co-choreographer and dance teacher at Merseyside Dance and Drama Centre, said:- "Peter Pan youth ballet will introduce young people and their friends and family to dance at the Empire Theatre, while simultaneously offering serious ballet students the professional performance experience to develop their skills".

Natalie Flynn, Creative Learning Manager for the Empire, said:- "We're absolutely delighted to be presenting this unique interpretation of Peter Pan through the Empire's Creative Learning department. It's another exciting development for the department which continues to go from strength to strength and will once again provide a fantastic platform for the talented young performers from the region."

Through dance we are going to create a magical tale of swordplay and swashbuckling adventure where Wendy and her brothers help Peter Pan, Tinkerbelle and the lost boys fight against Captain Hook in a land where children are heroes!

If you are interested in taking part in this production of Peter Pan please contact Lauren Taylor at Liverpool Empire's Creative Learning Department on:- 0151 702 7339 or via email.

Auditions are free to anyone who completes and returns an application form by 29 April 2013.

The Empire Performing Arts Group provide opportunities for young people to work with professionals in a professional environment, preparing them for the world of work within the theatre industry and many of those involved go on to pursue professional careers in performing arts. Some of those who are involved in the Youth Theatre Group have secured places at some of the best drama schools in the country.

Merseyside MPs Reluctant to Act on Palestinian Children
ONLY 3 Merseyside MPs have supported a Government-funded report which condemned human rights abuses against Palestinian children. In September 2011 a delegation of 9 senior UK lawyers, funded by the Foreign Office, visited Palestine and investigated the treatment of Palestinian children detained under Israeli military law.. Their report Children in Military Custody was published in June 2012.

The report highlights the fact that Palestinian children are subject to Israeli military law while Israeli children are subject to Israeli civil law. It lists violations of both the Fourth Geneva Convention and the UN Convention on the Rights of the Child - failure to advise children of their legal rights on arrest:-
► Shackling of children.

► Transfer of child detainees to Israel.
► Solitary confinement of children.

► Administrative detention of children, without trial.
Similar issues have also been raised by Defence for Children International (Palestine) and the UN Commission for Human Rights.

At the beginning of this year, a House of Commons Early Day Motion (EDM 280) welcomed the Report and asked for action from the Foreign and Commonwealth Office. The EDM was initially signed by 72 MPs but none of these were from Merseyside.

Members of Liverpool Friends of Palestine contacted ten Merseyside MPs to ask them for their response but only three have taken any real action. Frank Field (Birkenhead) and Bill Esterson (Sefton Central) have both now signed the Early Day Motion. George Howarth (Knowsley North) has this week asked Parliamentary Questions on night-time arrests of Palestinian children, on recording Israeli police interviews with Palestinian children; and on the blindfolding or hooding of Palestinian children on arrest.

Stephen Twigg (Liverpool West Derby) and Maria Eagle (Garston and Halewood) replied that as members of the Shadow Front Bench they were unable to sign EDM 280 or raise the issue on the floor of the House. Mr Twigg has previously raised concerns of his constituents about Palestinian human rights. Ms Eagle expressed her concern about the detention of Palestinian prisoners without trial for long periods.

Luciana Berger (Liverpool Wavertree), Louise Ellman (Liverpool Riverside), Alison McGovern (Wirral South), Esther McVey (Wirral West) and Shaun Woodward (St Helens South and Whiston) have taken no positive action. Ms Ellman and Ms Berger passed their constituents' concerns to the Israeli Embassy, while Ms McGovern passed them to the Foreign and Commonwealth Office for reply. Ms McVey simply replied that Alistair Burt, Parliamentary Under-Secretary of State at the Foreign and Commonwealth Office had referred the matter to the Israeli Embassy. The constituent who wrote to Mr Woodward has received no reply at all.

It is extremely regrettable that so few Merseyside MPs have signed the EDM or asked questions in Parliament. We have released this statement to coincide with Palestinian Prisoners Day.