Applications open for 'Homes for £1'
LIVERPOOL City Council are currently inviting formal applications for an innovative scheme which is giving 20 local residents the opportunity to buy a house for just £1.

The City Council announced in February that it was launching a pilot 'Homes for £1' scheme, as part of plans to breathe new life into vacant properties in Granby and Picton.

There has been an overwhelming response to the plans, with over 4,000 people registering an interest in acquiring one of the 20 properties. Now, the Council is inviting these people to complete the full application form.

The form is also available online from the afternoon of Wednesday, 24 April 2013 on the City Council's website. Local people who did not originally register an interest are still able to apply, by visiting:- liverpool.gov.uk/homesforapound and completing the form. The final deadline for responses is Tuesday, 7 May 2013.

Mayor of Liverpool Joe Anderson said:- "I've made it a priority to bring 1,000 empty properties back into use in this City and to help as many local people as possible get onto the property ladder. This innovative scheme will support both these aims. There is a huge amount of demand for these £1 homes, but it's important that people realise that everything we are doing is about building a sustainable future for our neighbourhoods. That's why we are only looking for people who have a genuine commitment to bringing these properties back to life and turning them into a home they are proud to live in."

The form sets out the criteria that people must meet in order to be eligible for one of the houses. Applicants must live or work in Liverpool, must be a 1st time buyer and must be employed.

Applicants are asked to specify which area they are interested in; Webster Triangle, Granby, or Arnside Road; and provide details of any local connections they have with their chosen area. Applicants must also agree to live in the property for a minimum of 5 years and not sub-let it within this time. They are also asked to specify how they intend to undertake and finance the refurbishment of the property.

Liverpool City Council's Cabinet Member for Housing, Councillor Ann O'Byrne, said:- "We know how important strong, thriving communities are to local people, and that's why we're doing everything we can to bring our empty homes back into use. Properties in these areas have lain empty for too long, but in tough economic times, we need to be creative and look at doing things differently. We've been really pleased with the public response to our homes for £1 scheme, and we're optimistic that this will prove to be an effective way of unlocking investment in properties, providing people with a much-needed home and attracting people back into our neighbourhoods."

Residents who are successful in obtaining a home will be expected to refurbish it to Decent Home Standard, which means it must be in a reasonable state of repair, be warm, weatherproof and have reasonably modern facilities.

The City Council estimates the scale of works required on each property is likely to cost more than £35,000 and is currently exploring whether short-term financial assistance could be provided to people, where required.

Those successful in obtaining a property will sign up to a building license. The property will be surveyed and a works schedule provided, with refurbishment expected to be completed within 12 months.

On completion of the works, the property will inspected to ensure that the refurbishment has been carried out satisfactorily. The property freehold will then be transferred from the City Council to the purchaser.

To formally apply for the 'Homes for £1' scheme, or for more information, residents should visit:- liverpool.gov.uk/homesforapound Alternatively, residents can call:- 0151 233 3073. The closing date for applications is Tuesday, 7 May 2013. The City Council will assess all applications before making a decision on who will get the properties, and where they will be, in June 2013.

Recent success at Taekwondo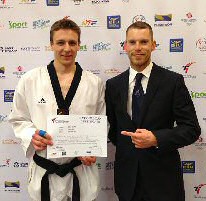 UNITE Taekwondo made an extremely impressive showing at the Dan Grading in Mansfield last weekend (13 April to 14 April). Students Jake Clarke, Nadia Kippax and Josh Kippax all produced fine displays to attain their coveted 1st Dan on Saturday, whilst Tim Dunn gave an outstanding performance to achieve his 2nd Degree on Sunday. Nadia's performance was even more impressive considering she suffered a badly dislocated knee only 9 months ago!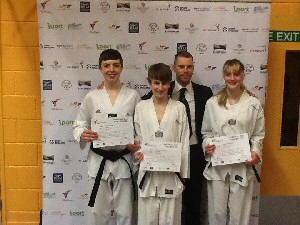 A grading panel of 6 Masters from British Taekwondo who are the National Governing body for the sport in this country, and, who oversee Team GB and Olympic competitions oversaw the event. It was satisfying that the Board made mention of all 4 local students in recognizing outstanding performances over the weekend. Master Thomas Chief Instructor at Unite Taekwondo was hugely gratified with the performances of his students and is looking forward to helping these students progress and fulfil their next goals. If anyone would like to try Taekwondo out we offer 4 FREE class in Southport and Formby, should call them on:- 01704 500 323 or visit unitemartialarts.com for more information.
County scoops jackpot
COUNTY ward residents have hit the lottery jackpot. Walton Village Residents Association has successfully bid for £10,000 from the Awards for All scheme.

They have landed the cash to put on a number of activities, ranging from providing holidays for elderly residents through to cabaret afternoons with local acts to raise money for charities.

The money raised from the bingo at cabaret afternoons will be given to Local Solutions to provide telephones to help keep people at risk of domestic violence safe, and the 'Shine a Light' project with the Basement to celebrate the achievements of homeless people.

The funding will also enable a group of 90 older people to enjoy a week at Prestatyn Sands Holiday Park in North Wales.

Councillor Gerard Woodhouse, Mayoral Lead for Older People, said:- "This is great news and will enable us to continue running a series of important projects which really benefit people living in County. Getting out and about, meeting others and spending time doing activities makes a major different to people's health and wellbeing."

Councillor Eryl Owen, Secretary of Walton Village Residents Association, added:- "This is a relatively small amount of money but it makes a big difference to the lives of many people."