Merseyside magistrates urged to impose fewer prison sentences
MAGISTRATES on Merseyside are more than twice as likely to send someone to prison as courts in other parts of the country, figures obtained by the Howard League for Penal Reform.

New research by the charity shows that people who have been convicted of a crime in England and Wales face a postcode lottery when they are sentenced.

A growing number of magistrates' benches are making good use of community sentences which reduce crime and help people to turn their lives around. However, some benches are still imposing prison sentences in cases where they are unnecessary.

The statistics show a striking disparity between sentencing rates in different parts of England and Wales. Courts on Merseyside imposed custodial sentences in 3.7% of the cases they heard in 2011; more often than areas such as Warwickshire (1.5%) and Northumbria (1.6%). The national average was 3.8%.

Magistrates' courts on Merseyside handed down 40,955 sentences to men, women and children during 2011, of which 1,496 were custodial. Overall, magistrates' courts in England and Wales reduced their use of custody by a quarter between 2001 and 2011.

The maximum sentence that a magistrates' court can impose is a 6 month prison term, or up to 12 months in total for more than one offence.

Frances Crook, Chief Executive of the Howard League for Penal Reform, said:- "It is pleasing to see that magistrates' courts are sending fewer people to prison overall than they have in the past. However, one cannot ignore the striking disparity in sentencing trends between different criminal justice areas. A short-term prison sentence is a catastrophe for everyone. It does not help change the life of the person sentenced; indeed, it is likely to compound issues such as drug addiction and make them more likely to reoffend. It costs the taxpayer a fortune and it does nothing to help victims, who get no recompense or easing of trauma. A court which imposes short prison sentences increases the likelihood of local people becoming victims of crime, because the failure rate is so high. Community sentences are much cheaper than custody and they deliver better results. They not only address a person's offending, but allow them to access other services they need, such as help with drink, drugs or mental health problems."

The statistics have been published as Ministry of Justice figures show that short-term prison sentences are failing to cut crime. Only 36% of adults who began community orders between April 2010 and March 2011 went on to reoffend within a year. This compares with 58% of adults who completed a prison sentence of 12 months or less during the same period.

A survey, conducted by the Howard League and the Prison Governors' Association, found that many prisoners preferred a short-term prison sentence to a community sentence because they were easier to complete. Others considered community sentences to be a greater punishment than prison.

The country's best community sentencing programmes are recognised by the Howard League's annual Community Programmes Awards, a competition which began in 2005.

Proportion of defendants dealt with by magistrates' courts on Merseyside who received immediate custodial sentences:- 2001: 5.0%; 2006: 5.8%; 2011: 3.7%.
Airport staff raise thousands for charity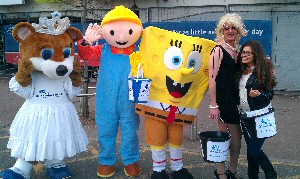 LAST week saw SSP, located at Liverpool John Lennon Airport (LJLA), raise £3,700 for UK children's charity, When you Wish Upon a Star. SSP has XX catering outlets located within LJLA's terminal building and all have been involved in this year's drive to raise money for the charity, which aims to grant the wishes of children suffering from life-threatening illnesses. Hollyoaks actress Rachel Shenton, who played Mitsee Minniver, came to show her support last week as the SSP team took part in a charity abseil down the multi-storey car park, encouraging airport staff to take a leap of faith with them. In addition to adrenalin filled activities the team held a fancy dress day including a raffle and sold Lavazza coffee, hot drinks and cakes outside the terminal in a campaign supporting the charity. Manager of When You Wish Upon a Star, Sue Hickling, said:- "SSP Air UK employees, having taken the charity to their heart, constantly use their ingenuity to find new ways to raise funds. Abseiling at Liverpool Airport and selling coffee from a mobile cart proved a huge success raising £3,700! So far their efforts will enable children to swim with dolphins, visit Cinderella's Castle for tea with a princess, and travel to Infinity and Beyond with Buzz Lightyear. We couldn't be more grateful constant for their support." SSP will continue its fundraising efforts nationwide throughout the year.

Sandwich takeaway boss bids for national title with her roast dinner special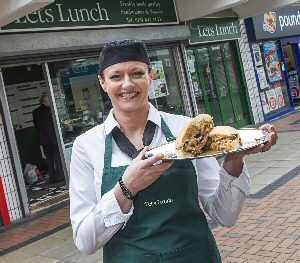 A sandwich shop owner in Birkenhead aims to put the perfect topping on her successful business by carrying off a coveted national title. Paula Smith, who has run the popular takeaway Let's Lunch in The Grange and Pyramids Shopping Centre for the past decade, has been chosen as one of seven from the North West of England to go through to the final of this year's Sandwich Designer of the Year competition. And she is hoping that the fantastic filling which carries her to victory in the final will be her mouth-watering roast chicken dinner sandwich, which has been wowing her own customers since she launched it last November. When she makes it for sale at Let's Lunch, 43 year old Paula builds it from slices of juicy chicken, stuffing, gravy and real roast potatoes. But she reveals that the version she will be preparing for the grand final at a swish London hotel in May will have an added ingredient which she hopes will be the secret weapon that mops up the opposition. It was the result of a competition she ran to mark the tenth anniversary of Let's Lunch last November that the idea for the novel roast dinner sandwich was cooked up. Her business has become firmly established since it opened, drawing in customers from a wide area, and Paula currently has a team of three assistants helping her to operate the takeaway six days a week supplying a wide range of sandwiches, filled jacket potatoes, toasties and home-made soup.

Paula, who lives with husband Lee and their 6 year old son Harvey in Wallasey, said:- "The competition was for our customers to come up with a new sandwich with the best one being made up for sale at Let's Lunch. One of my customers, Pete Walsh, suggested the roast dinner sandwich and we chose it because I'd never heard of anything like it being done before. I make it with lovely fresh ingredients. It can be based on chicken or turkey, or even beef or lamb. I then put on gravy, but to bind it together and stop it being runny I add stuffing. The other key ingredient is potatoes roasted the traditional way in duck fat. Since I introduced it and started selling it for £2.50, the sandwich has proved very popular. In fact, one lady comes in for it three or four times a week because she enjoys it so much. When I decided to enter this year's Sandwich Designer of the Year competition I knew it had to be my roast dinner one I was going to make as I reckoned no-one else would think of it."

Paula's strategy was correct because at the North West heat held at Tameside College in Greater Manchester she beat off stiff competition from around 20 other designers, who collectively submitted around 80 sandwich ideas, to become 1 of 2 winners in the chicken category who go forward to the final at the Lancaster Hotel, London, on 16 May 2013. Derek Millar, Commercial Director for The Grange and Pyramids Shopping Centre, who said:- "Paula's sandwich shop business is a real success story and we were delighted to hear that she is taking it a step forward by even winning competitions. Her sandwiches are lovely and I know she has a terrific following so I am not surprised her entry stood out to judges. We all wish her every success for the London final."

Remembering the North West heats, Paula said:- "It was tough going as the competition in the heat was really excellent. Many of them were actually chefs. Only 6 people were supposed to be picked by the judges from the North West, but in the end they chose an extra finalist; which was myself; as the entries were so good they couldn't make up their minds. I'm now really looking forward to competing down in London. This time I'll be up against the very best sandwich designers from all over the United Kingdom, but I'm confident of success with my roast dinner sandwich. On the day we have half an hour to make our sandwiches. I will be doing my usual ingredients but I'll be adding something I don't normally use. It's cabbage fried in bacon fat and incorporating bacon bits. It's my secret weapon. I'm very much looking forward to going down to London with my husband Lee and going to the gala dinner later. If I win it will be prestige for my business."

Last year's Sandwich Designer of the Year was Richard Henderson of Cheddar in Somerset who won the title with a butter brioche sliced apple, raspberry and Italian marscapone toastie.
SERIOUS RTC - CROSBY ROAD SOUTH, SEAFORTH DOCKS AREA, SEFTON
MERSEYSIDE Police have that a have confirm that a 47 years old male died following a collision with a HGV in Seaforth on Friday, 19 April 2013. The road traffic collision (RTC) happened on Crosby Road South in Seaforth, close to the entrance of the Royal Seaforth Docks. A 72 year old driver of the HGV involved in the collision was taken to hospital as a precaution but has been discharged. He is assisting officers with their investigation and has not been arrested as far as we have been informed, at time of uploading this report. Anyone who witnessed the incident, which happened at around 7.15am this morning, is asked to call Merseyside Police on:- 0151 777 5444.