Award winning record producer joins music awards
HE'S created hits for The Beach Boys, Culture Club and many more, and now he's coming to Liverpool to pass judgement on the city's musical talent.

Grammy and BRIT Award winner Steve Levine is set to judge Liverpool's latest musical offerings as he joins the panel of the Liverpool Music Award. The respected record producer will have his say on who takes gold in 16 award categories.

Steve, produced The Beach Boys' 1985 self-titled album – the first to be recorded following the death of founder member Dennis Wilson. He also produced all of Culture Club's classic hits and their three multi-platinum selling albums.

His resume also included working with acts such as Lemmy & Motorhead, The Clash, Liverpool band China Crisis, Mis-teeq and Ziggy Marley. He will play an integral part in the awards, which this year, form part of the Liverpool International Music Festival. And as an extra special incentive for musical acts to enter the awards this year, one of the winning artists, will not only get to experience a recording session in Steve's brand new studios located at Baltic Creative – but he'll also produce a record for them.

Steve said:- "I'm really honoured to have been asked to be a judge for this year's Liverpool Music Awards. The music community of Liverpool has always made me feel very welcome; it's a city brimming with creativity and unique talents, something that I'm sure will be evident to everyone with this year's show."

Steve joins BBC Radio 2 presenter Janice Long on the judging panel.

Nominations for the awards open at midnight on Tuesday 30 April and will be open until midnight on 31 May. The ceremony itself takes place on Sunday 25 August at St George's Hall.

Director of the Liverpool Music Awards, Ellie Phillips, said:- "I couldn't actually believe my ears when I heard that Steve had been confirmed as a judge on the panel, I had to triple check that it was actually THE Steve Levine! Anyone who knows the music industry knows what a respected and extremely talented figure he his. The fact that someone of his calibre approached the Liverpool Music Awards to get involved just speaks of the huge positive impact which the first year had, on a national scale.

Steve explained that he was going to be moving to Liverpool and opening his own studio here, and in addition to joining the judging panel, he offered to produce a record in his new studios for one of the Liverpool Music Awards' seven artist-category winners. This is such an amazing prize, not only because of the recording which will be produced for the artist(s) to keep, but also for the experience of working with Steve himself, which I'm sure will be unforgettable."

Liverpool City Council's cabinet member for culture and tourism, Councillor Wendy Simon, said:- "Liverpool International Music Festival is a celebration of all things music and so to have one of Britain's most celebrated record producers involved is a real coup. It's also a real seal of approval for the music awards which are only in their second year but are already attracting huge names from the industry. I'm sure the addition of Steve to the judging panel will be a huge incentive to musicians to enter the awards, and it will make for a really high-calibre, competitive ceremony!"

To find out more, visit:- liverpoolmusicawards.com.
CHILD BITTEN BY DOG - BOOTLE
MERSEYSIDE Police have confirmed that officers were called to a property in Bootle to a report a child had been bitten by a dog on Tuesday, 23 April 2013. the incident happened at about 12.40pm, when emergency services were called to a property, located on Salisbury Avenue, Bootle, following a report that a family dog had bitten a 16 month old boy. Paramedics attended and found the child with injuries to his head. He has been taken to hospital for treatment. The family have agreed to sign over the dog, a Staffordshire Bull Terrier, to be humanely destroyed. As the incident occured inside a private property and not in public, and as the dog is a legal breed, no criminal offences under the Danger Dogs Act have been committed and there will be no further Police involvement.

Free bus journeys next week in Sefton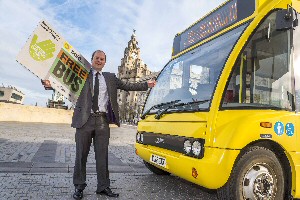 TO mark national Catch the Bus Week (April 29 to May 5) – which aims to get infrequent users out of cars and onto buses - Merseytravel and service operators will be making some journeys completely free.

"We have decided to support Catch the Bus Week in this way because we are conscious that many people aren't aware that the bus really can be the best way to travel. Making some services free gives people who might not otherwise consider the bus a chance to see what it has to offer," said Cllr Liam Robinson, Chair of Merseytravel.

Merseytravel-supported services which will be free all week include the distinctive yellow city centre circular C1, C2, C3, C4, C5 services in Liverpool, as well as the 159 Aintree University Hospital – Walton Park in Sefton, the 265 Halewood – Bold Heath service in St Helens, the 249 Huyton – Longview Leisure Centre service in Knowsley and the 181 service in Wirral.

Bus operators Arriva and Stagecoach are offering their own promotions.

Stagecoach local managing director Elisabeth Tasker said:- "As the campaign aims to promote the bus as an option for certain trips, we thought the best way to get involved was to offer free travel on the bus so people can try it for themselves. During Catch the Bus Week, our promotions team will be out and about in key locations across the area, offering free day tickets and travel advice to people who want to try the bus. More information about our offer will be available from our website."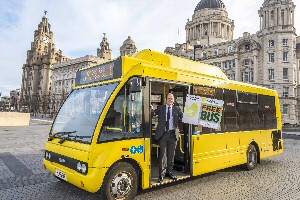 Arriva regional managing director Phil Stone added:- "We are offering free day or family tickets to people to experience the buses that operate in their area. All people have to do to take advantage of our offer is to register for the Arriva m-ticketing service and use our Catch the Bus Week promotional code – 4343, when purchasing a day or family ticket."

Merseytravel's Cllr Robinson added:- "While the majority of journeys on public transport in the city region are made by bus, there are still many thousands of people who could be experiencing the benefits of bus travel - convenience, the potential to save money compared with car use, and environmental benefits – and these are the people we are hoping to reach next week."

Catch the Bus Week is promoted by Greener Journeys, a sustainable transport group. Its Chief Executive, Claire Haigh, said:- "Since 2010 Greener Journeys has been striving to take one billion car journeys off the road and Catch the Bus Week will help us reach this aim. Buses play a crucial role in our society from getting children to school, carrying people to work, the shops or to their local park or swimming pool day in day out. Buses support the economy. Buses also help reduce congestion on the roads, promote social inclusion by providing a vital link to those without other means and reduce all our carbon footprints and travel's effect on the environment."