Riverside Steam and Vintage Vehicle Rally
Photograpic coverage and report by C & L Trollope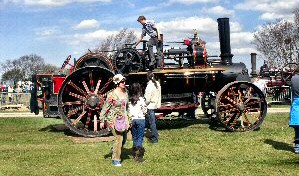 IT was all the fun of the fair when we visited on the 1st day of this 2 day event, on Saturday, 20 April 2013, which was being held at Riverside Holiday Park at Banks, near Southport, Lancashire. Attendance on this lovely spring day was very good, with a complete range of ages from tiny babies to veterans and there was plenty on offer for all. However, there was no overcrowding, so there was plenty of time and space to peruse all the craft, trade and charity stalls with a wide range of goodies on offer. The atmosphere was leisurely and good-humoured. The steam and vintage vehicle were fascinating; so much time and effort must go on their restoration and maintenance, and it was great to be able to appreciate all their efforts. Even at the show people could be seen lovingly tending their gleaming treasures. The lucky few also managed to gain rides. Other exhibits such as the vintage prams, and models collections added extra interest.
Alongside were the usual popular fairground attractions, both old and modern, from big wheel, roundabouts, carousels and side shows, to climbing towers and a Harrier jump jet experience. And, over the two days, the chance to see brave volunteers suffering the ducking stool, to win donated prizes in a charity tombola ,watch a tug-o war and, for animal lovers, to witness the eager and well trained dogs put through their paces, courtesy of Dogs Funzone, of Bamber Bridge and Horus Birds of Prey who had several fascinating birds on display, which intrigued their public, as well as other side events.

There were plenty of opportunities to indulge in cooked meals and light refreshments at the many stalls, and drinks were available at various venues, including the beer tent and a, now becoming a regular feature of the show, ever being refined; Auntie Nellie's Tea Room, a tented version of a traditional British tea room, complete with pretty china and scrumptious cakes and goodies, all baked by volunteers, so more money could go to charity. Throughout the day, lively but not obtrusive music could be heard all around, particularly from the many mechanical organs spread across the area, and on Saturday we heard the accomplished Lancashire Hotpots with their spirited tunes. Paul Hand had also performed but we had unfortunately missed him. Sunday also promised a great line up of musicians. Also, in Auntie Nellies' Tea room, we were treated to catchy renditions by the Wigan Ukulele Club. Ukuleles are apparently seeing a revival in popularity. The band play regularly in Lord Street, Southport. Also in the tearoom was a pianola and its uplifting jingles were an added bonus.

There was much to enjoy on our visit and, hopefully Sunday went as well, although in less clement weather. We hope our photos will offer a glimpse of the event.

One of the Riverside show organisers, William Hunter, took a few moments from his busy schedule to speak to us, and to explain that there are 5 principle organisers: himself, Alan Atkinson, Peter Waring, John Johnson and a representative of the Harrison family, owners of Riverside Park. Each of the 5 takes an equal share of money raised, which is given to a charity or charities of their choice. He added that it was frequently children's charities which are picked, including in the past Derien House, but the Air Ambulance and First Response have also benefitted. Mr Hunter added that each year they seek to make the show as village fair like as possible. The fact that all had gone well was to be attributed to all the hard work of the many including the 'kind people who come voluntarily, without these lovely people it would not be possible'. We add our thanks to his. It is gratifying that even in these cash strapped times people are still willing to enable many visitors to have a great time whilst raising much needed funds for desperate charities. Here's to next year and, if you missed the fun, don't lose out next time!
We are also having more photos in next weeks issue from this event as well as those in this weeks!

To find out more about this show and to get dates for next years, visit:- riversidesteamrally.co.uk.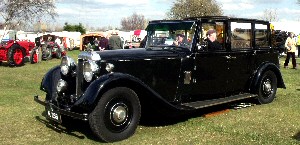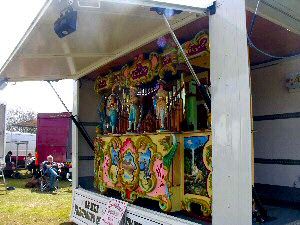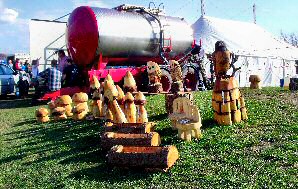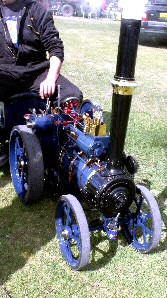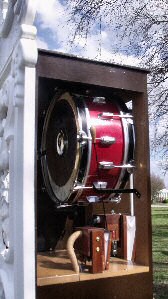 PAGE 1 OF 8