Jake Morrison vows that if elected as MP he will take a pay CUT not rise.
LIVERPOOL'S youngest Councillor, Jake Morrison, 20, resigned from the Labour Party last month as he announced that he will be standing as an Independent Candidate for Liverpool Wavertree at the 2015 General Election. Jake's resignation from The Labour Party came amid a row with the local Labour MP Luciana Berger, and frustration with the direction of national party policies.

Commenting on the proposed pay rise by the Independent Parliamentary Standards Authority, Jake Morrison said:- "It is shocking that after years of a pay-freeze for millions of lowpaid workers, MPs are set to take an 11% pay-rise. I worked in supermarkets, youth centres and the Royal Liverpool Hospital, with some of the most dedicated people I have ever worked with. I'm confident that they would be delighted with an 11% pay rise, or even just £65,000. I am today pledging that if the people of Liverpool Wavertree elect me as their Independent MP in 2015, I will take a pay cut of over half, down to £30,000. The other £35,000, or £45,000 if the pay increase goes through, I will donate to charities based in Liverpool that I work with. I just couldn't take an 11% pay rise on a salary already worth £65,000 and expenses, while those healthcare assistants on £13,000 I worked with are facing a cost of living increase, with very little wages. Let's not pretend that MPs are scraping by in life on the wages they are on. I've not heard of an MP needing emergency supplies from a foodbank, but I'm aware of many low-paid workers needing a helping hand. People talk about trying to attract good quality MPs, so a pay-rise is needed. We need more good quality nurses, teachers, Police officers & fire fighters, but we sadly don't talk about giving them £75,000 a year."
AN 11% RISE WOULD BE A KICK IN THE TEETH FOR THE MILLIONS OF WORKERS
THE principle of MPs getting a decent salary is not an issue for what is an important job and they should only have one job says GMB, commenting on the reported 11% pay increase for MPs.

Paul Kenny, GMB General Secretary, said:- "The principle of MPs getting a decent salary is not an issue. MPs should be paid properly for what is an important job and they should only have one job. In the current circumstances, where these same MPs are responsible for policies which have led to pay freezes and a fall in living standards, an 11% rise would be a kick in the teeth for the millions of workers who are the victims of their policies."
SEARCH IS ON TO FIND UK's MOST INSPIRING GRANDPARENTS
THE search is on to find the most inspiring grandads and grandmas with nominations now open for the UK Super Grandparent Awards 2013. Run by the charity Care for the Family, the awards have been launched to recognise grandparents, who it says are often the unsung heroes of family life.

Winners are being sought from Scotland, Wales, Northern Ireland and England, with the overall winner receiving their award from comedian Tim Vine in the Autumn. Closing date for entries is 31st August 2013 and people can nominate grandparents online, either in writing or by making a short mobile phone video submission by visiting:- supergrandparentawards.co.uk.

As well as regional titles, the overall national winner will receive an afternoon tea for the whole family at a leading hotel, a £300 professional family photo-shoot and a £100 toy voucher from The Entertainer.

Launching the award, Rob Parsons, founder of Care for the Family and author of the book The Sixty Minute Grandparent said:- "Today, possibly more than ever, the demands on families to cope with modern life are great. Often it is grandparents, who are the glue effectively holding the family together, looking after their grandchildren and helping out busy parents immeasurably."

The charity hopes that the competition and awards ceremony will highlight the value and importance of grandparenting in family life across the UK. Visit:- careforthefamily.org.uk.

MURDER AT ST GEORGE'S HALL!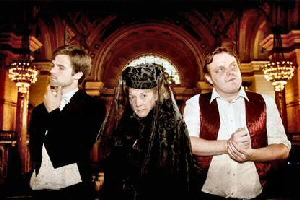 LIVERPOOL'S Lovehistory and St George's Hall are delighted to announce what is possibly the biggest murder mystery event in the UK (and most definitely to have been seen in Liverpool)! With 250 guests and taking place in the magnificent and atmospheric surroundings of the Great Hall itself, rather aptly on Friday, 13 September 2013, the stories featured at the event will be based on criminals trialled at the Hall's famous courts. Guests will be treated to a 3 course meal whilst they bear witness to Liverpool's most notorious murders of the Victorian era. Murder at St George's Hall will feature a team of 12 professional actors representing characters from real life Liverpool murder cases, who will do their best to misguide, deceive and obscure the truth. Guests will question and interrogate each character and eventually name the perpetrator. This is a truly bespoke event and as the drama unfolds so too does the history of this magnificent building.

Alan Smith, Manager at St George's Hall said:- "The magnificent setting of the Great Hall in St George's Hall will at last unveil all its history through this Murder Mystery event. In the shadow of the City's illustrious greats the Hall's historical past will be revealed and interpreted in a completely new and dynamic way. Charles Dickens would be delighted!"

Lovehistory's Judy McLean said:- "St George's Hall will witness the return of some of Liverpool's most notorious murderers; Florence Maybrick, the Southern Belle who poisoned her merchant husband, Elizabeth Berry, the infamous child killer, John McCrave, convicted of the brutal murder of Richard Morgan, The Black Widows of Liverpool, who poisoned for profit...and a number of other uninvited 'guests'. One of these departed souls has returned to commit murder...again! As the drama unfolds and the plot thickens, guests will dine in the splendour of the grand hall and will be asked to assist in a murder investigation that will reveal Liverpool's dark and disturbing history!"

Those taking part will need to use their powers of deduction to piece together the crime and to pass sentence. They will meet both the accused, who will protest their innocence, and also the victims who will reveal the details of their murder. Guests can send the accused to the gallows or grant a reprieve. The decision will be in their hands and for one night the public will be both judge and jury in this magnificent setting!

In true "whodunit" style, each section of the grand hall will be named after a much loved fictional detective; Sherlock Holmes, Inspector Morse, Phillip Marlow, Columbo, Miss Marple, Hercule Poirot etc. During the course of the evening, guests will be given clues and are urged to keep their wits about them as this will be an evening filled with deception, intrigue and…murder most foul.

Lovehistory will ensure that this event is a masterpiece in terms of Murder Mystery evenings and as the guests enjoy the finery, the food and drink, the culprits will be at play. All content will be appropriate and drawn from historical documentation. The evening will run from 7pm until 10.30pm, with an optional later bar available. There will be a prize available and costumes are encouraged. Tickets (including 3 course meal) are priced at £38.00 per person (no booking fee) and are available through TicketQuarter. Experience Liverpool's murderous past with this truly interactive evening!
For further information please visit:- lovehistory.co.uk.