A Southport Based Home Improvement Company Raise Thousands Of Pounds For 2 Local Hospices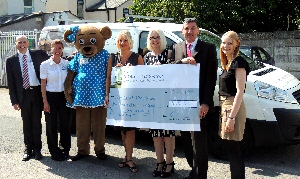 A Southport based company, EEC Home Improvements, have raised an incredible £5150 for 2 local charities, Queenscourt Hospice and Claire House Children's Hospice by taking part in the Xtreme Storm Challenge. The Xtreme Storm Challenge took place in Southport on the 20 April 2013, and 21 employees from EEC Home Improvements signed up for the challenge, an 18km run with 35 ruthless obstacles all to raise money for these important charities. The team not only comprised of employees; the company owner, John Ball, was right at the forefront of the whole event. Initially suggesting the idea to his staff, he then organised bootcamps for the team and helped with fundraising. Alex Kyriacou, a Sales Manager for the company, said:- "It's not everyday you see your boss clamber over hay bales, climb through tyres and crawl through fish guts, but John is always keen to support charities; he knows there is no better way to do it, than to involve as many people as possible. Luckily, a big group of us agreed to take part alongside him, and we had the time of our lives. From team building at bootcamp 3 times a week, running over the finish line after 18 long kilometers and most importantly handing over the cheque to Queenscourt Hospice and Claire House Children's Hospice; its been challenging, motivating, uplifting and exhilarating for all of us, something we will never forget" 'SP EEC HLESS' was the largest team to take part in the treacherous event. Made up of men and women of all ages, 'SP EEC HLESS' all endured months of strenuous bootcamp sessions with gocommandofitness.co.uk, who prepared them both mentally and physically. SP EEC HLESS explained to family, friends and work colleagues what Xtreme STORM involved, and the donations came flooding in. Their sponsor also helped massively by raising hundreds of pounds for Queenscourt Hospice and Claire House Children's Hospice, 2 local charities that are very important to us. The biggest revelation came when the company directors John Ball, Gill Fox, Martin Mills and John Honeyball announced they would be doubling all donations received, enabling the massive amount of £5150 to be split between the 2 charities. The cheques were handed over at a charity cheque presentation at EEC Home Improvement's head office. EEC Home Improvements would like to thank everybody for their support and kind donations and have already signed up for their next big charity event; Tough Mudder 2013! This is one determined group of fundraisers.
MAN WANTED IN CONNECTION WITH CANNABIS FARMS IN BOOTLE AND KIRKBY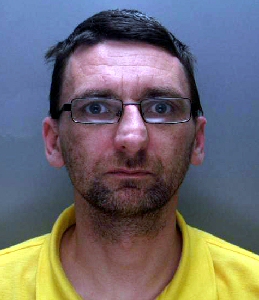 MERSEYSIDE Police in Sefton are appealing for the public's help in tracing a man they want to speak to about 2 cannabis farms. The 1st farm was found in a house in Kevins Drive in Kirkby in September 2012. Officers executing a Misuse of Drugs Act warrant discovered almost 50 cannabis plants in a bedroom upstairs. The 2nd farm was found in a flat in Alexandra Drive in Bootle in February. More than 50 cannabis plants were found and 2 people at the address, both aged 24 year old men, from Wavertree and Aigburth. The men were arrested on suspicion of cannabis cultivation. They were questioned and subsequently released on Police Bail pending further enquries. Detectives in Sefton and Knowsley want to speak to 38 year old Alan John Bride about both incidents. Bride has links throughout Merseyside but in particular the Anfield and Walton areas of Liverpool and anyone who has seen him or knows where he is is asked to get in touch. Call Merseyside Police on:- 0151 777 5225 or Crime Stoppers anonymously on:- 0800 555 111.

OFFICERS TALK TO MERSEYSIDE SCHOOL CHILDREN ABOUT DANGERS OF SCRAMBLER BIKES
AS part of the Merseyside Police summer crackdown on scrambler and quad bikes schools officers and Roads Policing Officers are talking to schoolchildren about the dangers and consequences of riding these vehicles.

Superintendent Paul White, who is leading the operation, said:- "In the past we have seen a number of young people suffer serious life changing injuries as a result of riding these bikes, and sadly we have also had a number of fatalities. Educating our young people around the legislation and potential consequences of riding these bikes is vital if we want this operation to succeed. A lot of young people may think it's cool to ride these bikes, but don't realise the potential consequences. A lot of the people who own these bikes aren't aware of the legislation surrounding the ownership and use of these vehicles, and as a result many of these bikes are being ridden illegally and dangerously on our roads and public open spaces. Throughout the summer we, along with our partners including all the local authorities, Walton Neurological Centre, St Helens and Knowsley Hospitals Trust and the Merseyside Fire and Rescue Service, will be taking positive action against the illegal and anti social use of these vehicles. Ultimately we hope that by taking this action we will reduce the number of serious injuries and fatalities that occur."

Did you know that...???...:-

► If you ride a mechanically propelled vehicle such as a scrambler/quad bike in a public place you are required to be insured; if you are not insured the vehicle will be seized.

► Motorcycles/quad bikes regardless of size, powered by an engine, or electric motor, can only be ridden legally on a road or in a public place if the rider has a driver's licence, insurance, MOT and vehicle excise licence, when required, and in a public place where vehicles are allowed.

► Parents who let their children ride their scrambler / quad bike in a public place may also find themselves open to prosecution.

► Police will issue Section 59 warnings under the Police Reform Act against both the rider and the machine that they are on when a bike is stopped after being used in an anti-social manner.

► Persistent use of the bikes will result in seizure, and possibly destruction of any bikes which cannot be proved to be held legally.

► General Road Traffic Act legislation will also be used to report for summons anyone committing offences on the roads leading to these parks.
MURDER INVESTIGATION LAUNCHED - PRESCOT
MERSEYSIDE Police have launched a murder investigation following the death of a 22 year old man, on Friday, 12 July 2013, in hospital. A 27 year old man has been arrested in connection with the investigation.

Just after 1.30pm on Thursday, 11 July 2013, the emergency services were called to Cables Retail Park to a report of an altercation involving four men.

Officers attended and found a 22 year old man with serious head injuries. The man was taken to hospital by ambulance for treatment. Unfortunately he died on Friday, 12 July 2013, in hospital.

The man has been formally identified as being 22 year old Jonathan Fitchett from Prescot.

A post mortem is be conducted over the weekend to establish the cause of death.

A car believed to have been used by the offenders has been seized and is in the process of being examined, witnesses are still being spoken to and CCTV from the area is being trawled.

A 27 year old man from the Prescot area has been arrested this evening on suspicion of murder.

Detective Chief Inspector Steve Cox, said:- "This is a tragedy for everyone who knew Jonathan and our sympathies are with his family and friends at this very sad time. We are treating his death as murder and the large-scale investigation that was already underway following his assault will continue until all the people involved have been caught. We are following a number of positive lines of enquiry and we are actively seeking the offenders involved in this incident. I would urge anyone in the area with information about this incident to contact us and tell us what they know and I would also call on the people involved in attacking Jonathan to do the right thing and step forward and tell us what happened."

An investigation into the full circumstances of the incident is ongoing.

The 27 year old man remains in Police custody at this time.

Anyone with information is asked to contact Merseyside Police on:- 101 or Crimestoppers on:- 0800 555 111.