MUCH LOVED MUM DENISE IS INSPIRATION FOR LAUREN'S FIRST RACE FOR LIFE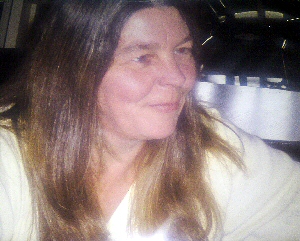 A BIRKENHEAD fashion store worker will be proudly bearing the photo of her much loved mum when she runs the Race for Life for the first time. Lauren Joynson, 22, who works at Miss Selfridge in The Grange and Pyramids Shopping Centre, is being sponsored by her colleagues, one of whom, Becky Dodd will be joining her on the day to take part in the charity race being held in Birkenhead Park on Sunday, 21 July 2013.

Lauren's mum, Denise, a 48 year old Tranmere school dinner lady died from cancer just weeks after being diagnosed; with the initial symptoms simply a swollen arm and tiredness.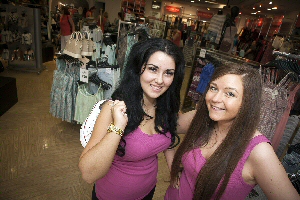 "Mum is who I am doing the Race for, and so I will have her photo on my T shirt," said Lauren.

Denise had just celebrated her birthday and Lauren her 20 October 2010, when medics delivered the devastating news.

"She had a swollen arm, it had swelled up and was all puffy, plus she was feeling very unwell and tired, so she went to the doctor. She'd been healthy before, so we never thought it might be cancer. She was sent for tests and that's when they discovered it. Initially she was treated at Arrowe Park, then Clatterbridge, then she moved back to Arrowe Park. Really there was no treatment they could offer, and when we found out there was nothing more the hospital could do, Mum came home, though she went back to Arrowe Park later. They've not really found out how it started: they think it was probably breast cancer, which then spread through her body - though it was a different one that eventually led to her death. It was all so sudden – she was diagnosed in October, and she died in the December. It was such a shock, as it all happened so quickly. Mum had two jobs: she worked as an escort on school buses for children with autism, and she was also a dinner lady at Well Lane Primary School in Tranmere, which is just round the corner from where we live. The school put up a plaque in memory of her, because the children and staff thought so much of her."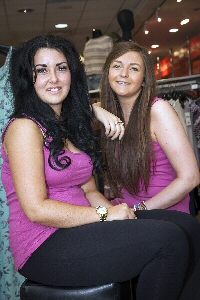 Derek Millar, Commercial Director for The Grange and Pyramids Shopping Centre, sent his best wishes to Lauren and Becky for the event and added:- "The mother of my 2 young children died a few years ago with breast cancer. My aunt died a few years ago with liver cancer. My sister had a double mastectomy 18 years ago and after painful reconstruction surgery is thankfully still alive and clear of the disease. So me and my family have, like so many others, been affected by cancer and anyone taking part in the race for life will be in my thoughts and for those individuals running and who have cancer they should never give up hope."

Lauren will be supported during the run by her dad Philip, a builder, plus her brother, also called Philip. And joining her on the run will be best friend Rachel Williams, 22, plus other friends will be taking part in memory of relatives who have also been affected by cancer.

"We are training by walking and jogging around the course in Birkenhead Park," said former Birkenhead Sixth College pupil Lauren, who has worked at the Grange and Pyramids store for five years, first part time and now full time. "I don't have a target for how much I want to raise, I just want to be able to give a big donation to Cancer Research. And I'll be thinking of my mum all the way round."

IT'S OFFICIAL... LIVERPOOL WILL BE HOTTER THAN RIO FOR BRAZILICA'S BIG SATURDAY!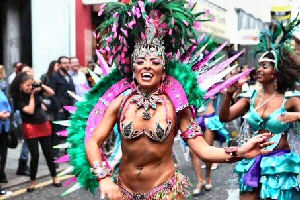 THE weather reports are in for this Saturday, 20 July 2013; Brazilica Carnival Day in Liverpool and the City is currently predicted to be hotter than Brazil at a sunny 27°C; perfect samba conditions and beating Rio's cloudy 25 degree forecast!

This balmy Saturday evening will be the perfect setting for the glittering carnival parade which will pass through the City's streets in a stunning Rio de Janeiro style spectacle which will ensure a magnificent finale to the 9 day long festival, which is taking over Liverpool as we speak.

Over 500 performers will take part in this Rio-style carnival weaving its way through the City centre with glittering costumes, floats and irresistible samba music and dance. The beautiful, bejewelled samba dancers, Brazilian style drummers and spectacular floats will start their journey through the City at 8pm at Abercrombie Square before leading down Mulberry Street, turning onto Oxford Street, past the Cathedral of Christ the King, then making their way down Hope Street. From here, the carnival will dance down Hardman Street, passing St Luke's (Bombed Out) Church, down Bold Street, stomp through Church Street and samba up Tarleton Street, landing with a bang at the Main Stage site at Williamson Square, in the heart of Liverpool City Centre, where a number of acts will take to the stage until 11pm in a completely FREE fiesta for everyone to enjoy! (Parade route map image attached).

Liverpool Samba School, joined by 9 special guests from Copenhagen's famous samba school Carioca De Copenhague are sure to cause a stir on the City's streets alongside several celebrated samba groups from across the UK including London-based Paraiso School of Samba and London Samba School (dancers from both these groups wowed at the Olympic Closing Ceremony last year) and Rhythms of the City. The carnival would not be complete without acclaimed local samba groups including Batala Liverpool, Oya Batacuda, Karamba Samba from Chester and Oxiris Samba School from the Wirral.

The BRAZILICA Carnival Parade would not have been able to take such a central route through the City without the support of Liverpool's City Central Business Improvement District (BID) as a festival sponsor. BRAZILICA festival organisers have been working diligently with the City Central BID Team to ensure that the whole City will come to life with colour, beautiful costumes, stunning samba rhythms, amazing floats, authentic Brazilian crafts, cuisine and drinks as well as many free activities for the families to enjoy .

Also on Saturday, Williamson Square will host a Music Stage throughout the day and evening, hosted by DJs from 107.6 Juice FM. The stage will feature the best Brazilian bands such as headliners, Rio-based samba Beatle Band Sargento Pimenta celebrating the global legacy of Liverpool's greatest musical export and innovative samba & jazz fusion quartet Tribo Da Pesada, both who command 100,000-strong audiences in their native country. A host of other great samba and funk bands, dancers and DJs will also be on hand to entertain revellers who will be able to eat, drink and be merry as they experience this great programme of music and samba dancing, with an outdoor 'cocktail shack' and stalls offering the best in Brazilian food.

A brand new element of this year's carnival day is Brazilica Capoeira Encontro at St Luke's 'Bombed Out' Church - an afternoon of capoeira demonstrations and performances from internationally renowned Capoeira master Mestre Parente of Capoeira Cordão de Ouro. Pop down between 12noon and 2pm on Saturday, 20 July 2013, to watch the masters in action and maybe even have a go yourself!

Those looking for a warm up to the main carnival day should head to the City's exclusive Newz Bar at 7pm on Friday, 19 July 2013, for the yearly Brazilica Carnival Queen competition! Brazilian dancers from far and wide will battle for samba supremacy, with each dancer showcase their best routine, most dazzling costume, and of course their sparkling personality and energy. Featuring dancers from some of the World's most renowned Samba Schools and a panel of expert judges including samba dancer Samara Reis (former Coburg Carnival Queen), celebrated Liverpool choreographers Darren Suarez (House of Suarez and responsible for the City's Vogue Ball) and Miguel Doforo (MD Productions) joined by celebrity guest judge, Geordie Shore's Jay Gardner, this is the perfect 'carnival eve' activity!

BRAZILICA festival is an exciting expansion of Liverpool Carnival Company's hugely successful carnival parade, which has existed since Liverpool's Capital of Culture year in 2008 and attracted over 60,000 spectators in 2011 and 80,000 in 2012. With irresistible rhythms, glimmering costumes, sparkling dancers and extravagant floats there is guaranteed to be plenty of glitz and glamour and EVERYONE is invited to join in the fun!
ARE YOU READY TO GET IN THE SAMBA SPIRIT?
Click on below to get a bigger copy of the route.