Historic silverware to return to RAF Woodvale!
Photograph by Major Colin Trollope.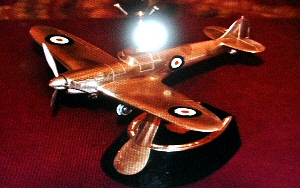 ON Thursday 28 November, 2013 at 6pm in the Town Hall, High Street, Liverpool the following silver items were returned to No 611 Squadron (West Lancashire) Squadron Royal Auxiliary Air Force. The items being returned include:-

► Silver scale model of Spitfire.

► Silver Bowl engraved:- 'Lancashire Rose Flying Trophy'.

► Silver 3 handled cup engraved:- '611 Squadron Flying Trophy'.

► EPNS 2 handled cup engraved:- '611 Squadron Attendance Cup'.

► Silver Cup engraved:- '611 Squadron Air Firing Trophy'.

All the items will go on display at RAF Woodvale in Formby in the New Year.
It was while Wing Commander Gavin Hellard was reading about the Squadron's history that he though to contact the City. The items were soon located through the well preserved City's Records and prepared for handing back to the RAF.
The Lord Mayor, Councillor Gary Millar, is reported as saying that he is:- "delighted to be handing over these items, which are clearly of value to the Squadron."
Woodvale RAF has stated that:- "All of the items will go on display at RAF Woodvale in Formby in the New Year."
The Squadron itself was formed at RAF Speke (now Liverpool John Lennon Airport) on 10 February 1936 as a day bomber unit and in January 1939 it changed to become a fighter squadron. They were equipped with Supermarine Spitfire Mark One. They fought over Dunkirk during 1940, then throughout the Battle of Britain and in the invasion of Normandy in June 1944. By then, they were flying the American Mustang Mark IVs until they were disbanded as an RAF Squadron.
However, in 1946 they were reformed in the Royal Auxiliary Air Force, to fly out from their spiritual home of RAF Woodvale flying Spitfire F14s and later, the even higher performing Spitfire F22.
Next, they moved to Vauxhall Motors where they flew the F8 version of the Meteor Jet fighter from RAF Hooton Park, Wirral. Sadly, when the all of the auxiliary units in the area closed, the Squadron was disbanded.
B.O.A. 70th Anniversary DVD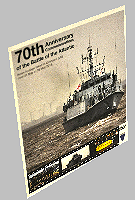 THE video footage we have taken at the 70th BOA events this year in Liverpool has now been fully edited is available to buy, on a DVD, from our Online Shop, on Mersey Reporter very soon. For each DVD sold, £3.00 will go to the Liverpool's Lord Mayor's Charity Appeal. (Registered Charity No. 229539) At this stage we can only do UK postage options, but if you are outside the UK, you can still order copies, but only by emailing us to:- news24@merseyreporter.com with your FULL address and we will get back to you with a postage cost and a payment link, should you wish to continue.
...HAPPY BIRTHDAY...

Happy Birthday Beth Higginson from all your friends...

If you have someone you want to say happy birthday to, for free, then use the email address below to send us the names you want us say happy birthday to, and/or a photograph. Email us today!

KEEP up-2-d

ate




with our free daily news emails.

Are you subscribed? Si

g

n

u

p

today

to

our daily email news service via... Formb

y

-

Re

p

orter

.com



If you subscribed you can keep in up-to-date with what's going on in and around Merseyside. It is free and we do not send out massive amounts of emails. Also your email is kept under the UK's Data Protection Act, so you can be sure that you will not have problems.