PARENTS APPEAL FOR SON'S SAFE RETURN AFTER DISAPPEARANCE IN SPAIN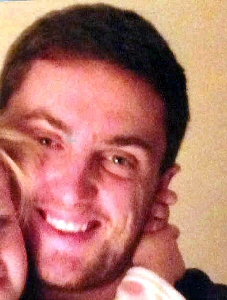 THE parents of a Merseyside man are appealing for information about his disappearance in Spain. Francis Brennan was last seen in Alicante on 24 January 2014 when he was stopped in a friend's car by several men posing as police officers. The 25 year old, whose family are from Anfield in Liverpool, has not been seen since and Spanish police believe he was taken against his will. Merseyside Police is providing support to the Spanish-led investigation into Francis's disappearance and specially trained family liaison officers are acting as a point of contact for his parents and girlfriend in Liverpool. Now Francis's parents, Janet and Carl Brennan, and his girlfriend of 18 months Sophie Staunton, appealed to the public both here in Merseyside and in the British ex-pat community in Spain to share any information with the authorities that could lead to Francis's safe return.
They said:- "Francis went missing in Javea in Alicante 5 weeks ago now and we his parents, his grandparents, all his friends and relatives are appealing for information about his disappearance.
We got a call from one of his friends and his girlfriend back in January to say that Francis had been arrested on 24 January 2014, but we later learnt from the Spanish authorities that this was not the case and that he had been taken against his will.
This has come as an awful shock to us as Francis is our only son and we can still remember him as a fun loving child who was football mad in a football mad family who loved nothing more than playing out with his friends. From a very young age Francis's granddad always took him out to watch amateur football and he used to love spending time with his granddad doing this and would talk about for weeks afterwards!
As he got older he started to follow his beloved Everton and would go to the games with his dad, and then when he was older, his friends.
He has always been very close to his grandparents, ever since he was very young, and he is the eldest of 7 grandchildren. He also has a sister who he is very proud of.
When he was a teenager Francis did spend a short time in a young offenders institute for affray, but when he came out he attended college and trained as a gas and heating engineer, before doing it as a job.
He also trained and worked as a ceiling fixer with his dad, but unfortunately became unemployed when he was 21.
This is when we saw him start to change and unfortunately he became involved in criminality.
He assaulted someone in the Thames Valley area in 2012 and was due to be sentenced in October 2013 when he instead left the country and travelled to Javea in Spain.
As his parents we advised him against this, but he would not listen. He told us not to worry and that he would be home after Christmas.
Francis met Sophie, his lovely girlfriend in 2012 and he seemed to start to grow up and they seemed very settled and happy.
Sophie went out to Javea in December to try and persuade him to come home, but then last month he disappeared and none of us know where.
This whole thing has devastated all of us. No-one deserves this to happen to them and as time goes by we are worrying even more on a daily basis.
Francis comes from a very loving and caring background and we all want him home safe and well.
We are pleading with anyone out there who knows what has happened to please speak up, please come forward and share that information with the police or Crimestoppers so we can get our son back safe."

Detective Superintendent Richie Carr, from Merseyside Police, said:- "Francis has not been seen since and this is clearly of great concern to the family and the authorities in both the UK and Spain.
Francis's disappearance is completely out of character and because of this, as well as his associations and lifestyle, ourselves and the Spanish police are extremely concerned for his safety.
We do however believe he has been taken against his will and we and his family are hopeful that someone in the criminal fraternity here in Merseyside has information that could help bring about the safe return of Francis.
Francis has been missing for over a month now. He is in a country that is not his own. It is not familiar to him and has no other family over there.
His parents have travelled there already to try and find him and they are here today desperately seeking answers.
Francis is their son. Only a parent will be able to understand what it could be like to fear your child coming to some kind of harm.
I would urge anyone out there, whether it is here in Merseyside or within the ex-pat community in Spain, who knows anything at all that could help this family to please search their consciences and call Merseyside Police on:- (+44) 0 151 777 8520 or alternatively Crimestoppers anonymously on:- 0800 555 111."

RESULTS - OPERATION TRUCKCAM 2014
MERSEYSIDE Police Officers have issued 180 road traffic offence reports, 17 fixed penalty notices and seized 4 vehicles as part of a campaign to crackdown on unsafe drivers and cut the number of cyclists being killed or injured on Merseyside's roads. The operation is aimed at drivers of commercial vehicles, particularly lorries, in LiverpoolCity centre and the surrounding area. Specially trained officers have been using an unmarked bus and truck-cab throughout 2 weeks in February to patrol theCity and the county's motorway network. One has been driving the vehicles, whilst the other has used a handheld video camera to catch suspected offenders on film. Drivers have been targeted who are believed to be committing offences which mean they are not in full control of the vehicle, including using handheld mobile phones, multimedia equipment and reading, eating or drinking whilst they are behind the wheel. Routine breath tests have also been carried out as part of the force's on-going drink and drug driving campaign. Chief Inspector John Hogan, Matrix Serious Organised Crime Roads Policing Unit said:- "Through their sheer weight and size, heavy goods vehicles can pose a huge risk to cyclists and other road users if they are being driven carelessly. 98 cyclists were killed or injured on Merseyside's Roads in 2013 and we are determined to significantly reduce that number. This latest fortnight of action has resulted in well over 200 offences being detected, ranging from drivers not wearing seatbelts or having defective tyres through to people still using mobile phones whilst they're behind the wheel. Whilst the vast majority of drivers don't break the law, the success of this operation shows there are still some who think it's acceptable to put other road users' lives at risk because of how they behave. Our work doesn't stop here and we will be carrying out follow up operations over the coming months. We will also be out on major roads across Liverpool next week speaking to HGV drivers and cyclists' alike and giving advice on safety issues."

Traffic Commissioner for the North West of England and Senior Traffic Commissioner for Great Britain, Beverley Bell, welcomed the initiative. She said that:- "Some of the behaviour that has been captured by this excellent initiative is simple unacceptable. Drivers reported for these offences are warned they will be referred to the traffic commissioners, as we are responsible for their professional driving licences. We have the power to take action and driver can lose their licenses for 2 weeks in cases of mobile phone abuse. Overall, the commercial vehicle industry has a good record when it comes to abiding by the rules, so it is vital that the relevant enforcement agencies continue to target those who are needlessly putting other road users and themselves, at risk. By doing so they also damage the industry's image."

The following is the full list of offences and suspected offences across the 2 weeks of action in February 2014.

► 107 Traffic Offence Reports for use of mobile phones.

► 47 Traffic Offence Reports for failing to wear a seatbelt.

► 6 Traffic Offence Reports for defective tyres.

► 5 Traffic Offence Reports for failure to comply with red traffic signals.

► 15 Traffic Offence Reports for other offences.

► 17 Fixed Penalty Notices for various offences.

► 24 Roadworthiness Prohibitions.

► 4 Vehicles seized.

► 1 Summons regarding 5 defective tyres out of 6 on a vehicle.

► 1 person charged with a public order offence.

► £3300 of fines.
Yet more problems as Post Office is closed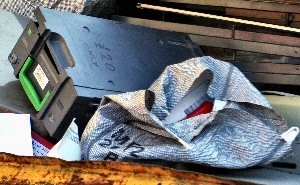 LIKE us, the Champion was contacted, over concerns about what was being placed in the skip, outside the now closed Crown Post Office, last week. According to some of our readers the bins and skips placed outside the building had personal material in them, and could be easily accessed by the public. when we attended we could see bags with files in, as you can see above, but opted not to open them. We tried to contact the number we had been given by workmen about the files, but the number was incorrect. The Champion when they attended the skip, obtained several files, as they have reported. All with personal information on. So what are your views about the closer and also the way the Post Office has handled it? Email us to news24@southportreporter.com.