Sea Change ~ The Art of England's North West Coast
L.S. Lowry loved painting the sea, so it's fitting that one of his most prestigious and scarcely seen works will be the centrepiece of a major exhibition celebrating the transformation of the north west coast over the last 2 centuries.

Major British artists have been inspired by the NW coastline, from Antony Gormley for his iconic sculpture at Crosby beach to Morecambe Bay landscape painters JMW Turner and David Cox.

Lowry's oil on canvas "July, The Seaside", on loan to The Atkinson from Arts Council England's Southbank Centre, London, was painted in 1943 and demonstrates the artist's inability to paint shadows. A dull day and a beach set against an industrial background perfectly depict what he once said:- "I only deal with poverty and gloom. I never do a jolly picture".

This major exhibition of paintings, poetry, sculpture and state of the art film includes 2 exhibits from documentary photographer Martin Parr's iconic "The Last Resort" collection featuring a dilapidated New Brighton in the 1980s.

An archival print of the late Irish photographer Chambre Hardman featuring "The Birth Of The Ark Royal" has also been loaned by the National Trust. This world famous 1950s photograph of the HMS Ark Royal was taken from the top of Holt Hill in Birkenhead. The ship had just been painted white, as part of preparations for its launch from the Cammell Laird shipyard by the Queen Mother.

Picture Post photographer Bert Hardy's iconic Blackpool Belles photograph featuring two girls sitting on railings on Blackpool's beachfront in July 1951 will also be exhibited. The picture appeared on the front cover of the magazine and later became an iconic image of life in post-war Britain

Representing the modern political seachange are Cumbria based ceramicist Paul Scott with his enamel plate featuring a Sellafield screenprint and Andy Goldsworthy who makes a stance with his photographic collection, Heysham Head.

Contemporary photographer Paul Kenny's newly commissioned work made of found materials on Ainsdale Beach symbolises the environmental transformation.

Stephen Whittle, museums and exhibitions manager at The Atkinson, has co-ordinated the exhibition over 6 months. He says:- "I'm particularly pleased to include an iconic painting of 'The Wreck of the Eliza Fernley'. Specially conserved for the exhibition, it was originally paid for by public subscription after the tragic loss of all but two of the Southport lifeboat's crew and all the crew of the St Anne's lifeboat. Sea Change reflects all aspects of the transformation of the north west coast over the last 200 years which has seen a massive tourist boom. Blackpool was a tiny hamlet and Southport didn't even feature on the map until the early 1800s, whilst Fleetwood only came into existence when it was created from nothing by Peter Hesketh Fleetwood in the 1830s. Then there was the massive industrialisation from Birkenhead to Barrow and the rapid expansion of the fishing industry and international travel and trade. The natural coastline is equally dynamic and is constantly shifting. There are political, environmental, contemporary and traditional works on show. So it should appeal to anyone who has an interest in the history and present day life of the north west British seaside.

The exhibition is part of the Sefton Coastal Festival, which runs:- 6 September to 14 September 2014, and is supported by the Heritage Lottery Fund. The exhibition will run though fromL- Saturday, 23 August to Sunday 9 November 2014.

For more information please visit:- TheAtkinson.co.uk or call the Atkinson box office on:- 01704 533333.

Commissioner successful in victims' funding bid
VICTIMS of domestic abuse and child sexual exploitation are set to benefit after Lancashire's Police and Crime Commissioner secured more than £500,000 of government funding. Clive Grunshaw successfully submitted three bids to a fund set up by the Ministry of Justice to help Police and Crime Commissioners support victims in their area. The Commissioner competed against Police and Crime Commissioners from across the country to be awarded a share of the fund, with victims of domestic abuse set to benefit from improved support and counselling services and enhanced Womens' Centres as a result. A grant of £35,000 has also been awarded to fund Parents Against Child Sexual Exploitation (PACE) family support workers; strengthening both the Commissioner and Lancashire Constabulary's commitment to tackling CSE in the county and supporting victims and their families. Mr Grunshaw said:- "I am delighted to have successfully bid for £545,000 to provide vital support for victims in Lancashire. As Police and Crime Commissioner I am committed to enhancing the services on offer to victims of crime in the county to help them better cope and recover, and this money is vital to ensure we are able to do that. I bid for £579,000 to fund four projects aimed at improving the support available for victims in the county, and it is testament to the hard work of my office that three of those bids were deemed strong enough to secure the government money. Thanks to extensive consultation with service providers and victims, my office and I have developed a clear idea of how victims' services in Lancashire should look, and the support they need to provide. I have identified the areas which need improvement, and this money is an important step towards addressing some of the county's greatest needs. I have made a clear commitment to supporting victims of domestic abuse in my Police and Crime Plan, so I am delighted to be able to announce this money will pay to refurbish Womens' Centres and refuges, as well as provide the support and counselling which is essential to help survivors cope and recover, to move on and rebuild their lives. The money to support CSE victims is also vital. My office and Lancashire Constabulary are running an ongoing campaign to raise awareness and encourage victims to seek help, and this funding will ensure that those vulnerable young people and their families receive the support they need." In total, the Commissioner has been awarded £208,000 to provide 1 to 1 and peer group support and counselling to domestic abuse victims, £302,000 to enhance womens' centres and accommodation for domestic abuse victims and £35,000 toward PACE family support workers. The money needs to be spent within this financial year, and discussions will now take place with services county wide to establish who should benefit.
Morrisons Southport takes out trolley locks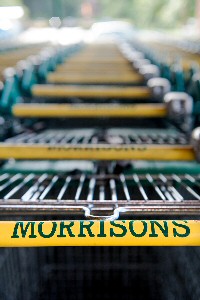 MORRISONS will remove all trolley locks at its Lord Street store in response to Southport's customer feedback, which has called for quicker and easier shopping trips. A team will visit the store on 7 July 2014 to update all of the store's trolley fixtures. This will remove the need to insert a £1 coin or token to release a trolley from its bay. Simon Reading, Store General Manager for Morrisons Southport said:- "Our nation is getting busier and we have less free time than previous generations. Customers in Southport have told us that they want a quicker shop. The removal of trolley locks is just one of the many improvements we are making to our store; to make for a faster and easier shopping trip." Morrisons is leading the way in the removal of trolley locks across its stores nation wide. 150,000 locks will be removed from stores this July. The activity forms part of a significant investment programme to make shopping trips easier for customers. Improvements include the redesign of stores, the extension of opening hours, the updating of car park controls and improvements to baby change and toilet facilities.