LAURA WINS MISS WIRRAL AT BIRKENHEAD SHOPPING CENTRE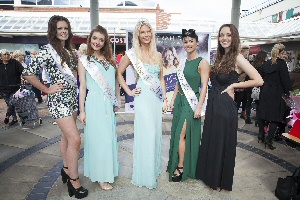 HOLLYOAKS star Gemma Merna and a former Miss Liverpool were on hand to crown a new Miss Wirral at a busy Birkenhead shopping centre. 1st time beauty contest entrant Laura Stokoe of Stanley Road in Hoylake got the surprise of her life when she was crowned Miss Wirral 2014 in front of a bumper crowd at Pyramids Shopping Centre on Saturday, 27 September 2014.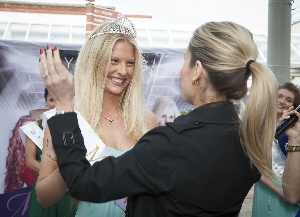 Laura was 1 of just 10 girls out of an original 32 from across the region who were short-listed for the prestigious final round of the competition. "This is the first time in my life I've ever entered anything like this. I thought I was lucky enough to even make it to the final, but I never for one moment expected to win," said the delighted 23 year old student.

One person who was not a bit surprised when she took the crown was boyfriend James Swainston, who travelled from Leeds specially to support his girl. "She is gorgeous inside and out. I just knew she'd win." said James, who works as a project manager.

Laura's mum, Christine, a GP, was also there to see her daughter don the winner's sash. She said:- "I'm really proud of her. We all are. It's been a fabulous day for Laura and all the girls."

Warm summer sunshine blessed the dazzling parade of young women as they each demonstrated their individual sense of style in a colourful fashion show, before donning majestic gowns for the final line-up on the outdoor Pyramids centre catwalk.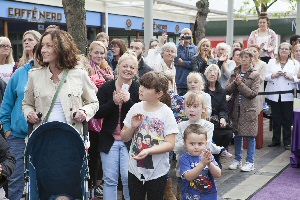 The crowd cheered on the girls as every entrant impressed the panel of judges led by competition organiser Laura Seymour of Heswall-based Frame Model and Casting Agency. Laura said:- "I'm thrilled that the Wirral has turned up trumps today. Local people and families shopping here at the Pyramids have really got behind the competition and the girls have done their utmost to look truly glamorous. It's been so tough having to choose between them, there is barely a hair to split these entrants. We would award them all top prize if we could."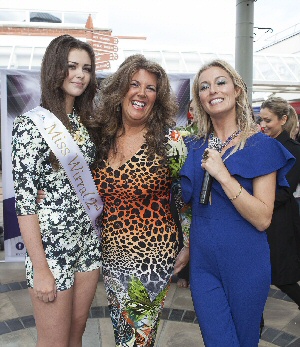 Also on the judging panel were Hollyoaks soapstar Gemma Merna, who plays Carmel McQueen in the popular Channel Four soap, former Miss Liverpool, Anita White, and Commercial Director for Pyramids Shopping Centre, Derek Millar. Derek said:- "It has been a great afternoon. We were especially grateful that so many people from our local community turned out to support the girls. The crowd here has been tremendous and every single one of the entrants was truly beautiful."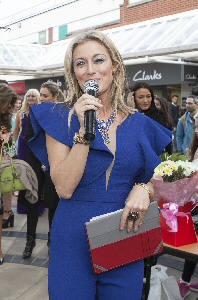 Compere for the final was former Brookside star Suzanne Collins, who agreed the judges had a tough task choosing between the girls. She said:- "Everyone could see they had all worked so hard, choosing their outfits and hair dos. Every one of them looked just beautiful and they can all be so proud."
Laura, who wore a long azure blue gown for the final, is a student at Leeds Metropolitan University where she is in the final year of training to be a primary school teacher. She said:- "Though I am studying away from home, I can't wait to return to the Wirral. I love it here. Everyone is so friendly and at ease with one another and that was the same in this competition. It was really great meeting the other girls, we all got along so well and supported each other. This has been a really fun, friendly experience for me."
As well as the overall winner's title, including a prize package worth £1,000 and the potential for further opportunities in the world of modelling, the judges also awarded runner's up bouquets to fourth placed Margaret Saunders, aged 16, 3rd placed Jessica Kimberley, 20, and 2nd placed Amy Whitfield, 16.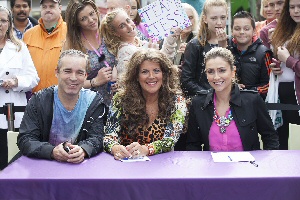 A prize for the entrant with most unique personal style went to Laura Armitage, 23, of Hoylake, who wowed the judges with an emerald green silk ensemble and classically elegant pinned up hairstyle.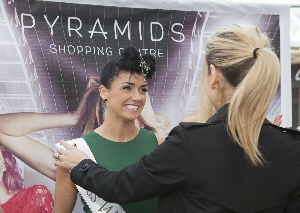 Judge, Gemma Merna, said the competition was amazing. She said:- "The Wirral has done itself proud. These girls are all so lovely and have such confidence and poise. They're a credit to the entire community."
Local personality Anita White, who was twice crowned Miss Liverpool and went on to establish a successful modelling career, said:- "I agree, it has been such a difficult task for us as judges, and a tough decision having to select a winner from such an impressive line up. They've all worn the right thing and they've all said exactly the right thing when we have spoken to them. In the end though we had to pick a winner and Laura is a perfect choice. She has just the right ethos we were looking for to represent this wonderful community of the Wirral."

Karen Potter Craven Minor JFL
Results Week Ending 28 September 2014
Under 11 Premiership
Redgate White 0-1 S&A Red
Burscough 1-1 Maghull Youth
Report:- Formby JSC White 2-1 Southport FC Juniors
IN another fascinating game in the Premiership, both teams went into the game sharing the top spot and as always the game was played like a Merseyside Derby.
It was Southport FC who turned up in the 1st half and they dominated the midfield in that period and always looked as if they had an extra player and were allowed way too much time and space. It was only great goalkeeping from David Meadow in the Formby goal that kept the score down to 1-0 to at half time.
Formby came flying out the traps in the second half. They were first to most balls, won most tackles and created numerous chances. 2 goals from a Harry Forsyth free kick and a real poacher's goal from Tom Harrison, who followed up a great save from the Southport keeper, put Formby ahead. Tom was a constant threat in the 2nd half with a phenomenal pace.
The 2nd half performance from Formby was really impressive with Man of the Match Jack Lemmens taking control in midfield, but every player was outstanding in that 2nd half, from the keeper to Tom Harrison & Dan Griffin up front.
Under 11 Championship
Hesketh Colts 0-6 S&A Blue
Crosby Stuart 9-1 Redgate Yellow
Formby JSC Black 4-1 Phoenix
Trinity Blue 3-3 Formby Athletic
Under 12 Premiership
Hesketh Colts 8-0 Formby Athletic
Birkdale United 1-2 Town Green
Trinity White 0-9 Altown United
Under 12 Championship
Redgate Rovers 3-6 Mitch Green
S&A Amateurs 3-2 S&B Red
Ormskirk 2-2 Southport FC Juniors
Formby JSC Black 8-0 Phoenix
Under 13
No fixtures
Under 14
S&A Amateurs 2-7 Southport FC Juniors
Hesketh Colts 5-3 Redgate Rovers
Southport Trinity 0-5 Birkdale Black
Birkdale United 5-2 Formby JSC
Under 15
The Hares 3-2 Redgate Rovers
Formby JSC 2-0 Southport FC Juniors
Southport Trinity 3-2 Birkdale United
Under 16
Redgate Green 0-9 Hesketh Colts
Under 17 / 18 Premiership
No fixtures
Under 17 / 18 Championship
No fixtures

Fixtures Week Ending 5 October 2014
Under 11 Trisconi Cup
Formby JSC White v S&A Red
Maghull Youth v Redgate White
Trinity White v Formby Athletic
Southport FC Juniors v Redgate Yellow
Hesketh Colts v Birkdale United
S&A Blue v Burscough
Formby JSC Black v Trinity Blue
Under 12 John Disley Cup
Formby JSC Black v Hesketh Colts
Southport FC Juniors v Formby Rangers
Altown United v Redgate Rovers
Under 13 Tom Galvin Cup
Hesketh Colts v Southport Trinity
Southport FC Juniors v Birkdale R
Under 14 Anita Shaw Memorial Cup
Birkdale United v North Sefton
Under 15 Tom Owens Cup
Redgate Rovers v Formby JSC
Churchtown Athletic v Southport FC Juniors
The Hares v Southport Trinity
Under 16 Adam Bell Cup
Redgate Yellow v S&A Amateurs
Under 17 / 18 Geoff White Memorial Cup
Town Green v Myers
AFC Liverpool v Hudson Celtic
S&A Amateurs v Hudson Rangers
Redgate Rovers v Birkdale United
Lydiate v Burscough Green
Formby JSC Black v Redgate Yellow
Birkdale Black v S&A Blue
Dynamo Rangers v Southport Trinity
Report:- Salford City Youth 2 Southport FC Youth 2 (aet Southport won 5-4 on penalties)
Southport U18s made history and continued their good form with victory over Salford City in the FA Youth Cup 1st Qualifying Round. The game went the full distance after goals from Adam McFarlane-Johnson and Cameron Dalgleish were twice cancelled out in normal time, finishing 2-2 with Southport coming through 5-4 after the spot kicks with Man of the Match Adam Thorpe converting the decisive penalty.
Many expected little less than a Salford victory under the lights of Moor Lane. This didn't affect Southport in the slightest who took the game to their opponents from the first whistle with Adam Thorpe a constant threat coming in and creating from the left hand side of midfield.
It was Southport who took the lead after a slide rule pass down the right hand side released winger Adam McFarlane Johnson who calmly slotted past the oncoming Salford keeper. Port almost added a second soon after when Cameron Dalgleish went close with a left footed strike from outside the area. The movement from Southport's attackers was causing the Salford defence a real problem who looked susceptible to the through ball in behind.
Salford then began to pose a real threat up front & Southport struggled to pick up the movement from the Salford front 2. The inevitable then happened, a ball down the left hand side caught the defence off guard and the cross was met by Salford's number 10 who finished well with an accurate left foot volley into the bottom corner. Both sides continued to press forward with Paul Jewell firing wide as the visitors looked to regain the lead. Southport continued to defend well against Salford's physical presence up front and the score remained level at the break.
Southport made a slight tactical change for the 2nd period changing to a 4-3-3 formation in an attempt to cut out the space the host's strikers enjoyed in the 1st half. This seemed to work immediately as Paul Jewell showed discipline in front of the back 4 and marshalled the midfield.
Ben Hatch continued to press the opposition back with his driving runs from midfield as Southport looked the brighter of the two teams. Port then got their reward when full back Jay Hall played a delightful 40 yard diagonal ball to Cameron Dalgleish who controlled and finished unerringly into the back of the Salford net. The size of the pitch then began to play a part with cramp beginning to set in for both sides. This resulted in the first change of the game which saw Dalgleish, who had been excellent in leading the line, replaced by Jordan Haskell.
Despite Port's dominance, it didnt take too long for Salford to get another equaliser. Skipper Sean Weston looked to have won the ball just outside the area but the referee thought otherwise and gave a free kick to Salford. The result was not what Southport deserved as the delivery was met at the far post and headed into the bottom left corner of Rainford's goal.
Southport then made 2 more changes in quick succession as they looked to find a winner. Jake Young replaced the excellent Adam McFarlane Johnson down the right who had provided a constant threat with his pace keeping Salford pressed back. David Tallant also came on for the dynamic Ben Hatch who, again, had caused havoc in midfield with his fantastic ability to run at the defence with real power and purpose.
The changes added much needed freshness to the game and although Southport were now without a recognised striker, they still looked dangerous going forward and Tallant prevented any option for Salford to find their strikers easily. Port also remained resolute at the back as Vita Mbolokele showed excellent fitness levels right to the end and dealt with the physical and direct approach of the Salford strike force superbly. The scores remained level after the 90 minutes so extra time beckoned.
Both sides looked to tire but this didn't stop Southport looking for the winner. This nearly came when Jordan Haskell, who had been a thorn in the side of the Salford defence whose tired legs couldn't keep track of his intelligent movement between the lines. Haskell raced clear onto Conal Gallagher's through ball but could only force a good save low down to the keepers left. Salford could also have snatched it deep into the 2nd half of the extra period. Weston made a fantastic challenge on the edge of his area but was then blocked in his attempt to cover the Salford number 9 who was one on one with Rainford who made a magnificent fingertip save to deny a late winner.
So it was to penalties and the drama was only just beginning. Southport must have gone into the shootout with fond memories after their cup final victory last season was decided by this method.
Gallagher, Young and Mbolokele all converted successfully as did 4 of the 5 Salford players. This meant as Paul Jewell stepped up to take Southport's final penalty, he knew he needed to score to keep the game alive. A pressure penalty if ever there was one. Salfords keeper guessed right and got a hand to it, only to claw the ball back out. The referee and linesman adjudged the ball to have crossed the line quite clearly, much to the disappointment of the Salford players and substitutes who had already began their celebrations on the pitch.
To sudden death and the Salford taker had to compose himself as he stepped up. He struck the ball high to Rainford's left, who guessed right and made a superb save. Step up Adam Thorpe, the 16 year old had been Port's liveliest player throughout the 120 minutes and it seemed fitting for him to have the opportunity to win the game; cue the celebrations! He didn't disappoint as the ball was slotted into the corner giving the Salford keeper no chance at all. Southport progress to the 2nd qualifying round for the first time in their history. The next tie is away at Clitheroe, to be played the week commencing 6 October 2014.