Town residents gathered for 1st 'Pre-Election Countdown' event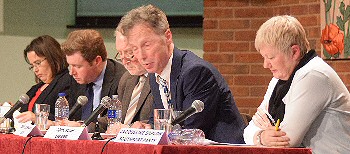 ON Monday 23 March 2015, Christ Church in Southport hosted a 'Pre-Election Countdown' event, allowing members of the public to take the opportunity to hear from and ask questions to those who are aspiring to represent the Southport Area at Westminister. The event was organised by the Evangelical Anglican congregation and hosted by its Vicar, Stewart Reid. Taking part was the current MP, John Pugh, who is again standing for the Liberal Democrats, Liz Savage who is representing Labour, Damien Moore who is the candidate for the Conservatives, Terry Durrance who is UKIP and local independent Jacqueline Barlow, standing for the Southport Party. The night also had a statement read out from the Green Party's representative, as they had only just picked a candidate. However on the website, as a few people said on the night, Sefton Green Party will be:- "mainly focussing on the Church Ward, i.e. the Waterloo area of Crosby, in the local elections on 7 May, 2015." So it would have been interesting to see what questions would have been asked of the newly announced candidate. But the 5 who did attend were given some very hard questions, but the main focus appeared to be that Southport's electorate want out of Sefton MBC. Some of the candidates voiced caution over this issue, but the loudest voice for independence was from the Southport Party's candidate Jacqueline Barlow who said:- "All of Southport's decisions are made in Bootle. We have become Sefton's cash cow. We need to make Southport a unitary authority again and bring our services back under our control." One thing all of the candidates did seem overall supportive of was the idea of a new Southport Business Improvement District being established. Another issue aired was the views over the EU, and a vote of hands with the audience clearly showed a very mixed view to this issue with no clear majority. The second issue that was raised was the idea of yet another coalition style of government being voted in, but that also raised fears that the Scottish Nationalist Party, should a coalition with them be formed could be catastrophic for the North West of England. To that all agreed as well. We are inviting all the political parties taking part in the Local and National Elections, on Merseyside, to get in contact with us and send us their views and also we want to hear you, our readers' views on this debate. To do that please email us via:- news24@merseyreporter.com.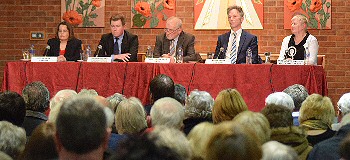 To see out photographs from the event, click on here now!
To see video taken on the night please go to Martin Hovden's YouTube Page. also you can here some of the debate by using our audio player below.
Read this page.

| | |
| --- | --- |
| | YOU CAN ORDER PHOTOS CLICK HERE TO FIND OUT HOW! |
| | |