BAFTA award winning investigative journalist, Ross Kemp, has opened Liverpool Go Outdoors Store
ON Saturday, 30 May 2015, Ross Kemp was in Liverpool cutting the ribbon at the opening of the new £2M GO Outdoors superstore in Liverpool. The store is the 52nd superstore in the Go Outdoors chain. Read the full story about the opening in next weeks issue of Southport and Mersey Reporter, along with our videos and photos of the visit!
The Learning Rooms need your urgent help!
FORMBY Bookshop is to help The Learning Rooms C.I.C. following a break in at a Southport day care centre for disabled people. "We arrived at the canter on Sunday, 12 April 2015, only to find out that thieves had broken in through the front, causing serious damage. Police say it must have happened between 3.30pm on Saturday, 11 April 2015, and 10.10am the next day. It has been devastating for all our staff and our clients, who use the centre, on Windsor Road, Southport. Sadly our fundraising money was stolen along with the equipment we had worked hard to obtain. Since then we have managed to replace all of the electrical items, such as Xbox, the 42in LG television and a cash register etc. We would like to thank all who have helped so far, but we have a long way to go, as we are still counting the cost after this devastating burglary. We are currently working hard to raise money to replace our fundraising money that got stolen during the break in. That cash was to help fund the running of the centre and without it, we are struggling. We are determined to help ourselves and not to let this affect the care we provide to the disabled people who use the day care centre, but we still need your readers help! We are to hold a plant sale, after making hanging baskets and other items, at The Learning Rooms, outside the local bookshop in Formby Village. We hope that the selling of them, to the public, will go along way to replacing the operating cash we have lost. Please come to our plant sale, at Formby Bookshop, on Tuesday, 2 June, Wednesday, 3 June and Thursday, 4 June 2015, from 11pm to 4:30pm (weather permitting!). Also please do help us publicise the sale by telling others! Also if you have any donations your can give us, please do!" Ruth Wareing, a joint partner at the Learning Rooms, told us. Sefton Neighbourhood Inspector Graham Fisher has told the press at the time:- "The centre provides a vital and much valued service to the community. This was a targeted burglary and we are determined to get them back to their rightful owner. I would encourage anyone who can help the Police investigation to call Merseyside Police on:- 101 or Crimestoppers, anonymously, on:- 0800 555 111." They are still appealing for anyone who witnessed the burglary, saw anything suspicious in the area that night, or has been offered any of the stolen items to contact them. If you can help the Learning Rooms, but cant attend the plant sale, please call them on:- 01704 620165 or send an email with your contact information on.
Last week we asked if you what this was on Lord Street, did you find out?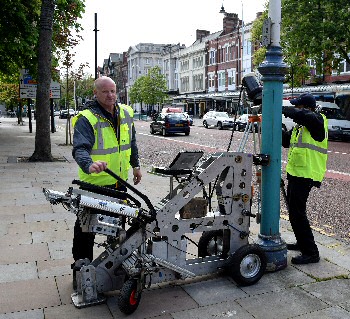 SOUTHPORT'S Lord Street had a very strange machine on it got many readers asking us what was it. Well sadly it was not a Transformer or anything as exciting as that. It was in fact Rei Lux UK Ltd's testing the street lighting columns, using patented non destructive testing (NDT) structural analysing system. The 3D portable measuring machine enables the firm to identify issues that are caused by insufficient back filling around the lighting or CCTV column, material failure, due to corrosion or crack formation, incorrectly fitted or corroded bracket arms and swage joint or multi-step joint failure. The results are then passed on to Sefton MBC so they can keep Lord Street safe and light up at nights... Well you did ask!

...HAPPY BIRTHDAY
...
Email us to put your or a friends birthday in one of our editions...
If you have someone you want to say happy birthday to, for free, then use the email address below to send us the names you want us say happy birthday to, and/or a photograph. Email us today!