More help available after warmth scheme helps Merseyside residents
A Liverpool resident, who was living without a working boiler in her home, has received help after a warmth scheme brought charities together to fund a new boiler for her. Now the scheme is appealing for more Merseyside residents living with long term, cold related illnesses to come forward.

78 year old Mavis Herlihy suffers from arthritis, has high blood pressure and was referred to the nPower Health Through Warmth scheme by Liverpool City Council. The scheme is managed locally by co-ordinator Robbie McAndrew who is assisted by Janet Hughes, and both are based at partner organisation Energy Projects Plus. nPower Health Through Warmth aims to help vulnerable residents whose health is made worse by the cold due to inadequate heating and insulation.

Robbie, who has been the local Health Through Warmth co-ordinator for 10 years, said:- "We're delighted we helped Mavis to get a new boiler which cost £1,710. We received partial funding from 2 charities and the balance of £590 was paid from the unique nPower Health Through Warmth Crisis Fund. We're looking to help more people like Mavis in the Merseyside area and people do not need to be, or become, an nPower customer to benefit. There are certain eligibility requirements around illnesses, finances and home ownership, so please visit our website to find out more details."

Since the scheme was founded in 2000, more than 86,000 vulnerable residents in England and Wales have been referred to nPower Health Through Warmth for aid with heating and insulation. In the Merseyside area, the scheme has helped over,5,600 households access £7.3 million worth of measures and installations, with over £1 million being contributed from the unique nPower Health Through Warmth Crisis fund.

Mavis, who's delighted with her new boiler, said:- "I'm over the moon that I've been able to turn the central heating on last winter and it's been lovely to be warm through the cold months. I'd like to thank Robbie and Janet from Energy Projects Plus for all of their effort helping me, and I can't praise the contractors enough for their tidy workmanship."

Elaine Midwinter, nPower Health Through Warmth scheme manager, concluded:- "We're delighted to have been able to help Mavis and hear that she was able to keep warm last winter; it makes all of our work worthwhile. We look forward to helping more people from the Merseyside area."

For more information about Health Through Warmth; including eligibility criteria on illnesses, finances and home ownership; please visit:- HealthThroughWarmth.Com. To speak to your local Merseyside co-ordinator, please call:- 0800 043 0151.
Trailblazing plans for young people's travel ticket to go up to 18 go to Committee
ALL young people 18 and under will benefit from cheaper bus travel after elected Members approved recommendations to extend age eligibility on a popular ticket at the Merseytravel Committee meeting on Thursday, 25 June 2015.

Members agreed to extend the £2 MyTicket; which allows for unlimited all day travel across the Merseyside bus network; for 18's and under, starting from 19 July 2015. The good news comes in the run up to Catch the Bus Week; a national celebration of the benefits of taking the bus.

Merseytravel will be the 1st public transport body to trailblaze a product of this kind for this age group regardless of whether they are in education or not.

The plans follow feedback from young people who feel they have limited access to leisure, training and other opportunities because they have to pay adult fares for public transport once they hit 16; unless they are eligible for student discounts if they are in full time education.

This has been reinforced by comments from Local Authorities and the education and employment sector, who feel that the cost of travel is a barrier to some young people being able to progress. It is also now a requirement for young people up to the age of 18 to be in education or work based training.

16 year old Stefan Price, a keen advocate for affordable transport for young people, said:- "This is amazing news. When MyTicket was 1st launched last year for 5 to 15 year olds I was a big supporter and was disappointed that I could no longer buy it once I turned 16. Having the age range increased to 18 means that myself and other young people can continue to access vital education and employment opportunities without paying unfair adult prices."

MyTicket was introduced in May 2014 and by the end of March 2015, 1.3 million tickets were sold and around 4 million journeys made.

Cllr Liam Robinson, Chair of Merseytravel, said:- "We first launched MyTicket in partnership with commercial bus operators a year ago on a trial basis for 5 to 15 year olds following our pledge to make transport more affordable for young people. It has proved to be such a big hit with young travellers that it is now a permanent product and we're delighted that we can extend that offer to those 18 and under. This reflects our commitment to listening to our young customers and trying to bring down the cost of travel for more young people. We're not stopping at MyTicket but looking at young people's fares across the board, working with operators to address affordability issues."

Elisabeth Tasker, managing director of Stagecoach Merseyside and South Lancashire, said:- "Bus travel is a key means of transport, particularly for young people, so we're delighted that the MyTicket scheme has been extended to include people up to the age of 18. This inclusive system opens up more affordable transport options and removes cost barriers which might otherwise restrict under-18s. We're very pleased that our young customers, who often rely on our buses, will be able to take advantage of this ticketing option."

Howard Farrall, area managing director, Arriva Merseyside, said:- "We are delighted to continue to work with our partners to make bus travel more attractive and affordable for young people. MyTicket has been a tremendous success."

At the Merseytravel Committee, Members also approved plans to extend supported bus fares for children and young people to the age of 18 in early autumn.

"What's that coming over the wave? Is it a monster?"
Report by Madeleine Saghir, video and photos by Patrick Trollope.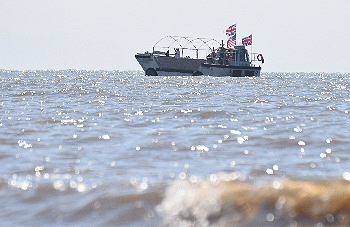 REPORTS of a strange aluminium hulled monster, glistening in the Sun came in on Tuesday, 23 June 2015 as a massive 15 tons 'Amphibious Rescue Craft' LARC-XV, aka Defiant II, powered up its 600 hp engine on Southport Beach. The craft has recently finished being been lovingly restored prior to visiting the Woodvale Rally. It was raising funds for Help the Heroes, over the previous weekend and was about to head home to Fort Perch Rock in New Brighton. With flags fluttering in the light wind and with a crew on board, this massive monster was proved hard to miss by both tourists and locals alike, who flocked over to see it. After departing from Southport Beach, the 45 by 15 feet amphibious craft then headed to Ainsdale Beach for final checks before going fully out to sea and back to New Brighton. On its way in to Ainsdale Beach a small inshore RNLI Rib met up with the vessel, to aid them on to the shore and to take a closer look at this ex-Vietnam War, American military vehicle.

As it drove on to the beach, again tourist and locals flocked over to take a closer look. Plus it allowed the RNLI crew who wanted to have a closer look at this historic and unusual craft a chance to get on-board and take a look around. The crew of "Defiant II" said that they want to thank both the RNLI and also Sefton Ranger Services for their help, both going and returning from Woodvale Rally. The impressively large vehicle made for quite an unusual tourist attraction as a result. The vehicle is believed to be worth around US $1,000,000 and the wheels which are around 1.6002 metres high cost around GBP £5,000 each, so it is no wonder why people flocked to see it, as not many of these craft are on our shores! Oddly, this amphibious can also take on around 1,000 gallons of fuel, but this apparently lasts a long amount of time as the vehicle does not consume much, not bad for a war machine that was built in 1968. As it was originally used in the Vietnam War and then later sold to the French Navy, it is not surprising that it also has platforms for machine guns. Sadly they had not been on show during its adventures. Woodvale Rally was not the 1st stop for the craft at a large public event, as it had also recently been used to view the arrival of the Three Queens cruise ship which took place in May.

Unfortunately however, it may have to be re-located due the fact that Wirral Council is currently arguing that it is "an eye-sore" and would like it to be moved from New Brighton. Interestingly Defiant II is looking for a new home and has already proven to be not only an interesting tourist attraction, but also a useful resource for the rescue community after it helped with a rescue earlier in the year, off the Wirral Coastline... So saying that it is "not in keeping with a seaside area" might prove to be a costly error for the Council. Let's hope we can keep this amazing and valuable resource on our Merseyside Coastline. If you can help re-home it, by offering a large enough area for them to carry out upkeep and close enough to the shoreline, please get in contact with us, at Southport Reporter or get in contact with Fort Perch Rock.
To see our Woodvale Rally coverage in this edition, please click here, or alternatively please enjoy this coverage of what is a truly remarkable bit of American military hardware.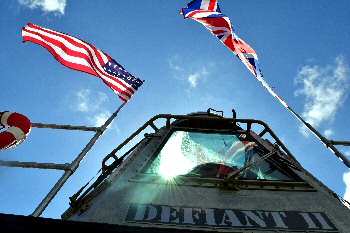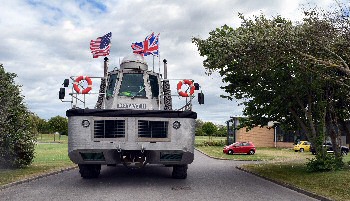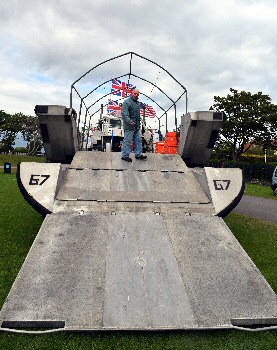 Page 1 of 5