Hospital Staff Out in Force to Celebrate Work of Reservists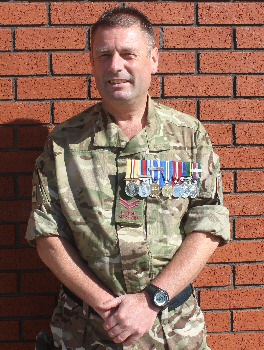 LIVERPOOL Heart and Chest Hospital (LHCH) celebrated Reserve Forces Day on Wednesday, 24 June 2015, by paying tribute to staff who combine their duties of contributing the very best patient care, whilst also serving the UK Reserve Forces.

Reserve Forces make up approximately 1/6th of the country's Armed Forces personnel. These men and women balance their civilian lives with a military career to ensure that should their country require them, they would be ready to serve as part of the military.

Major Lisa Tierney, from 208 Field Hospital, is also the Theatres Manager at LHCH; the country's largest single site specialist heart and chest hospital; where she oversees 9 operating theatres providing emergency and planned surgery for cardiac or thoracic patients, as well as those requiring pacing and endoscopy procedures.

The most recent of her 3 operational tours came in 2010, when she spent three months over Christmas and New Year helping to run the British military hospital at Camp Bastion in Afghanistan, treating injured soldiers and civilians.
Lisa said:- "When people find out that I'm a Reservist and that I've served overseas, they are often curious to know what it's like to go from one of the best hospitals in the country with state-of-the-art equipment and facilities, to a military hospital in the middle of a desert. However the challenges that you experience are just different from those you face on a day-to-day basis and the way in which you respond to those challenges is key. Working as a Reservist has been enormously rewarding. Learning how to tackle these different challenges and developing strong relationships with a broad range of other health care professionals has been particularly worthwhile."

When not working as a Ward Manager at LHCH, Gina Aldous is a sergeant with the Air Cadets, 617 Squadron, based in Cheshire. After joining the Air Training Corps as a civilian instructor in 2013, she was appointed as a non-commissioned officer in March this year. She said:- "Delivering the highest quality of care and best experience possible to patients on our ward with cystic fibrosis or those awaiting surgery, as well as looking after their families on a daily basis, is just what we do. Although I've not served operationally, working alongside other reservists has been beneficial in many ways. It has helped me to develop new skills and learning, as well as building my leadership abilities, which I've been able to bring back into the hospital setting."

Whilst LHCH's approach to delivering patient and family centred care has been recognised nationally, Gina highlighted further support is also now available for patients and families connected with the Armed Forces and Reserve Forces. She added:- "By working alongside the Defence Medical Welfare Service (DMWS), we're now able to put our patients and families in contact with independent and confidential support that is specifically tailored to the Armed Forces Community. Service personnel and their families face a unique set of challenges, often very different from those in civilian life, so it is only fitting that they receive unique care and support; that is what DMWS is able to provide."

Outside of his day to day responsibilities as a hospital porter at LHCH, providing calm and friendly reassurance to patients as they are transported between wards and departments, Corporal Jeff Murphy, from The Duke of Lancaster Regiment, has been a Reservist for the last 30 years. Having signed up as a 19 year old, he has served operationally in Iraq and Afghanistan, and also spent many years as the Physical Training Instructor for the assault course activity on ITV's Krypton Factor. He said:- "I've thoroughly enjoyed my time as a Reservist and learned so much that has helped me provide better care for our patients and families here at the hospital."

For further information about Liverpool Heart and Chest Hospital, please visit:- LHCH.NHS.UK.

Rice Lane Infants and Nursery strut their stuff for British Red Cross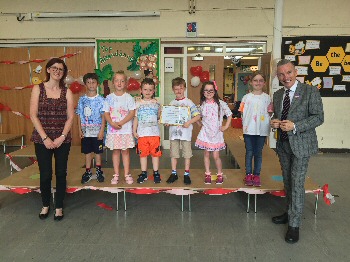 PUPILS at Rice Lane Infants and Nursery in Liverpool have created a fashion show and unique t-shirt designs to raise money for the Red Cross Hundred2Hundreds campaign. The Walton school has a history of winning enterprise competitions, previously receiving the top prize at:- 'Global Entrepreneurship Congress 2012.' On 24 June 2015 their fundraising efforts seed funded by £100 from the British Red Cross ended with children under 7 years old giving professional catwalk models a lesson in walking and posing with hands on hips showing the latest in children's fashion tee shirts, raising a total of £771.25. British Red Cross project Hundred2Hundreds was introduced by Gary to Liverpool primary schools following his meeting with Tina Robinson (Senior Community Fundraiser; Merseyside) and Clare Henderson (Community Fundraising Manager; Northern Region) at his Thursday Business Clinic Drop-in session in Central Library. The Red Cross offered Gary £4000 for up to 40 enterprise projects (£100 each) delivered across Merseyside by young people. Rice Lane Infants and Juniors Primary School were the 1st to sign up and receive their £100 "seed fund".

Councillor Millar said:- "Working with the Red Cross we have a fantastic opportunity to inspire an enterprise culture in our schools. We can use the Hundred 2 Hundreds project to stimulate team work, create great business ideas, help our local communities and raise money for those most in need. Rice Lane's fashion show was professional and fun. Their fundraising summed up exactly why I love this amazing City."

Liverpool City Council's Mayoral Lead for Primary Schools, Councillor Lana Orr, said:- "This is an exciting opportunity for children in Merseyside to make a difference to the lives of people with the help of the British Red Cross while gaining new skills in literacy and numeracy. Well done to Rice Lane Infants and Nursery."

Tina Robinson, a senior community fundraiser for the British Red Cross in Merseyside, said:- "We are thrilled Councillor Millar has chosen to support the British Red Cross to encourage young people to develop their enterprise skills and raise vital funds to help people in crisis. If you have your own idea just like Rice Lane Infants and Nursery did and you think could sell with the support of your school please get in touch with Tina at the British Red Cross by calling:- 0151 702 5061 or send them an email."
Ruling could cut tenants' heating costs
LIVERPOOL City Council has won a property tribunal ruling which could see landlords throughout the country having to provide affordable heating for their tenants. The case concerned a flat in a converted property over 100 years old in Botanic Road, Wavertree, owned by Mr. Anwar Hadi Kassim. Its heating consisted of panel convector heaters and a towel rail which operate on peak electrical tariff. The City Council served an improvement notice requiring the installation of either a gas fired central heating system, or modern fan assisted storage heating system Mr Kassim appealed against the notice to the 1st-Tier Tribunal Property Chamber (Residential Property. However, the Council successfully argued that the panel convector heaters and electric towel rail were so expensive to run compared with a gas central heating system or modern fan assisted storage heating system it would mean that the likely occupiers of the flat would not be able afford to use them as required. This would lead to the flat becoming unhealthily cold. The Housing Act 2004 places a duty on councils to take enforcement action where what are known as Category 1 hazards; those that present a severe threat to health or safety of a resident; are identified. The tribunal agreed with the Council that the current heating provision at the flat resulted in a Category 1 hazard for excess cold and confirmed the improvement notice and the works which were needed to remedy it. Councillor Frank Hont, cabinet member for housing, said:- "This is a very significant ruling. Fuel poverty is a real issue in the City and it has now been firmly established that landlords cannot rely on inefficient and expensive heating for tenants. We want tenants in the private rented sector to be able to live in warm and safe accommodation and not have to have to choose between heating or eating. This decision will have nationwide repercussions and will be welcomed by tenants throughout the country."
Army holds Waterloo 200 Dinner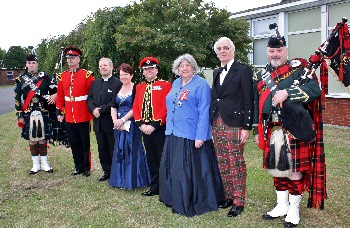 THE British Army, on 19 June 2015, held a Waterloo 200 Dinner, at Altcar Training Camp, Hightown. The dinner took place within the Officers Mess, with the Lord Lieutenant of Merseyside Dame Lorna Muirhead, President of the Centurions of Merseyside, with her Husband Ronald, along with Altcar Camp Commandant Colonel Gordon Black and his Wife Valerie, plus Rector of Liverpool Reverend Crispin Pailing attended:- 'Bugler and Pipers'. The dinner event was held on to raise money for the ABF The Soldiers Charity. This photograph was taken for us by Roy Bevan.