Southport Flower Show 2015 is underway!
Report by Madeleine Saghir and photograph by Patrick Trollope.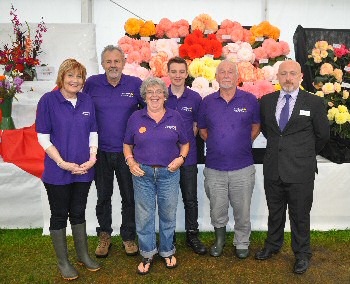 ON Thursday, 20 August 2015 the 86th Southport Flower Show began. The show kicked off early, with hundreds of people waiting eagerly at the gates. Celebrity chef Jean-Christophe Novelli and TV star Sherrie Hewson the officially opened the show, whilst the sun came out and the rain managed to stay off throughout the first day. Sadly that was not the case on the second day, as the heavens opened.

The theme that had been chosen for the annual show this year was 'China' and therefore this was adapted into the architecture of the show gardens. This ranged from streams, Chinese plants, bridges and vases which enhanced a Chinese effect. The Best Outdoor Garden winner known as "Muddy Boots" even choose to offer Chinese fortune cookies to passers by which also added to the oriental theme.

There was also no shortage of entertainment. There was a range of floral displays, stalls selling unique hand crafted items, cookery, live music, and demonstrations such as The Dog Show, which is always enjoyable to watch.

The show has plenty to offer and many interesting people on hand to advise budding gardeners. This link takes you to a small taste of what we have photographed so far at this fantastic event.

To hear more about the 2015 Southport Flower Show, please do not forget to visit next week's edition for full article and lots more pictures, along with some interesting interviews with a range of people and garden exhibitors.
If you have attended this years event, please do let us know what you think of it, via emailing our newsroom at:- news24@southportreporter.com.