Blues pay visit to transplant ward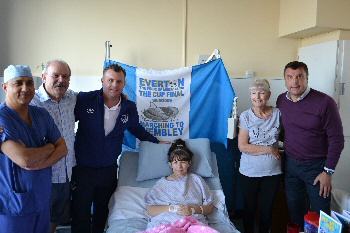 TRANSPLANT patients were paid a surprise visit this week as Everton Football Club Ambassadors Graeme Sharp and Graham Stuart called into the Royal Liverpool University Hospital to mark National Transplant Week.

The fans' favourites visited patients on Ward 6B and Ward 9A who have recently received kidney transplants as well as patients who are undergoing dialysis; a procedure which cleans blood if the kidneys aren't working properly.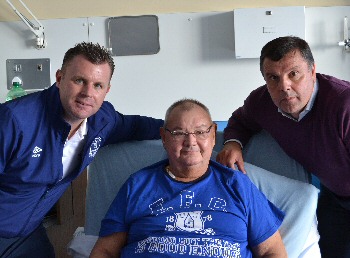 Graeme Sharp, Everton's leading post war goal scorer and club Ambassador, said:- "It's been really inspiring for us to come here today and meet these patients who have benefitted recently from the kindness of others. Signing up to the organ donation register only takes a few minutes but can help to save lives."

The Royal Liverpool University Hospital is the regional referral centre for renal transplants; the transfer of a healthy kidney to the person with little or no kidney function. Dr Peter Hampshire, clinical lead for organ donation at the Royal, said:- "It's fantastic to have Everton in the Community come and visit transplant patients. We want to get as many people as possible talking about organ donation and joining the organ donor register. We also want people to discuss their decision with their families, so that their relatives know what they would want to happen if they were in a situation where donation is possible. Unfortunately 3 people die every day while waiting for a transplant in the UK. You could help save someone else's life after your death. You may not realise it but one organ donor can potentially save up to 8 lives."

National Transplant Week aims to raise the awareness of the benefits of organ and tissue donation, and to encourage people to sign up for the organ donation register sooner rather than later.

Everton in the Community works with the Royal Liverpool University Hospital throughout the year to support and deliver a number of health promotion campaigns which work to raise awareness of public health issues as well as creating a healthier Liverpool for all.

Builder's legs are worth £1.1 million but an engineer's eye is worth £3.4 million
TAYLOR Swift might have insured her legs for £26 million ($40 million), but British workers also put high price tags on their body parts. The average worker from the North West values their legs at £791,884 which is 11% lower than the national average of £891,408

The average builder thinks their legs would be worth £1,185,000 for being crucial tools of their trade. Engineers and lawyers are even more precious about their limbs, putting their worth at £1.2 million. Telecoms workers value their legs more highly still at £1.9 million.

£1,140,000 is what doctors and nurses would ask for and the average shop worker, traditionally on their feet a lot, valued their legs at £1,045,000.

The research, conducted by family focussed insurance brand There®, asked 2,000 professionals across 20 different industries to put an insurance value on different body parts to highlight their impact on earning potential. In the North East eyes were the most valued, followed by face, hands then legs.

Engineers top the tables with an insurance value on their eyes of £3.4 million, followed by plumbers and electricians at £3.1 million and telecoms workers at £2.6 million.

Plumbers and electricians also put 1 of the highest price tags on their hands at £2.2 million, with their index finger alone being worth £1,196,107 in compensation.

Philippa McLaglen, Marketing Manager from There® explains:- "Taylor Swift insuring her legs isn't as mad as it sounds; they're part of the 'Taylor Swift' brand and so affect her earning power. Similarly damage to a builder's leg or an engineer's eye would have a big impact on their earning potential. Being fit and healthy is crucial to an individual's ability to do their job which is why, despite so many other financial pressures, 1 in 4 in our study has considered insuring themselves against being unable to work due to injury. With financial protection, anything is better than nothing if you get injured and can't do your job."

In fact 75% of designers said they wouldn't be able to do their job if they injured their hands or arms, making the £1.4 million insurance price tag they'd place on them understandable. 77% of the hospitality industry also admitted they couldn't do their jobs if they injured their hands.

The research also showed a difference between self employed and employed workers. Self employed people valued their bodies even more highly. This is reflected in the fact the self employed are more likely to think insurance against injury is a sensible precaution (57% vs. 45%) and that 64% of them feel more pressure to take care of their physical well being because they are self employed.

Philippa McLaglen, Marketing Manager of There® continues:- "The self-employed are especially at risk and feel the pinch more than those who have the safety net of an employer that provides sick pay. Our Too ill to work insurance is designed to pay out if someone does injure themselves, like breaking an arm or leg, and can't do their job for a while."

Statistics Source:- The research was conducted by OnePoll on behalf of There® surveying 2,000 UK workers across 20 industries. Carried out online August 2015.