Husband rises to Three Peaks Challenge for breast cancer services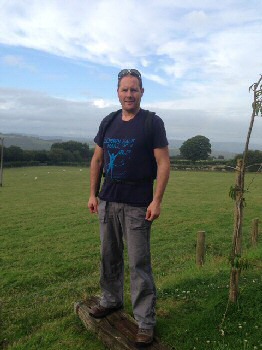 A husband whose wife is currently fighting breast cancer is preparing to climb the 3 highest peaks in the UK to raise money for new breast care services. Richard Haythorne, alongside a team of R Charity fundraisers, will climb Ben Nevis, Mount Snowdon and Scafell Pike in 24 hours.
Richard's wife is currently receiving treatment for breast cancer in the Linda McCartney Centre at the Royal Liverpool University Hospital and the environmental health officer from Saron, near Denbigh, North Wales, sees the National Three Peaks Challenge as the perfect opportunity to "give something back". Raising money from the physically demanding trek is an ideal way to say thank you for the care his wife has received from the Royal and across the NHS, says Richard.
Lesley Haythorne was diagnosed with breast cancer after she noticed a lump while paying fetch with the family dog in June 2013.

While Richard, who can't wait for his wife to meet him at the bottom of the final climb, is used to climbing the likes of Snowdon and Ben Nevis, he thinks the biggest challenge will be maintaining the energy to climb all three in such a short amount of time.

The team set off from the Royal at 8.00am, on Friday, 11 September 2015 and make their way to Ben Nevis (1344m) in Northern Scotland. If all goes to plan they would then complete Scafell Pike (978m) in the Lake District over night before completing Snowdon (1085m) on Saturday, 12 September 2015.

Richard, 43, said:- "The whole process of my wife being diagnosed and the treatment that follows has been very difficult because there are so many ups and downs that you go through, but we've had amazing support from everyone involved at the Royal and across the NHS. My wife is incredibly strong, though. She always sees the glass as half full and picks me up when I'm feeling low about it. This just seemed like one thing I could do give something back to the people who are helping her. I can't wait for the challenge. I'm a keen walker anyway so the idea of climbing Scafell Pike in the early hours of the morning is really exciting. I think being on your feet for that long, staying awake and trying to get some rest in a mini bus will be the biggest challenge!"

The R Charity £10million Appeal, which launched this month, will help to provide the most up to date and innovative services in the new Royal, including three new mammography machines for the new Breast Unit which will enable earlier diagnosis of more women and the identification of breast cancer at a curable stage. To find out how you can become a hospital hero by raising money for the new Royal, email:- fundraising@rlbuht.nhs.uk or call:- 0151 706 3150.
Calling all up and coming male actors in Merseyside! You could star in the most enchanting panto in the land!
PRODUCERS LHK Productions Ltd., are now seeking 2 talented male actors to play the characters of Buttons and Dandini in their glittering production of Cinderella at the Epstein Theatre this Christmas. Lee Kelly, managing director of LHK Productions will be holding an open audition to find 2 talented local men who can sing, dance and act and are holding auditions on Monday, 21 September 2015. For the part of Buttons, they are looking for a cheeky chappy, aged 16 to 25, with a great personality and perfect comic timing, who can also sing. The character of Buttons is a bit down at heel, but is always there to cheer poor Cinders up. Meanwhile, Dandini is Prince Charming's right hand man so Lee is looking for a strong actor, age 18 to 30, of any height, who must have a strong vocal. The casting will take place at the Epstein Theatre and must be arranged by appointment only by emailing:- becky@lhkproductions.co.uk.

Auditionees need to prepare to sing 2 pop songs of their choice (1 ballard and 1 uptempo piece) and list which part they wish to audition for.

Returning to the Epstein Theatre for the 4th festive season, Cinderella tells the much loved story of a pretty young girl kept captive by her wicked ugly step sisters. When Cinders is invited to a magnificent ball at the palace, her 2 fiendish siblings forbid her to attend. With a wave of a magic wand, her very own fairy godmother appears to save the day and she is transformed into a beautiful princess. After a magical evening dancing endlessly with Prince Charming, midnight approaches and poor Cinders has to depart before the spell is broken. With a single glass slipper left behind, will Prince Charming be able to find his princess? Will Cinders escape the clutches of her ugly step sisters and live happily ever after?
Those talented enough to impress the producers will take to the stage alongside Calum Best, the son of football legend George Best, as Prince Charming, and like his famous father, the heart throb certainly has buckets of charm and is bound to woo the audience, as well as the hand of Cinderella… The all star production also features Beryl Marsden, 1 of the greatest vocalists of the Merseybeat era, who will make her panto debut as the Fairy Godmother. Lee added:- "We'd love to give a local guy a chance!" So if you think you would make a perfect Buttons or Dandini, contact LHK Productions to arrange your audition today.

Film Studio plans for Liverpool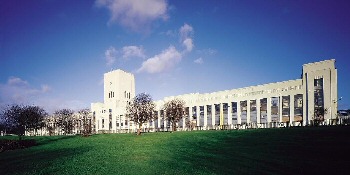 LIVERPOOL is setting the stage to be the most filmed City in the UK as proposals to create a new film and TV studio in and around the iconic Littlewoods Building are to be considered on Friday, 18 September 2015.

A report going to Cabinet will set out plans to build the Littlewoods Studios Liverpool; a 4.5 hectare hub consisting of film and television studios, and a new home for Liverpool Theatre School which is currently based in Aigburth. It will also provide new space for the City's booming creative community; thanks to the success of the Baltic triangle, the need for space for the sector is overwhelming; and opportunities for an on site educational offer will also be explored.

Located at both the Littlewoods Building and on the neighbouring site of Liverpool Innovation Park on Edge Lane, the new campus will create up to an estimated 900 full time jobs when at Capacity.

The studios will mean that Liverpool can meet the demand for film and production facilities, after a report by the Film Office revealed that in 2014 to 2015, the City missed out on a potential £20 million filming revenue due to Capacity issues in the City. Following the recent announcement about tax breaks for the British film industry, it is predicted that more blockbuster productions will be looking to film in the UK, and if Liverpool can't offer the required facilities, the City will once again miss out on millions of pounds.

With access to new 20,000 to 30,000sqft sound stages and in a building with a greater height (up to 50 foot), it is predicted that Liverpool will become an even more attractive proposition for production companies making TV programmes, films, adverts, music videos and corporate videos.

The Littlewoods Building and adjacent land is currently owned by the Homes and Communities Agency, who will be disposing of their interest to the City Council. All parties have been working together to facilitate this delivery and an agreement is in place to transfer the land and property interests to the preferred scheme developer Capital and Centric Ltd. at no cost to the City Council.

If the report is approved, work on the £25million project will start immediately, with major onsite works starting as soon as January 2016.

Mayor of Liverpool, Joe Anderson, said:- "This project has been a long time in the planning. Various sites were reviewed, but the recognisable Littlewoods building offers the scale required and is in a great location to attract productions to the City. Capital and Centric are a perfect choice as developer and their experience shows they understand and work well with the creative sector. With this development we can support the film sector, attract inward investment, give a boost to the local economy, create jobs, improve skills and generally enhance the image of the City. This also comes in the same week as we've announced Liverpool as the new home for the British Music Experience, so it all demonstrates our commitment to escalate the growth of the creative industries in this City."

The former Littlewoods Pools Building has been vacant since 2003. Recently on the site, Capital and Centric completed a £4m conversion of the Bunker Building, creating 20,000sqft of speculative office space, attracting digital and creative companies. They will continue to work onsite and take direct ownership of the site with a 250 year lease, delivering the 1st 2, of 3, phases of the project.

Capital and Centric will look to create around 1,500 jobs throughout the development phases, through the conversion of the existing buildings plus further bespoke buildings for the Film and TV sector. The project will deliver super energy efficient buildings with a focus on unique design.

Michelle Rothwell from Capital and Centric said:- "The Littlewoods Buildings is part of the history of Liverpool, with more than 2,000 people working there at 1 time. We're really looking forward to bringing back to life what is an incredible and fascinating part of Liverpool's heritage. We love converting buildings, they're perfect for creating an inspiring destination, with co-working space, cool cafes and restaurants, and an environment to help businesses grow."

Carl Moore, HCA Head of Area for the Liverpool City Region, said:- "Using our land to help meet housing and growth priorities in Liverpool is central to our business and our local approach. We have been working with Liverpool City Council towards bringing this iconic building back into use and towards realising the film and media hub, which is a Mayoral Priority"

Claire Poyser, Joint Managing Director of Lime Pictures, said:- "I am delighted and excited that Liverpool will have its own production facility. It will not only provide the impetus for growth for established production companies operating within the region but attract new business to a City that offers a greater range of backdrops than anywhere else in the UK."

Maxine Ellis, Principal and Director of Liverpool Theatre School, said:- "Liverpool Theatre School is delighted to be part of this exciting new venture. We have been involved in training talented young people to enter the theatre industry at the highest level for over 70 years. The state of the art facilities which will include a 140 seat theatre and purpose built studios will enable us to continue to provide further training at a world class level."

Filming in Liverpool in 2015 is so far up 20% in the 1st 7 months compared to 2014, with more than 130 productions being filmed in the region. Projects have included feature film:- 'Florence Foster Jenkins' starring Meryl Streep and Hugh Grant, Stephen Poliakoff drama:- 'Close to the Enemy', ITV supernatural crime drama Houdini and Doyle and Sky's flagship 2016 drama:- 'The Five'.