Tesco moves to shorten opening hours at Formby Superstore
Photography by Patrick Trollope.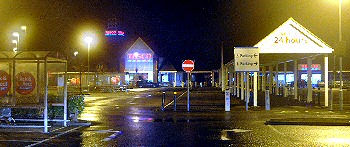 ALMOST a quarter of Tesco stores are to shorten opening hours. Tesco have recently reported huge losses and this move comes as part of a bid to save costs. In total, 76 of its biggest stores will be affected in what the shopping giant says is a:- "lack of shoppers over night."

The 24 hour trading, and other practices, used by Tesco and other supermarket chains have been seen as one of the major reasons Town and City Centers have seen a major fall in independent shops. Some in the industry are now asking: is Tesco is now paying the price of its campaign to knock out the smaller competition on the High Street, by missing the rise of the online market? This question was highlighted as Tesco's Retail Director, Tony Hoggett, who he told the media:- "With the growth of online grocery shopping, these stores saw very few customers during the night." Now many businesses will be watching to see what happens next.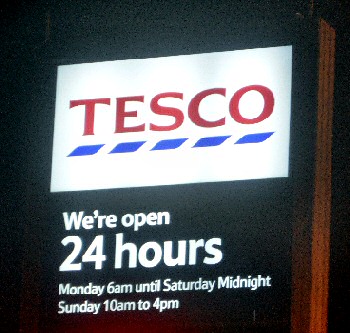 1 of the stores that will cease 24 hour trading is on the outskirts of Formby, Merseyside, on the A565.

We are told that these changes will take effect nationwide, between 14 March 2016 and 11 April 2016, at 76 stores. As yet we do not know if any jobs will be lost at Tesco's Formby, due to this re-thinking of Tesco's retail operations.
Sterstore
Buckingham Superstore
Burnage Superstore
Catterick Garrison Superstore
Cefn Mawr Superstore
Cheltenham Superstore
Chepstow Superstore
Chichester Extra
Cirencester Extra
Clay Cross Extra
Clitheroe Superstore
Clowne Superstore
Congleton Superstore
Coventry Walsgrave Superstore
Cumbernauld Extra
Derby Mickleover Superstore
Dereham Extra
Dingwall Mart Road Superstore
Dunfermline Extra
East Didsbury Superstore
Evesham Worcester Rd Superstore
Exmouth Superstore
Fulbourn Cherryhinton Superstore
Flitwick Superstore
Formby Superstore
Glossop Superstore
Gloucester Brick Extra
Gloucester Superstore
Goole Boothferry Road Superstore
Harlow Church Langley Superstore
Halifax Aachen Way Superstore
Hall Green Superstore, Solihull
Haverfordwest Extra
Helston Superstore
Hereford 2 – Hereford Abbotsmead Superstore
Hertford Superstore
Hexham Extra
High Wycombe Loudwater Superstore
Hemsworth Superstore
Hinckley Superstore
Ingleby Barwick Superstore
Inverurie Extra
Leicester Extra
Leighton Buzzard Superstore
Lewisham Superstore
Littlehampton Superstore
Lowestoft Leisure Way Superstore
March Hostmoor Ave Superstore
Maldon Extra
Mold Superstore
Nottingham Carlton Superstore
Orpington Extra
Royston Extra
Sheffield Infirmary Superstore
Skegness Superstore
Sleaford Superstore Superstore
South Wigston Superstore, Leicester
St Austell 2 Superstore
Stoke On Trent Superstore, Kidsgrove
Stroud Superstore
Sudbury Superstore
Taunton Superstore
Toton Extra
Truro Superstore
Uttoxeter Superstore
Walsall Brownhills Superstore
Welshpool Superstore
Whitehaven Superstore
Whitstable Extra
Workington 2 Superstore
Woolwich Extra
Will these changes affect you? If so, please give us your thoughts about this move by Tesco, via emailing us via:- News24@SouthporteReporter.Com. We would also like to hear the views of the shoppers who use Formby Tesco, or any of the other 75 stores affected.