Gig review:- "Little Mix"
Written by Jo Forrest.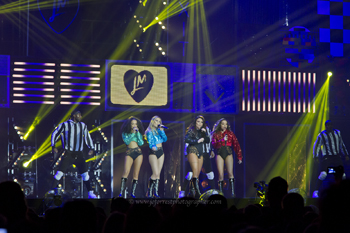 JADE, Leigh Anne, Jesy and Perrie, collectively known as Little Mix, are a big deal judging by ticket sales across the UK on their 'Get Weird' tour. The Liverpool ACC was no different either as the 4 friends brought a bit of glamour to Merseyside, on the 22 April 2016.

There wasn't a seat empty in the Arena as a blast of pyro and smoke heralded the entrance of the pop princesses who, while still airborne, kicked off this high energy pop extraveganza with 'Grown' and 'Hair'. What followed was an 18 song set, multiple costume changes and an endless stream of slick, well choreographed dance routines, all making for a polished ninety minute set.

With fans spread across all generations, the four girls managed to fit enough in their set to capture the imaginations of fans young and old. There was plenty of calorie burning dance routines for the mums, racy outfits for the dads and plenty of interaction between all 4 members of the band and the young, placard waving portion of this sold out venue. Elsewhere there were video montages, pyro a plenty and random giant rabbits to contend with and a set spanning the X-Factor winning groups career.

From 'A.D.I.D.A.S' to 'Hey How You Doin?' to main set closer 'Weird People', this is a display of modern pop at its glorious mainstream best. Returning to the stage for their encore and with Jade clearly struggling from an unspecified knee injury, 'The End' and 'Black Magic' brought this pop spectacular to a flame filled, confetti drenched finale before the four girls disappeared into the night with another city and another set of fans ready and waiting for the girl group and their own brand of girl power.

If you attended please let us know what you thought of this gig via emailing us to:- News24@SouthportReporter.com.
National Charity's Outdoor Challenge to help hearts this summer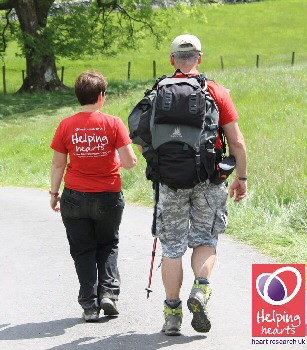 NATIONAL charity Heart Research UK is making a Springtime call to walkers and hikers to join its 20th Annual Three Peaks Challenge in the Yorkshire Dales this summer and raise funds for its work in helping hearts near you.

The charity's new Three Peaks Day in the Dales event on 18 June 2016 is ideal for walkers, hikers and families alike with walks for all ages and abilities as well as a day of fun filled activities for families to enjoy.

The event is a partnership between Heart Research UK and the Yorkshire Dales National Park's Three Peaks Project and is supported by home shopping and online fashion brand Damart.

Money raised from the event will help people live healthier, happier and longer lives as well as improving and maintaining the much loved and therefore much used footpath network in the Three Peaks area around Pen-y-ghent, Whernside and Ingleborough.

If you're into a gentle stroll, a steady challenge or a more strenuous hill walk, set in one of the UK's most celebrated national parks, the Yorkshire Dales, with some of our country's finest landscapes, beautiful vistas and exciting wildlife, the Heart Research UK's Three Peaks event will have something for everyone to enjoy.

There will be three routes on offer the 25 mile Yorkshire Three Peaks challenge; a less strenuous 15mile route which meanders around the valleys, or for those who prefer a gentle stroll and have younger or older participants, a flat, but equally as scenic 5k nature walk in and around the village of Horton in Ribblesdale.

Add to all that the Family Day with its sports day, stalls with fresh local produce, games and activities to make a great day out and you'll have the perfect family experience that will not only improve your heart heath, but will also conserve of one of the UK's most scenic and epic areas of beauty.

It's FREE to come along and enjoy the Day in the Dales but, to make sure you're safe and enjoy our day we are asking for a registration fee to take part in the Three Peaks and Valleys walks and Nature Trail. For this, you'll get manned checkpoints, qualified 1st aiders, response and sweeps teams. We'll even give you a lift if you drop out during your walk. All profits will go to helping hearts near you and the maintenance of the Three Peaks paths.

Entry fees:- 3 Peaks walk £25; Valleys walk £15; Family 5k Nature Trail £5 (or free for children under 12)

If you would like to take part in 2016's event, please visit the Heart Research UK website or contact them on:- 0113 234 7474 to request an information pack.
British Obsession with Possessions
A new survey commissioned by RIAS has revealed that us Brits just love to hold on to things and struggle to let go of items even when we know we don't need them and will never use them again.

The survey, by insurance specialist RIAS, found that 79% of people have space in their home full of items they know they don't need or use for 31% it's a drawer, 28% it's a cupboard and for 19% it's a whole room.

One in 10 people never have a clear out, and the majority of people (64%) have a clear out once a year at the most. Yet, 79% acknowledge holding on to items they no longer need, want or use purely for sentimental reasons.

A spokesman at RIAS, said:- "People seem to struggle to let go of material things, often citing emotional attachment or sentimental reasons for holding onto unnecessary items. It seems to be a subconscious decision to simply hold onto things even though it's known there's no need or use for them anymore. Items are kept out of sight and never used, but hold comfort simply in the knowledge they are there. For many people this 'comfort' extends from a kitchen drawer to occupying an entire room."

The research also found that when moving home a key opportunity to clear out clutter and reappraise belongings people decide to take the junk with them. In fact, 55% of people who have moved home in the last 5 years said they didn't clear out their possessions when they moved. Once in their new home 79% realised they had hung on to items they shouldn't have.
To put the survey results to the test RIAS put blogger Louise Parker of lvinlovewith.com in touch with psychologist Dr Elizabeth Forrester to help her take a less emotional view of her possessions. Having recently moved home Louise had already cleared out a lot of unwanted items, but realised she was still clinging onto a lot of clothing, toiletries and other beauty items unnecessarily.

Louise said:- "I was a little nervous about de-cluttering with Liz if I'm honest. I like to think I'm quite a streamlined person, so I really thought that there wouldn't be anything that I would deem as clutter. However, my wardrobe and drawers that were bursting at the seams were telling a different story so something really needed to be done! Liz's approach was very simple, after putting all my clothes from my wardrobes and drawers (and secret suitcases filled with further clothes) on the bed it was as easy as picking up each item one by one and really assessing whether I wanted it or needed it. Asking myself whether I actually wore it, or if it was the similar to lots of my other clothes was a particularly handy approach. I found that I hadn't really thought about many of the items of clothes for quite a while, just because I rarely saw them in my packed wardrobe! My drawers full of bottles, make up and skincare were an area that really needed addressing it was amazing the great feeling I got when I found something in amongst the clutter that I forgot I had. It was also really great to rid myself of the little sample sachets and bottles from magazines and make up counters. Physically seeing the piles of stuff that I was happy to get rid of was quite a shock and that image will really stay with me when I next go into Boots! Another thing Liz taught me was to contemplate the amount of things I bring into the house every day and whether I clear the same amount out. Now when I do choose to buy something new, I'll be thinking about what I could get rid of to balance it out."

Dr Elizabeth Forrester said:- "Louise made some interesting comments about some of the items she'd struggled to discard. This applied to quite a few cosmetic items which had lain unused and unloved in the drawer. Attempts to avoid unpleasant, negative feelings is a key reason for not tackling clutter. When Louise came face to face with these items, it reminded her of money she had spent on them, so getting rid of them felt wasteful, and led to further feelings of guilt. A self confessed lover of shopping, I asked her about the feelings she experienced when she bought the items. When we shop, we see items that we desire and it often seems as if we will never get over that intense feeling of longing we experience. In fact, that feeling has too often fizzled out before we've even set foot through the door and the item loses its magic. In a similar way, we may fear that the negative thoughts and emotions we get when contemplating getting rid of some unworn or unused purchases won't go away either. By clearing out a significant amount of clutter (like half used tubes and bottles), and taking a novel approach to discarding her unwanted purchases (such as passing them on to friends and colleagues for a donation to a favourite charity). Louise had a very different experience: she found that, rather than being left with uncomfortable feelings she got the same familiar buzz she would get when acquiring something new. What's more, delighting friends with a nearly new bargain (and being able to give some cash to a good cause) will give her some additional 'feel good' experiences. So by having a good clear out, it is possible to fall in love all over again with some things that have been languishing in the back of cupboards."

Did you know that?

► More than 1 in 10 (15%) never have a big clear out.

► 79% admit to holding on to items they don't need or use purely for sentimental reasons.

► 19% have a whole room in their home full of stuff they don't need or use.
Check your Tax position before giving under Gift Aid because of imminent changes, advise Tax experts
WITH the start of the new UK Tax Year, the Low Incomes Tax Reform Group (LITRG) reminds individuals who give to any charity or Community Amateur Sports Club1 under Gift Aid, to check that they will still pay enough Tax in 2016/17 to cover the amount of Tax the recipient will reclaim on their donation during that Tax year.

LITRG has issued the advice ahead of the new Tax Year to explain how changes to the Tax system will impact on Gift Aid donations which could leave non-taxpaying donors with an unexpected Tax bill, as explained below.

Anthony Thomas, LITRG chairman, said:- "We remind individuals on low incomes not to sign any new Gift Aid declaration unless and until they have checked their overall Tax position for the coming year. Also, anyone who has signed a Gift Aid declaration in the past, but who thinks that with the changes to the Tax rules shortly coming into force they may no longer be liable to pay Tax, should seriously consider cancelling the declaration and finding another way to give. Charities really should remind their donors annually about the requirement to pay enough Tax to cover their gift aided donations. Some do this, but many do not. It would be an unfortunate start to the new Tax Year if generosity towards a charity brought a donor an unexpected Tax bill in its wake."

With more individuals being taken out of Tax as annual increases in the personal allowance exceed inflation, there may be many cases where a donor who signed a Gift Aid declaration at a time when they paid income Tax has since become a non-taxpayer. This is even more likely to be the case in 2016/17 for a number of reasons:-

1) From April 2016, every basic rate Taxpayer will get the 1st £1,000 of their savings income paid tax free, and everyone in receipt of dividend income will get the 1st £5,000 of such Income Tax free.

2) Also from April 2016, the system whereby a Tax Credit was attached to each dividend payment has been abolished, so those who used dividend Tax Credits to set against the Tax on their Gift Aid donations will no longer be able to do so.

3) Since April 2015, for those entitled to the starting rate of Tax on savings (ie. with total incomes below £15,600 in 2015/16 some of which was from savings), the starting rate has been zero%.

The way in which the Gift Aid scheme works is that the donor effectively transfers a slice of their Taxable income to the charity to which they donate. The net amounts of their gift, plus the Tax on it, form a gross amount on which the charity can reclaim the Tax paid by the donor. For example, if an individual gives £80 under Gift Aid, the charity can reclaim £20, making a gross donation of £100.

It follow that individuals who give to charity using the Gift Aid scheme are required to have paid at least as much Tax during the relevant Tax Year as the charities to which they donate will reclaim in respect of their donation. If they do not, they are responsible for paying the shortfall to HMRC.

There are situations in which HMRC will invite the charity to repay the Tax they have claimed on a gift made by a non Taxpayer; despite that, by law the donor remains responsible for paying it. LITRG is also pressing HMRC not to pursue non Tax paying people for any Tax due on donations they make under Gift Aid, saying it is fairer that reimbursements should come from the charity.
108 of the region's Schools will benefit from building improvements and expansion projects
108 academies and 6th Form Colleges across the North West will be able to carry out vital work on their buildings thanks to funding announced by Education Secretary Nicky Morgan on 24 March 2016.

The £44.1 million will go towards building improvements and school expansion projects, allowing schools to upgrade their facilities and create extra places where this is most needed.

Ensuring all children have access to the best possible schools and facilities is part of the Government's commitment to spreading educational excellence everywhere a commitment which was underlined by the publication of last week's Education White Paper.

The funding comes from the Government's Condition Improvement Fund (CIF) for 2016 / 2017.

Education Secretary Nicky Morgan said:- "Every child should be taught in surroundings which allow them to fulfil their potential, and we have made significant investments in school buildings to ensure this happens. The latest funding from the Condition Improvement Fund will help us to build on our progress, so that even more pupils and teachers have access to safe, high quality classrooms."

The Government will invest £23bn in the school estate between 2016 and 2021, following almost £18 billion of investment in school buildings by the previous Government between 2011 and 2015.

The Education White Paper sets out radical new proposals which will transform England's schools and ensure that every child, irrespective of their background, has the chance to unlock their potential.

Southern Comfort night at Southport's Sacrebleu Bar
Photographs by Patrick Trollope.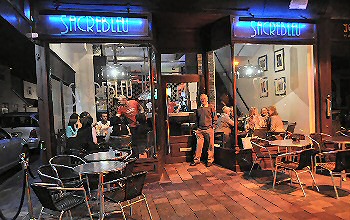 IT is 1 of the world's most famous liqueurs and was born in New Orleans, America, in 1874? It has a very distinctive tasted, thanks to its fruit, spice and whiskey flavouring. Can you guess what it is? Of course it is Southern Comfort (or SoCo), and on Easter Saturday, 26 March 2016, Southport's Sacrebleu Bar held a promotion night for this well know beverage. We popped in early to see what was going on and to get a few snaps. Even though it was early, already some of the regulars had arrived and started to celebrate Easter in style. By the time we returned to get a few more pictures, it was to packed out to take photographs in! Did you attend? Please let us know via emailing us to:- News24@SouthportReporter.com.