ACCA advises School leavers:– "There are 5 strong reasons why you should think about an apprenticeship..."
ACCA (the Association of Chartered Certified Accountants) have launched its' 1st apprenticeship! The ACCA Accounting Technician Apprenticeship now offers young people and School leavers 5 powerful reasons why apprenticeships are a viable and credible route for a successful and exciting career in accountancy.

ACCA's Accounting Technician is offered at Level 4, leading to a Diploma in Accounting and Business, and gives another direction to the globally in demand training offered by ACCA. This includes options to eventually progress to the full ACCA Qualification, pursue a BSc with Oxford Brookes University, or a MSc from the University of London.

And with the Level 7 Accountancy Trailblazer standard expected to be approved by the UK Government soon, ACCA is aiming to bring employers and apprentices an apprenticeship pathway all the way through to Chartered Certified level in the Autumn 2017.

John Williams, head of ACCA UK, says:- "Our Trailblazer programme gives apprentices the opportunity to gain professional training and qualifications, building their experience and earning while they learn. And the training is funded by the UK Government through the employer; so apprentices don't have to pay anything as employers can use the apprenticeship levy funding to train employees. But career and training choices can be overwhelming, so we have five robust reasons why we think school leavers should think about an apprenticeship. We hope this makes the choices clearer for them."

These are:-

► Earn while learning – starting salaries for trainee accounting technicians start from ₤15k.

► Secure a life balance – work, study, live. An apprentice will have time and money to enjoy life outside of work.

► Gain a recognised qualification – ACCA is a respected brand that future employers will take seriously.

► No debt – unlike University, an apprenticeship is free, leaving the apprentice to focus on development and where they want their career to go next.

► Get ahead – an apprentice can start and finish on the career ladder well before their peers at University have even started.

John Williams concludes:- "We recognise apprenticeships to be very much a win-win for all involved. They're not an easier option, simply a different one for school leavers to consider. As an apprentice, they'll work, study and be mentored by an experienced professional, for at least 12 months, and keep a diary showing the skills and behaviours they've learned. When their employer feels they're ready, the apprentice will write a statement reflecting their learning and then take a final ACCA exam. On successful completion of both elements, they'll be qualified as an Accounting Technician Apprentice; skilled and ready for the next step on the career ladder as a finance professional, adding value to their employer's workplace."

Details of the ACCA Accounting Technician Apprenticeship are online.
Crosby Housing Association charity shop burglary

MERSEYSIDE Police have issued CCTV stills of a man and woman, who Officers wish to speak to following a confrontational burglary at Crosby Housing Association charity shop on Lorne Road, Crosby. This burglary, we are told, took place on Saturday, 11 February 2017, at about 1pm. It was reported that a man went behind the till and into a private staff area while a woman spoke to a member of staff. He took electronic goods and a quantity of cash from the till. Anyone with information can call Merseyside Police on the:- 101 number or Crimestoppers, anonymously, on:- 0800 555 111.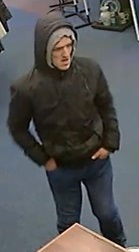 Acting Detective Inspector Alex Rudzinski said:- "We are keen to speak with the man and woman pictured to assist us in our enquiries. Stealing from a charity is a really despicable offence and I would like to reassure the community that we are working to identify the person or people responsible. I would appeal to anyone who was in the area and noticed anything suspicious near to or outside the charity shop to contact Police. Your information will be looked at thoroughly and could really help our enquiries. I would also appeal to the man and woman pictured, or anyone who recognises them to contact Police."

Women's Equality Party Liverpool Metro Mayor candidate presents ₤23 billion cheque to the North West economy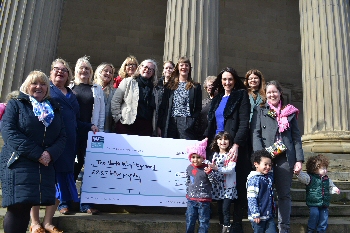 INTERNATIONAL Women's Day, the Women's Equality Party candidate for Liverpool Metro Mayor will present a big cheque for ₤23.7 billion to 'North West Economy.' Tabitha Morton, who was announced as the party's candidate last month and is the only woman in the mayoral race, said the cheque represented the amount that could be added to the region's economy annually if women were able to work the hours they wanted to, at the same rate of pay as men. The gender pay gap means that women in the North West earn ₤23.7 billion less than men, which is not only unfair, it also a huge lost opportunity. Tackling the causes of the gender pay gap; including affordable childcare, flexible working and equal education opportunities for boys and girls - will not only provide a vital economic boost, it will also make life easier for families across the Liverpool City Region. Morton's campaign is focused on gender equality in business, culture and family life. "The Northern Powerhouse project was set up to boost economic growth in the north of England," she said. "It is a project that cannot succeed if it fails to harness the talents of half its population. Because of this, we all lose out. Liverpool's business leaders and innovators understand that gender equality is not a 'women's issue,' but a business imperative, and understand that diversity in the workplace boosts productivity. Allowing women to achieve their full economic potential would add $28 trillion to global GDP and an extra 10% to the UK economy by 2030. I will campaign tirelessly until election day on 4 May to ensure that Liverpool City Region puts women at the heart of the Northern Powerhouse, and starts to make the most of their talents for the benefit of all in the North West."
CCTV appeal following burglary at Southport meat suppliers

MERSEYSIDE Police Detectives have issued a CCTV image of a man they wish to speak to in connection with a burglary at a meat suppliers in Southport.

At around 9pm, on Thursday, 23 February 2017, 3 men forced entry to Southport Bacon Company in Daneway House, Windsor Road, Southport, and stole a quantity of bacon and other meats, cash and 2 Mercedes Sprinter vans liveried with the company's details.

The vans have since been recovered.

Following extensive CCTV enquiries, footage was identified and Police now want to speak to the man pictured to assist with their investigation.

Detective Constable Daniel Pimbley said:- "We are keen to speak with the man pictured to assist us in our enquiries. People may have either witnessed the offence or seen people acting suspiciously around 9pm close to the building, or seen the vehicles being driven away following the burglary. Any information you can provide may be key to the investigation. I want to assure all businesses that we do everything possible to identify offenders who targeted businesses and bring them to justice, and ensure that Sefton remains a safe place to live, work and visit. I would appeal to anyone who recognises this man locally or who may know them from elsewhere to contact Police."

Anyone with information about this incident to contact Merseyside Police on:- 0151 777 3017 or Crimestoppers anonymously on:- 0800 555 111.