Did You Know? Key features about the new Merseyrail trains summarised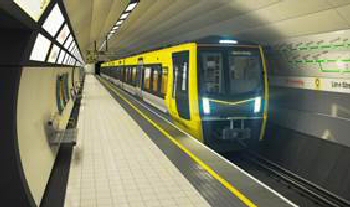 MERSEYTRAVEL has condensed its new trains project into a series of 5 facts to help people understand some of the key features of the new trains that will be running on the Merseyrail network from 2020. It aims to showcase some of the key features of the state of the art trains as well as help answer common questions. The existing fleet is approaching 40 years old; amongst the oldest in the country and it won't be able to cope with future demand, with passenger numbers increasing by 2.5% each year. The new trains, which will be owned by Merseytravel on behalf of the Liverpool City Region Combined Authority, were approved by City Region leaders in December 2016 and a contract was signed with manufacturer Stadler, in February 2017. The ₤460m project also includes infrastructure upgrades to power supplies, platforms and track, as well as refurbishment of the depots at Kirkdale and Birkenhead North and the on going maintenance of the trains.

Said David Powell, Programme Director for the new trains project:- "We've put out a lot of information about the new trains, such as the benefits and how they will be operated, but we appreciate that it's a lot to take in and that's why we've looked to boil the project down to some of the key facts that should reassure and clarify as well as excite."

More detail on the new trains, including factsheets, FAQs and common 'claims and facts' can be found online.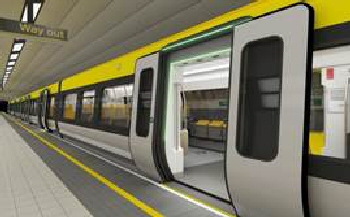 5 ways your travel will be transformed by the new Merseyrail trains:-

1. Disabled passengers and those with buggies, luggage and bikes will be able to get on and off without assistance. A sliding step level with the platform will mean no more stepping on or off, or having to use ramps deployed by Station staff.

2. Onboard staff will be more visible as they'll be based in the saloon, dedicated to assisting you during your journey, especially at night and during events.

3. The risk of you having an incident between the edge of the platform and the train is greatly reduced, with no need to 'mind the gap' and state of the art tech will stop you or your belongings getting trapped in the doors.

4. The train saloon will be unrecognisable... in a good way! Bright, open carriages, visible CCTV images and much improved passenger info.

5. You'll get where you need to go faster. New trains will take 9 minutes of journey between Hunts Cross and Southport.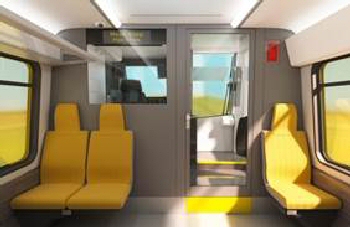 5 things you might not know about the new Merseyrail trains:-

1. Sliding steps to help you get on and off the train, together with other improvements will make our network the most accessible traditional rail network in the UK.

2. These trains will be designed specifically for our network. This is unusual, but possible because they're owned locally by Merseytravel, on behalf of the Liverpool City Region, and won't have to be made so that they could be used on other networks in future

3. The new trains incorporate features local people want to see, from air con to the seating layout and visible CCTV images. This approach, which involved independent research, is considered:- 'best practice' nationally.

4. These state-of-the-art trains will be introduced without having to put up ticket prices or Council tax to pay for them.

5. The new trains will be worth ₤70m a year to the regional economy and will create 1,000 new jobs, just by the fact that they can carry more people (60% more) and faster, with up to 10% off journey times.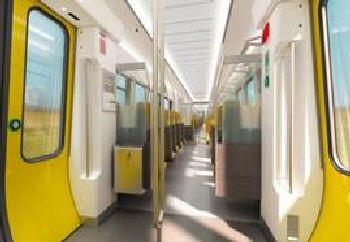 5 things you may not know about Driver Controlled Operation:-
(Where train drivers rather than guards open and close doors and dispatch the train)

1. Driver Controlled Operation (DCO) has been used for more than 30 years on networks across the country such as the London Underground and Tyne & Wear Metro. It is also common across the world.

2. Up to 70% of all passenger rail journeys in the UK are already on DCO networks.

3. DCO is the way we can most effectively meet safety recommendations for the Merseyrail Network following a fatality at James St in 2011.

4. DCO doesn't mean there is only one person on the train; we're keeping a second member of staff, based in the train saloon, at key locations and times. Other DCO networks don't offer this.

5. Across the country there is no difference in the rate of incidents that happen at the train platform edge in networks that use guards and those that don't.
5 things you may not realise about staffing on the new trains:-

1. Merseyrail will remain 1 of the most well staffed networks in the country.

2. New on board customer service staff will be based in the train saloon, working alongside revenue protection teams, security staff, cleaners, British Transport Police.

3. Passengers are, on average, only 3 minutes away from a Station that's staffed 1st to last train.

4. The guards' roles will no longer be required, but all permanent guards are offered guaranteed continued employment, at Merseyrail, should they wish to stay.

5. Staff permanently employed as guards now will be on the same pay, terms and conditions in their new roles, which means they'll earn at least ₤28,000 a year and continue to get other benefits such as free rail travel.

Merseyrail guard 'saved my son's life'
THE prompt action of a train guard, at Liverpool South Parkway Station, on Tuesday 7 March 2017, saved the life of a diabetic passenger who was slipping into a hypoglycaemic coma, the man's mother claimed.

In a dramatic call to BBC Radio Merseyside's Roger Philips show, on Wednesday, 8 March 2017, the mother, who gave her name as Mary, said that without the guard's actions she believed her son would have died, and called for guards to be kept on all trains.

As he made his way down the train the guard on the Northern Line service had found the man apparently asleep but sweating profusely.

Recognising the signs of a 'hypo', the guard managed to rouse the passenger sufficiently to confirm that he was diabetic and immediately raised the alarm.

Station staff assisted in getting him off the train, contacted the emergency services, enlisted the help of an off duty nurse, and informed the man's family. The passenger was discharged later that night after treatment.

RMT General Secretary Mick Cash said:- "Without the guard working his way through that train this unfortunate passenger could have been missed entirely, with potentially tragic consequences. This is yet another example of why we need a guard on every train, but if Merseyrail get their way that guard would simply not be there. Driver only train operation is being spun as modern and safe, but beneath the spin it is nothing more than a money saving attack on everyone's safety."
TV licensing issues warning to hairdressers in Southport and Formby areas
SALON managers who attempt to cut corners when styling hair by not buying a TV Licence could be risking having a 'brush' with their local magistrate, which is why TV Licensing is urging managers in Southport ensure their businesses are correctly licensed.

With businesses keen to keep their clients happy and entertained whilst having their hair cut and styled, many salons are providing customers with individual wall mounted screens in front of each chair. Some forward-thinking salons are even offering tablets to customers so they can access on-demand TV services, as well as demonstrating new potential looks and styles.

Salons need a TV Licence if they provide a TV or tablet for customers or staff to watch live TV programmes or BBC programmes on iPlayer. If the salon does not have a licence then the business risks prosecution and a fine of up to ₤1,000.

In 2016, 10 salons across the UK were prosecuted for licence fee evasion, and in the last Financial Year, TV Licensing enquiry officers visited more than 36,000 unlicensed businesses, including hair salons and barbers shops.

Matthew Thompson, TV Licensing spokesperson said:- "With many salons mounting small TV screens by each chair or providing handheld tablets so customers don't miss a minute of their best-loved TV shows, hairdressers are making sure TV is more accessible than ever before. But it's important salon owners and managers take a few moments to review and update their licensing requirements. Cutting corners, rather than hair, could land the owner in court and facing a fine of up to ₤1,000. A TV Licence is just a 'snip' at ₤145.50, and there are many ways for businesses to pay; including BACS electronic transfer, Direct Debit or cheque. A licence can be bought in minutes online."

Hilary Hall, CEO of the National Hairdressers' Federation, added:- "Reading a magazine in the chair is still very popular, but some clients enjoy watching TV while they're having their hair cut or styled. If someone is having a treatment they can be in the chair or under the dryer for a couple of hours, time the customer could spend with Sherlock, Strictly Come Dancing or Planet Earth II. The National Hairdressers' Federation regularly reminds salons that if anyone will be watching TV in the workplace they need to have a TV Licence."

To help businesses and staff understand the legal implications of watching programmes live at work, TV Licensing has produced a downloadable 'TV Viewing in the Workplace' guide. The guide allows managers to outline whether the business is covered by a TV Licence and whether staff and customers are allowed to watch TV in the workplace. Download the template today!
Does this affect you? Please let us know by emailing us to:- News24@SouthportReporter.com. Also we would love to know if you think TV Licensing enforcement is starting to get out of hand.
Interestingly our Twitter Pole asked:- "Have you watched live TV or BBC Programs at a hairdressers or barbers? This could be on TV, PC, laptop or tablet..." 86% said No, why would I? 14%, yes on my own device.
Mandela memorial plan boost
PLANS for a permanent memorial to Nelson Mandela in a Liverpool park are set to be boosted by work to improve the lake around its proposed location.

The Nelson Mandela Memorial Campaign (Mandela8) wants to create a tribute on the lake island at Princes Park to tie in with what would have been his 100th birthday in 2018, and reinstate a bridge link.

A report to the Cabinet, on Friday, 17 March 2017, proposes spending ₤312,500 restoring the surrounding lake including reinstating the water channel, fixing edging stones, putting in fishing platforms and ecological improvements.

Councillor Steve Munby, Cabinet member for neighbourhoods, said:- "The Nelson Mandela Memorial would be an exciting addition to Princes Park and help attract more people to spend time there. He was made a Freeman of the City in 1994 and it is very fitting that Liverpool should be aiming to honour him, but it is equally vital that the area surrounding the memorial is improved."

The scheme is supported by Liverpool City Council, the North West TUC and National Museums Liverpool.

Campaign Chair, Lynn Collins, said:- "We very much welcome this proposal which will help our aim of creating a unique artwork which will celebrate and commemorate Nelson Mandela's outstanding achievement for humanity, and will bring visitors and tourists to the park. We are currently in the process of appointing an artist who we will work with to create something special that fits the park and its environment and captures the ideals which Mandela stood for; of Freedom, Justice, Education and Equality. This City has a long affiliation to Nelson Mandela and the chosen space of the island in Princes Park creates an opportunity to break down barriers, build bridges and create links on many levels connected to humanity and diversity. It is particularly fitting as Nelson Mandela was incarcerated on an island for 18 years of his imprisonment."

The proposal is part of a package of measures proposed by the Council costing more than ₤1 million, which would also see improvements at Calderstones Park and Sefton Park.

At Calderstones Park, it is proposed that ₤140,000 is used to remove silt in the lake which has blocked watercourses and led to the closure of access for fishing. The lake bank would be reinstated and fishing platforms repaired and replaced. And plans are also in place for a new 'vitality trail' at Sefton Park which will see a wide path with fitness equipment at regular intervals sited on the former 1.5km pony track. The Fairy Glen water feature will also be refurbished and there will be repairs to the watercourse and drainage improvements. The scheme will complement the already completed upgrade of Livingstone Drive car park, footpath repairs, tennis court refurbishment and improvements to the Oasis café and lakeside kiosk. The total cost of the work is ₤677,500.

Mayoral lead for parks, Councillor Peter Mitchell, said:- "We have some of the finest parks in the country in Liverpool and we are committed to doing all we can to encouraging more people into them. The lakes at these parks are important focal points which attract many people to see the wildlife. Their condition has been a concern for some time and we need to act now to improve them."

An earlier plan for a sports and play area at Sefton Park has been placed on hold due to concerns over affordability and its proximity to the recently constructed Otterspool Skate Park. Instead, the funding earmarked for the scheme will be used to pay for the work at Princes Park and Calderstones Park. The Friends groups at both Princes Park and Calderstones Park have been consulted with about the proposals. The schemes will be paid for using capital receipts from the sale of assets on an 'invest to save' basis as they will lower the ongoing cost of maintaining the facilities.