2 Scouse Mayors could see the North West flying high
Photograph by Patrick Trollope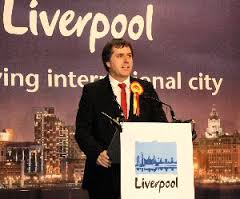 THE results are in for the new Mayor Elections held on 4 May 2017 and both Liverpool City Region and Greater Manchester have both been won comfortably by Labour.
This is a very Scouse result, as both Liverbirds will be proud, as both areas now have with Scouser mayors, now have the force to shape the region! May we at Southport Reporter wish both Steve and Andy well in their new roles, and hope that they will lead this region forward to greater success.
If you're still unsure who Steve Rotheram is… He has already been 1 of Liverpool's former Lord Mayors. We have to point out that, in that capacity, he played only a civic role, meaning that he could only carry out ceremonial duties, chair meetings and he could not, during that mayoral term, make executive decisions.
This new role is quite different, as it will see him at the head of the region's combined authority, comprising:- Merseyside's Liverpool, Knowsley, Sefton, St Helens, and Wirral councils, plus Halton in Cheshire. His new role also gives him considerable powers as part of the devolution deal, which was started by the UK Government in 2014. Now, both Liverpool born Mayors, Andy Burnham (born in Knowsley) and Steve Rotheram (born in Aintree) hold 2 of the most powerful positions in our region. Unlike the Civic Mayors, these roles give them the power over a budget of over ₤900 million, over the next 30 years, with powers over education and skills, planning and housing, transport, health and social care, under the 'Local Democracy, Economic Development and Construction Act 2009.' It might be huge power, but it's worth noting that the Liverpool City Region Mayor will not be responsible for Council Services, such as bin collections or setting Council Tax, also Merseyside will remain Merseyside; that remains with your local councillors.

It will be interesting to see if 2 highly respected Scousers in these roles will lead to better relations developing between the 2 economic powerhouses of the North West England.

These new Mayors will now work for an initial term, of 3 years, with the next Mayoral Elections to be held in 2020. From then on it will see a successful candidate being elected every 4 years.

Unsurprisingly, it is anticipated that there will be lots of confusion around the Mayors, as the now political post, of executive Mayor, will be running concurrently with the tradionally ceremonial Mayor, who is the local Council Leader, and is selected from within the Councillors, for just 1 year. So it is worth noting that the Lord Mayor of Liverpool, will still be around, and will be kept as a civic role as will the other local civic Mayors, like the Mayor of Sefton and Mayor of St Helens. In effect they will remain the Chairman of their Councils. They will remain yearly appointments and will carry only titular authority and conduct ceremonial duties, as they have always have. The new Metro Mayor is totally different.
If you did not vote, please let us know why? Do you have any thoughts on how the Metro Mayor's should work for the area? Email us to:- News24@SouthportReporter.com with your thoughts and views...
We are sorry that we did not bring you live footage for this year at the Elections, as sadly, thanks to Royal Mail, we did not receive our election access credentials in time. So we will be very interested to hear if any of our readers are missing any letters that they have been expecting, or are receiving letters well over the date they expected they should have arrived...
Please let us know your area, and when it was sent and from where. If it/they did arrived, but late, please let us know how long it took. Also was it 1st or 2nd class postage, or other? Again, please email us to:- News24@SouthportReporter.com.