Formby Christmas Lights 2017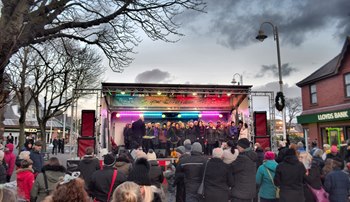 WHAT a fantastic start to Christmas in Formby Village and many locals and visitors will be pleased to know, after 'Frosty Gate' in 2016, both the local Parish Councillor and Sefton MBC have got Good ol' Frosty back... Ok, this time he is at the Formby Pool, but he looks better than ever!

The event this year had a wide range of activities on offer, from a steam train, by the Formby Pool, to live music and fun fair rides...

The main stage was hosted from 2pm by Sandgrounder Radio, Neil Newton, with the:- Nicola Hardman Singers, VoxPop Choir, Make Noise and Make Noise 2, BooGaLoo, G:Force Choir, All Souls Panto Troupe, Clare Bowles, and Hayley Murray all performing one after another. Plus, outside the Pool, next to Frosty was fabulous Formby Band.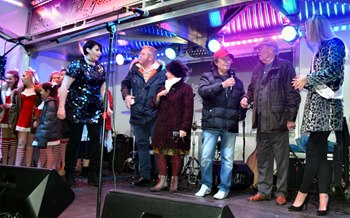 With the smell of hot food wafting around Chapel Lane, from the likes of Rob the butchers' Broughs' BBQ, the smell of chocolate delights on the Willy Wonka and The Chocolate Factory themed trailer or the Mulled Wine from Woodwards and Cafe D'Art stands, along with the spicy delights of Suay Pan Asian Restaurant, it definitely got your nose and stomach excited...

As people enjoyed the many the stalls and rides, Miss Liverpool City Region, Elli Wilson also attended, to add some Christmas cheer...

Then came the big event, as the illumination of the Village's big tree, and it is a real tree, unlike some in the area... Plus, the other fantastic Christmas decorations that have been installed once gain by Formby's Christmas Decorators, who also do many of Liverpool's Christmas Lights and also Southport Town Centre's lights. Pushing the switch-on were the world famous duo, Billy Butler and Wally Scott, but sadly no plums nor bells appeared... But what did come on was one of the Villages best festive light displays...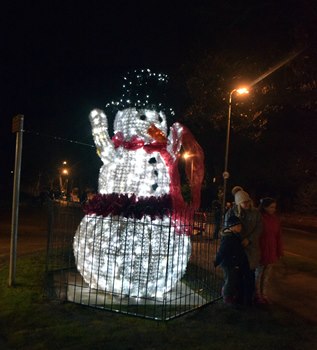 Ending the event on the main stage was the Range High School Band, The Shift...

Members of Formby Christmas Lights committee said: - "Yet again we want to say a huge thanks to all those involved, from the local businesses who have contributed with financial donations and in other ways to the many organisations, like the Girl Guides and Maritime Cadets. Plus the many others who provide time and support... We could not have done it without you..."
Click on here to see more photos from this event...

If you missed this event, do not miss this year's Formby Nativity performance by Churches Together (CTIFAH), who will be performing, on Sunday, 10 December 2017, from 2pm, in the grounds of Formby Pool.

Also keep an eye out until 23 December 2017, for the Rotary Club of Formby's Carol Wagon.

For more information about Formby Christmas Lights please go to the groups Facebook Page.

We would love to know your thoughts and views on this event and also this year's lights, so please do email us to News24@SouthportReporter.com.