Tourists to UK forecast to spend record levels in 2018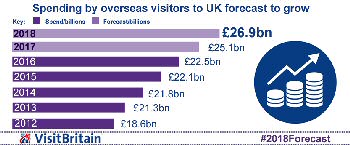 IT has been a record, year to date, for inbound tourism to the UK, with growth set to continue in 2018 according to forecasts from national tourism agency VisitBritain.

Overseas visits to the UK are forecast to break through the 40 million mark for the st time in 2018, reaching 41.7 million, up 4.4% on 2017 which is expected to see 39.9 million visits.

Spending by overseas visitors to the UK is forecast to reach £26.9 billion in 2018, up 6.8% on 2017 which is expected to total £25.1 billion by year end.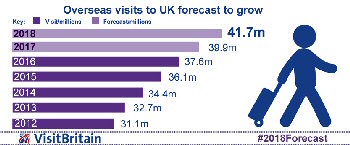 VisitBritain Director Patricia Yates said:- "Tourism is 1 of the UK's most valuable export industries. It is also a fiercely competitive global industry and these results not only demonstrate Britain's continued ability to compete internationally for visitors, they are testament to tourism's importance as a driver of economic growth. We are working with partners across the world to tell customers of experiences they can only have in Britain and encourage them to book a trip now. We have seen good growth this year from the US and China, and are developing new products that make it easier for overseas visitors to book and explore all of Britain."

VisitBritain promotes the UK internationally as a visitor destination as part of the UK Government's global GREAT Britain campaign.

The UK was ranked 3rd for tourism globally in the 2017 Anholt-GfK Nation Brands Index (NBI) published last month, equalling its highest rank ever and up 2 places from 2016. The NBI considered attributes including:- historic buildings and monuments, having a vibrant City life and natural beauty. When considering its overall brand, the UK ranked 3rd out of 50 nations, a position it has held since 2011.

Tourism is worth £127 billion to the UK economy, creating jobs and boosting economic growth across its nations and regions.
This is good news for the likes of Southport, whose local economy is largely supported by Tourism, along with Cities like Liverpool.
Did you know that:- VisitBritain is the name used by the British Tourist Authority, founded in 2003 under the UK's Development of Tourism Act 1969.
---
People travelling to, from and within the Liverpool City Region advised to plan ahead of rail strikes in January 2018
PASSENGERS travelling to, from and within the Liverpool City Region are being urged to plan their journeys and check before they travel ahead of planned industrial action by members of the RMT union on Merseyrail and Northern rail services, on Monday, 8 January, Wednesday, 10 January and Friday, 12 January 2018.

Merseyrail services are planned to run every 30 minutes, with the exception of the New Brighton to Liverpool services which will be every hour, from around 06:30 to 19:30, with a break in service between approximately 11:00 and 13:30.

Wirral services will start and terminate at James Street Station.

There will be no services on the following lines:-

► Hunts Cross to Liverpool Central.
► Ellesmere Port to Hooton.
► Chester to Hooton.
► Kirkby to Liverpool Central.
► Ormskirk to Maghull.

Merseyrail tickets will be accepted on Arriva bus services, except between:- 07:00 to 09:00 and 16:00 to 18:00.
Passengers are strongly advised to check the Merseyrail website and Twitter @Merseyrail before travelling, as it is possible that timetables will change prior to, as well as during, strike action.

Northern Rail will operate a reduced service, with the majority of available trains operating between:- 07:00 and 19:00.
Services on some routes will finish earlier and some Stations will have no service, for more information please visit the Northern Rail's website.

Mersey Ferries are due to run as planned and valid cross river rail tickets will be accepted on the Mersey Ferries, on those the 3 days.

Key advice for everyone in the City Region needing to travel on these dates is:-

► Pan ahead and consider your alternative travel options. You can use the Merseytravel journey planner.

► Check timetables and leave more time for your journey.

► Avoid travelling at peak times where possible. Don't aim for the last bus or train home as services are likely to be very busy.

► Stick to public transport wherever possible to reduce congestion on key routes in and out of the City Centre including Mersey Tunnels.

► Speak to your employer about whether there is any flexibility in working times or the possibility of working from home.

Said Andy Heath, Managing Director at Merseyrail:- "I am really disappointed with the strike action being taken by the RMT that will, after the previous strike days, yet again result in more disruption to your services. The timing of these latest strikes, 3 within a week, has been deliberately scheduled so as to cause as much impact as possible to you as a passenger. At the request of the Metro Mayor, we agreed to independent conciliation with the RMT union with no pre-conditions, but to date, the RMT have refused to meet without pre-conditions. I am very keen to begin a meaningful dialogue and engage in a detailed negotiation to find a middle ground which will satisfy all parties. As always, we will ensure that we deliver as robust a timetable as we can that will best serve your travel needs."

Sharon Keith, Regional Director at Northern said:- "We are doing everything we can to keep our customers on the move during the three days of industrial action affecting our network. We are still working to determine the exact services we will be able to operate, but those trains that do run will be on an amended timetable and are likely to be extremely busy. We ask our customers to plan carefully, allow extra time for travel and check the Northern website for the latest information."

Frank Rogers, Chief Executive of Merseytravel said:- "Merseytravel, together with transport operators, have been working to ensure a robust transport plan is in place to support customers with their journeys in January. In the past customers have responded well by planning ahead and in many cases making changes to their usual journey when necessary. We are confident that by continuing to plan ahead, our customers, both local and from further afield, will be able to go about their business, whether they choose to travel by:- rail, bus, ferry or car."

For help planning your journey, or finding out what other services are available, please download the Merseytravel app.
Let us know if this strike will affect you and do you support it? If your taking part, don't forget to Tweeting us:- @SouthportReport or via emailing us photos to:- News24@SouthportReporter.com.

Knife wands handed out to City Centre bars and clubs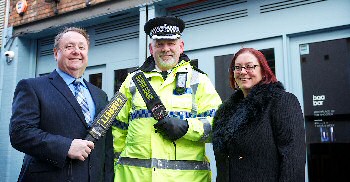 BARS and clubs in 2 busy City Centre areas have received knife wands in an attempt to crack down on people carrying weapons on a night out in Liverpool. Ahead of a busy New Year period, 100 venues with late licenses based in Mathew Street and the Ropewalks area; which includes:- Concert Square, Slater Street and Bold Street; have received the specialist equipment, free of charge, enabling them to search customers in order to help detect anyone who may be carrying a knife. The devices have been funded by Mayor Joe Anderson in the wake of the death of Sam Cook following an incident at the Empire Club, on Seel Street, Liverpool, back in October 2017. The venue has since had its premises license revoked and a man has been charged with murder.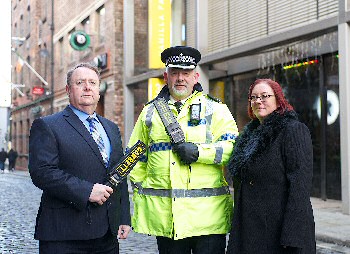 Mayor Joe Anderson said:- "Since the tragic death of Sam, we have been working closely with Merseyside Police as well as bars and clubs in the City Centre to look at ways we can tackle this issue and prevent anything as senseless as this happening again. We are sending out the message that carrying and using knives is totally and utterly unacceptable and we hope by introducing these wands it will act as a deterrent, and as a result, reassure people planning to enjoy a night out here. When our teams have been handing out the devices there has been a really positive response from venues; the majority rarely have any issues relating to knife crime, yet they understand the importance of having a preventative initiative like this in place. It's important to stress that Liverpool City Centre is 1 of the safest in the country and we have Purple Flag status which is a national award recognising a safe, clean and well managed City Centre and night time economy."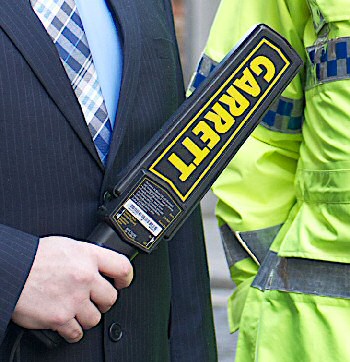 Local Policing Superintendent Mark Wiggins said:- "We welcome the introduction of knife wands to licensed premises in Liverpool City Centre, which supports our own tactics when we carry out regular knife crime operations. This is exactly the type of strong partnership work which we hope will help eradicate knife crime in Merseyside. Knives are dangerous and there is no place for them on the streets of Merseyside. Using a knife can have devastating consequences, as we have seen recently and I hope that by constantly stressing the dangers of knife crime we are getting the message across, particularly to our young people. I would urge people to educate themselves, speak to their children and family members and prevent the repeat of any such tragedies. We are grateful for the support of Liverpool City Council, the community and our partners in carrying out this work and we will continue to work towards removing knives and dangerous weapons from our streets and bringing those responsible for carrying; and using; them to justice. We will act on all information reported to us around knife crime. Anyone with information can call Police on:- 101 or the Crimestoppers line anonymously on:- 0800 555 111."

Stuart Moore, the Licensing and Compliance Manager for the Baabar venue on Fleet Street, said:- "We see the issuing of knife wands as a very positive step and I would urge all responsible operators in the City to support this initiative, and ensure that there are processes in place to reduce and hopefully eradicate the possession and use of knives in our premises."

Statistics show that less than 2% of recorded violent incidents where someone was injured by a bladed weapon over the last year happened in bars and clubs in the City Centre. Should Southport introduce these to its clubs and pubs? Please email us your views on the use of these, via emailing us to:- News24@SouthportReporter.com.
---
81 Ltd, Liverpool to offer a special New Year's Eve event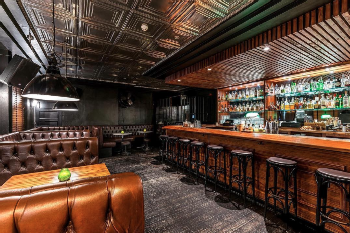 LIVERPOOL'S 81 Ltd, is hosting a The Black and White New Years Eve Ball taking place from 8:30pm to 2:00am. Guests can expect to enjoy a complimentary glass of prosecco at midnight and be kept dancing well until the early hours to the sounds of old school Hip Hop and RnB with 81's resident DJ's, Spykatcha and DJ Zeke. As if one speakeasy weren't enough, Graffiti Spirits Group are also offering up free access to Miracle on Seel Street for all 81 Ltd guests on New Years Eve, 31 December 2017. We are told the event will feature Christmas trees, wrapped presents and a festive wreath, the secret grotto offers the perfect opportunity to enjoy a festive themed tipple and indulge the last of your Christmas spirit. Let us know if you are attending via Tweeting us:- @SouthportReport or via emailing us to:- News24@SouthportReporter.com.
---
Letter to the Editor:- "A shade akin to the Saltire."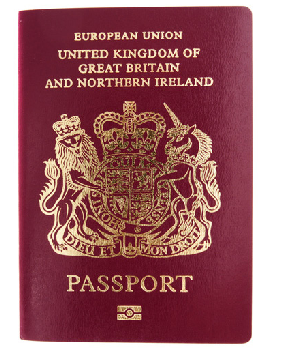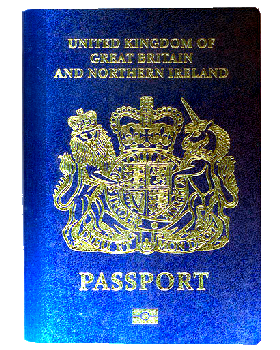 "NOT only will the new UK passports be the wrong shape and size but, instead of a proper dark blue, they are to be produced in a shade akin to that of Scotland's national flag (the Saltire) which I can only presume is a doomed attempt by Mrs May's Government to appeal to Scottish National Party voters." John Eoin Douglas.