Former Strictly and X Factor stars to appear in hit stage show in Preston and St Helens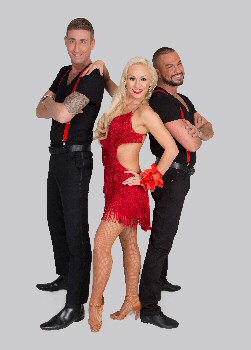 KRISTINA Rihanoff and Christopher Maloney are to team up in a new smash hit:- 'Dance To The Music' that promises to transport audiences on a musical journey through time. The pair became close pals during their time in 'Celebrity Big Brother' and now they are to appear together in a nationwide tour of this glittering stage show.

The new production will showcase every genre of dance, from the roaring twenties to the present day, with plenty of sequins and surprises along the way! The production is the creation of professional dancer and choreographer Kristina, who spent 8 years on hit BBC show:- 'Strictly Come Dancing.'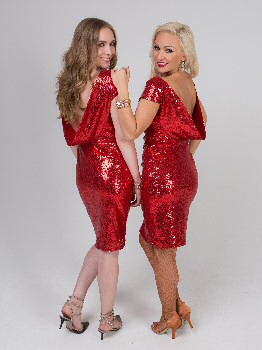 Kristina, who became a parent with partner Ben Cohen in 2016, said:- "'Dance To The Music' is a totally new show with some breath taking dance routines that I hope the audience will love. Chris and I have kept in touch ever since we left the Big Brother house and I'm really excited about working with him. As every fan of The X Factor will know, Chris has got a fantastic singing voice, and I'm very lucky to be joined by him. It's a dance production like no other because it includes everything from tap and the Charleston, right through to modern Latin and Ballroom. There's even Break Dancing and Hip Hop!"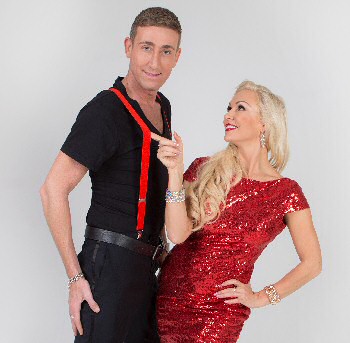 In addition to Christopher's vocals, Kristina will once again be paired with her former professional dance partner Robin Windsor, who himself starred on 'Strictly' for 4 years.
Also gracing the stage will be Oksana Platero, who partnered Judge Rinder, on Series 14, of the BBC show, becoming famous for her jaw dropping lifts! Oksana's husband Jonathan is also in the cast, as is top singer songwriter Beth Sherburn.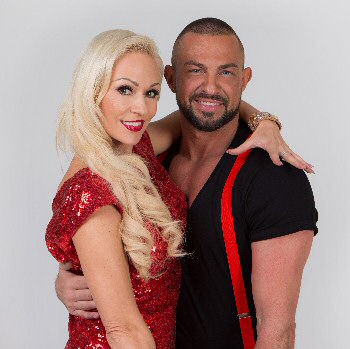 'Dance to the Music' will be touring with 38 dates across the UK, throughout January and February of 2018. Christopher, a former finalist on 'The X Factor', said:- "I'm looking forward to having a great time in such an exciting show! Hopefully I'll get to do to the odd bit of cha cha cha myself, as well as singing my heart out!"

In our area the show will be preformed in both Preston and St Helens, as part of the UK Tour. Dates are as follows:-

► 31 January 2018, at the Theatre Royal, St Helens.
► 13 January 2018, at the Preston Guild Hall.

For full tor schedule, listings of and details visit:- DanceToTheMusicTour.com.

The big December freeze set to spur almost 19,000 Liverpudlians to book a holiday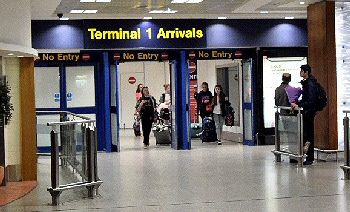 NEW research by ATOL has found that over 19,000 Liverpudlians are set to book their holiday this week, as December's snowy weather accelerates the holiday booking period. Other key drivers for these consumers booking a holiday before December is out include:- "needing some sunshine after the dreary weather" 20% and "grabbing an early bargain" 10%. Top 10 holiday destinations for those in Liverpool in 2018:-
| | |
| --- | --- |
| Chart | Country... |
| 1 | Spain |
| 2 | USA |
| 3 | Italy |
| 4 | Caribbean |
| 5 | Greece |
| 6 | France |
| 7/8 | Joint India and New Zealand |
| 9/10 | Joint Canada and Germany |
The research also revealed the destinations at the bottom of tourist's wish lists, with Azerbaijan and Bali proving the least popular. Least popular holiday hotspots:-

► Azerbaijan
► Bali
► Cyprus
► Hawaii
► Malaysia

Despite the weakness of the pound driving up costs, the latest data has found that the popularity of the USA is stronger than ever with over a million more people looking to travel across the pond in 2018 than 2017. After enjoying adventurous gap years, the study shows millennials are now keen to holiday a little closer to home with European destinations very much in vogue for the younger generation. Spain, Italy and Greece are all top destinations of choice and Portugal is rapidly closing the gap thanks to its buzzing food scene, photogenic Cityscapes and Port making a comeback. This is in contrast to the older generation who are increasingly using retirement to travel to far flung destinations such as New Zealand and Australia. The research found that when it comes to booking holidays, top priorities for consumers include guaranteed sunshine, a nearby beach and even access to British TV channels. For the younger generation, the top three priorities for a holiday include:- 'good wi-fi' (35%), 'free data roaming' (15%) and 'instagrammable locations' (10%). This is in stark contrast to those who are over 55 these sensible spenders are three times more concerned about having ATOL protection when booking a break (60%)

Richard Moriarty, Consumers and Markets Director at the Civil Aviation Authority said:- "With more consumers than ever using the period between Christmas and New Year to book trips abroad, we want to make sure as many people as possible understand the benefits of the ATOL scheme. It's the most comprehensive form of protection for package holidaymakers in the UK, ensuring more than 26 million British travellers every year can travel with peace of mind. Whether you're travelling to popular hot spots such as Spain or exploring destinations even further afield, don't forget to ask about ATOL before you book. Having an ATOL certificate means that your holiday is financially protected, so if the worst happens and your travel company goes bust, you will still be able to get home and will not lose your hard earned cash."
---
IS YOUR CALL A REAL EMERGENCY???
WHILE everyone has been enjoying their turkey and mince pies and relaxing with loved ones, for North West Ambulance Service staff, it has been business as usual with thousands of incidents responded to over the festive period. The Trust answered 4,111 emergency calls and attended 3,178 incidents on Christmas Day alone and this figure has increased on subsequent days as the Trust urges the public to only call in the case of real emergencies.

Director of Operations, Ged Blezard comments:- "This Christmas has been one of our busiest ever and there are no indications that activity is going to reduce as we head towards New Year's Eve; traditionally always our busiest day. On 27 December 2017, we were astounded to see that our control staff had answered 5,491 emergency calls and we know that not all of these required an emergency ambulance response. Unfortunately, there have been some patients who have been waiting longer than we would like, but I want to assure the public that we are doing the very best we can to reach people as quickly as possible, but if your condition is not urgent, you will wait some time for a response or be given advice on other healthcare options."

The sudden cold snap currently being experienced in the region is also likely to increase activity as those with heart and lung conditions need our help. Add to this, ice on the roads means treacherous driving conditions, bringing about an increase in road traffic collisions and also slows down Ambulances as they can't travel as quickly as usual. Ged adds:- "Please do check on elderly and infirm friends, relatives or neighbours, make sure their homes are adequately heated and they have the medications they need. For coughs, colds and sore throats, seek advice from your pharmacist. Ambulances must be kept free for those in urgent or life threatening conditions and should not be used as a quick route into Hospital. Our staff in the call centres and out on the roads are working incredibly hard at the moment and doing the best they can for patients but we also need the public's help in making the right call."

As New Year's Eve approaches, NWAS is also reminding people to act responsibly. Ged Explains:- "On this night we see an increase in assault and alcohol related injuries and these are avoidable if people take some simple steps... eat well, don't drink to excess and wear warm clothing when out and about. No 1 wants to see in the New Year with a headache and bruises."

Between 23 December and 27 December 2017, NWAS call centres received the following calls. Ambulances were not despatched and callers were advised on seeking help elsewhere:-

► Cracked tooth; Greater Manchester.
► Soiled self; Greater Manchester.
► Constipation; Merseyside.
► Had cold symptoms for a week; Merseyside.
► Sinus infection; Lancashire.
► Had a cough for 3 months; Merseyside.
► Sore throat and a cough, only started in the morning; Cheshire.
► Need a repeat prescription; Lancashire.
► Can't stop hiccupping; Merseyside.
► Burnt finger 6 days ago, still swollen; Greater Manchester.
► Swallowed toothpaste the day before, got a stomach ache now; Greater Manchester.
► Chipped tooth - Lancashire.