2 Charity donations to local cause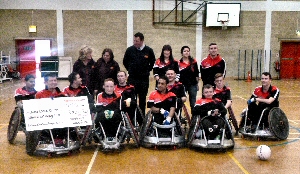 THE Lord Street Sainsbury's, in Southport has handed over a cheque to West coast crash wheelchair rugby team, they were the stores charity of the year last year. £2326.62 was raised by various events including bag packing, cake sales and bucket collections.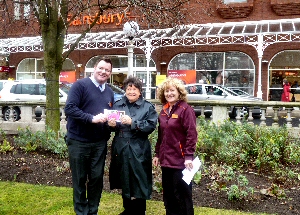 The store would like to thank customers and colleagues for all their contributions. The store has also handed over a £50 in garden centre gift vouchers to Brenda Porter, who came to the store to collect them for Ainsdale In Bloom.
85% of chip and pin machines are unsafe for public use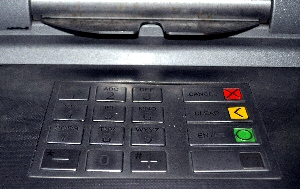 3 years on from a study that showed that keyboards on cash machines are "as filthy as public toilets", further research from a national cleaning company finds that the situation hasn't improved.

According to ContractCleaning.co.uk, the explosion of public terminals, chip and pin machines, and ATMs means that; if anything; the situation is worse.

The Yorkshire based company blames this potential public health time bomb on cost cutting, as a result of budget cuts, both in the public and private sector; and also on the advance of technology which means that more transactions are done by machine rather than face-to-face with a teller or salesperson.

"The problem is that you don't know who's been using that screen or terminal before you and if it hasn't been cleaned for hours, days, or weeks, heaven knows what you could pick up from them." said the firm's spokesman Mark Hall.

The 2010 study compared swab samples taken from ATMs and public toilets, and found that cash machines were just as germ-ridden as conveniences. Conversely, the cleaning firm asked 1652 businesses and organisations in the strictest confidence how often they cleaned or disinfected public terminals.

► Hourly 2%;
► Daily 15%;
► Several times a week 23%;
► Weekly 30%;
► Monthly 18%;
► Never / Can't remember 12%;

Doctors' surgeries fared best, where they said that public touch screen booking in terminals were disinfected regularly during the day, sometimes hourly at peak times. Also doing well were cafés and restaurants, who realise the importance of keeping surfaces clean, both for staff and customers.

"The food service industry is one of contrast. Some clean their terminals regularly and have wipe clean tills and keyboards for staff use; others are not so good, and these are often reflected in local Councils' star ratings. At the other end of the scale, some retail businesses admitted that they sometimes give chip-and-pin readers little more than a cursory wipe, with one shopkeeper saying that:- ''I'm scared of breaking it'', while another said that:- ''I'll give it a once over if anybody asked. Nobody has.'' These figures are breathtaking in the extreme. Will some organisations fare better than others, it's incredible how little priority is given to public health." said ContractCleaning.co.uk's Mark Hall.

With the public screens and terminals becoming a way of life, ContractCleaning.co.uk says that organisations should take their responsibilities more seriously. "Germs can live for hours and days on a keypad. It only takes one person to sneeze over a public screen for germs to spread by touch to literally hundreds of people."

Stargazing Live Astronomy Evening - Did you go?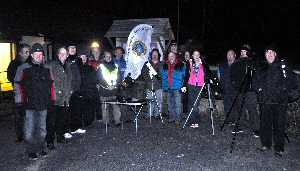 ON Friday, 7 February 2014, at Ainsdale Discovery Centre, Liverpool Astronomical Society itself hosted the Stargazing Live event which, in 2012 was staged by the BBC and when attendees were able to peer through the many telescopes provided by members, at the spectacle of the night sky. Last year members of this Liverpool society were at the event held at Jodrell Bank. Unfortunately, this year the weather was too poor, the skies remained overcast and, despite anxious dashes outside by ever hopeful officials, there were no opportunities for any practical experiences. Nevertheless the lecture room was crowded to capacity and beyond, as two members of the group very competently talked us through the Life of a Star and gave us details of our planetary system, including recent space missions. This was followed by a lively Question and Answer session, which included several very enthusiastic youngsters, who hopefully will carry the torch forward. Having received stern warnings about the inevitable blindness which results from direct observation of the Sun, especially through any lenses, everyone was invited to visit Liverpool Astronomical Society at their observatory to study it in safety through their specialist equipment. The observatory is situated on Pex Hill, South Liverpool, fairly close to the Knowsley Express Way. To find out more about Stargazing Live visit:- bbc.co.uk/stargazing or the Liverpool Astronomical Society website.