Storm Damage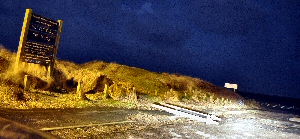 THE latest in a series of storms that have battered the UK, sore Hurricane Force 12 Winds hit the West Coast over the night of the 12 February / 13 February 2014. The predicted winds lead to the Met Office issuing the first Red Alert weather warning, of the year. Paul Harrison, of Liverpool Coastguard, at the time said to the media that:- "Hurricane Force 12 is the worst we can get in the UK. We seem to be getting the brunt of it all along the West Coast." Thankfully the alert was downgraded to an Amber Warning by 21:00GMT, but by then, the wind had already course considerable damage and chaos to North West and to many other parts of the UK.
In Southport the wind direction meant the sea did not come over the sea wall, like it did a few times over resent weeks, despite being very high. Sadly though the weather has brought down trees across Merseyside, like this one in Formby, that narrowly missed a parked car. Also fences on the gardens of houses backing on to St Luke's Church Road were also blown over. the force of the wind at one point in Southport lead to the McDonalds in Ocean Plaza, Southport having co corner off part of it's restaurant area, as the wind was pushing in the windows. Lucky no damage happened, s far as we have been told. Also a very large wooden sign on the sand dunes, on Weld Road, was snapped down. Also on Merseyside, the damage coursed as a result of the high winds included the felling of a tree that had demolished part of the rear section of a single storey classroom, on Warrington Road, Rainhill. Whiston Community Fire Station, Watch Manager, Wayne Woods, who attended the call-out with Red Watch firefighters from Whiston Community Fire Station, said:- "It had demolished the last 3rd of a single storey structure which measured around 10 metres wide by 30 metres long. We were told at the scene that the tree which had fallen, which I would estimate was more than 50 foot long, was possibly up to 100 years old. The tree had also come to rest on three vehicles and part of a 2 storey detached building. On site maintenance staff had isolated utilities. Staff had conducted a roll call and no injuries were involved. We made the area safe and contacted a structural engineer to attend." Firefighters also attended at the scene where 2 chimney stacks had collapsed at a 2 storey building that contained flats in Lingdale Road, West Kirby. In Vauxhall near to Scotland Road, a building had sustained damage during the high winds, resulting in Merseyside Police closing the road. Also debris was falling from a building on Hankin Street, Liverpool and as a precautionary measure a road closure has been put in place on Stanley Road at its junction with Boundary Road. Plus on Redcar Road, Wallasey, Firefighters cordoned off a garden after part of a gable end of a property was damaged by the storm. Firefighters were also called after a gutter was blown away from a property in Endsleigh Road, Blundellsands. Also masonry was reported to have fallen from St John's Plaza onto parts of Liverpool's Elliott Street, as well as Lime Street, in Liverpool's City Centre.

Merseyside Fire and Rescue Service said that they had 37 storm related incidents overnight.
Merseyside Police reported a higher than normal call out rate 29.45% between 2pm and 11pm. They said that the normal call out figures for the night are around 326, but on Wednesday, 12 February, the calls where 422. Also they reported that none emergency calls went up by 47.65% between 2pm and 11pm, from 627 calls to 922. Also the main switch board for Merseyside Police said it took 22.4% more calls, from 1263 on a normal Wednesday to 1546, between 2pm and 11pm.

Many areas suffered power supplies issues and as a result even the Liverpool Empire Theatre was affected, with it having to say in a notice to the public that:- "Due to the extreme weather in Liverpool, the power supply to the theatre wasn't stable enough to support the complicated technical systems involved with Ghost. For the safety of the cast and the audience the Producers and the theatre took the decision to cancel this evenings show." But the show did not go on for the football games as well with the Everton FC game against Crystal Palace, that was to take place at Goodison Park, being called off because of the weather conditions. Even up the road, with Manchester City's Premier League match against Sunderland had to be postponed due to "unsafe conditions at the Etihad Stadium."
With travel The Liverpool (Birkenhead) to Belfast had to cancel some services and the knock on effect coursed delays due to the adverse weather on the Irish Sea. Some flights were also cancelled at Blackpool Airport, along with disruption to flights into Liverpool John Lennon airport and many flights to and from Manchester had to be cancelled!
Virgin Trains advised all customers "Do not to attempt to travel", and Network Rail said that "Passengers in the North West of England are being advised to check before they travel as severe weather approaches." Near Southport, The West Coast Main Line, between Preston and Penrith, had to be closed to all traffic between 1900 and 2100, when the highest winds were predicted. "On all other lines, speed restrictions and other closure also where necessary to reduce the risk to trains, passengers and railway staff posed by trees, branches and other debris which can block lines and damage signals." said Network Rail.
Cheshire Police, Highways Agency traffic officers and Highways Agency had to close the M6 totally, in both directions between Junction 19 at Knutsford, and Junction 21a at Croft Interchange. M60 and M62 were closed and suffered severe delays due to overturned vehicles and dangerously high winds.
Did this weather affect you? If it did please do let us know and send any photographs or video you might have to us at:- news24@southportreporter.com* or post it on our Facebook page!
We hope you liked the photos, but please, don't copy them. Please help us to keep our copyright intact and to keep this site online. Click on here now.
* Please note that you must read our website's Terms and Conditions before sending, reports, video or photography to us. We can not pay you for any material supplied!