FUNDRAISING IN MERSEYSIDE PROVES TO BE MORE THAN JUST A DROP IN THE OCEAN FOR THE RNLI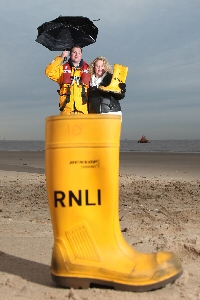 THE Merseyside branches of Yorkshire Building Society have played their part in raising a record figure for the Royal National Lifeboat Institution (RNLI).

Their efforts and the support of customers and members of the public helped the Merseyside branches raise a fantastic £1,976 for the charity.

This is part of a total £350,000 donation made by the Yorkshire Building Society Group to the RNLI and marks the end of its most successful charity partnership in its 150 year history.

In 2012 the Society launched its 'Come Rain or Shine' Charity of the Year campaign for the RNLI and in total raised £200,000 - which included a significant contribution from the Yorkshire Building Society Charitable Foundation.

Due to the success of the campaign it continued into 2013 where colleagues committed to raising even more, contributing to amassing a further £150,000 in total through their efforts.

The money raised by the Society will be used to help the RNLI train even more vital lifesaving volunteers. The £350,000 donated to the charity over the two years will train 278 RNLI volunteer crew members.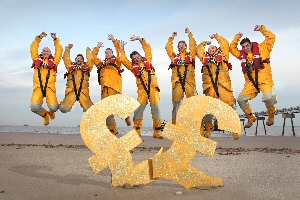 Pauline Rylands, Yorkshire Building Society's Merseyside area manager said:- "Across our 2 year partnership with the RNLI, the commitment that our staff and members have shown in helping us raise nearly £2,000 proves that this is a charity which resonates with people across all communities. This has especially been highlighted in the last few months of horrific weather where we have seen the key role the RNLI has played in supporting those affected by the flooding."

The branches held numerous events to raise money for the charity that saves lives at sea. They also sold raffle tickets to win a cruise and and limited edition RNLI items to customers to help raise funds.

Pauline continued:- "Our partnership with the RNLI has been a memorable and fantastic one and I am proud to have achieved our goal in helping the RNLI increase trained volunteers."

RNLI Chief Executive, Paul Boissier, said:- "As a charity, the RNLI relies on generous donations to continue its lifesaving service. We are extremely grateful to Yorkshire Building Society, its members and colleagues, for their outstanding support. Their dedication and enthusiasm over the past two years has resulted in a fantastic fundraising achievement. Only 1 in 10 of the RNLI's volunteer crew members comes from a maritime background, so the rigorous training we provide them is essential. The donation from Yorkshire Building Society will fund training for 278 crew members; meaning they can head out to sea confident in how to rescue others and take care of themselves in whatever conditions they may face."

Tesco under fire for selling 'dirty' tuna in Liverpool
PEOPLE in Liverpool have "exposed" local Tesco stores that are "selling the controversial brand of tuna singled out for heavy criticism by Greenpeace" and by Hugh Fearnley-Whittingstall Fish Fight programme watched by millions recently on Channel 4.

As part of a nationwide hunt for tins of Oriental and Pacific across the UK, a brand of tuna dubbed as one of the 'dirtiest on supermarket shelves' by Greenpeace, people from Liverpool took part in the Greenpeace investigation. They discovered local stores to be stocking the dodgy tuna which is caught using fishing methods that can kill sharks, rays and turtles.

The supermarket is singled out for criticism from both Greenpeace and Hugh Fearnley-Whittingstall, for re-introducing unsustainable tuna on to its shelves after a successful public campaign to remove 'dirty' tuna from supermarkets in the UK in 2011. Campaigners see this move as undermining their public promise to clean up their act.

Greenpeace has released a league table of the 10 major tuna brands in which Tesco are at the bottom of the leading supermarkets. Oriental and Pacific comes last in the league table overall because it's the most unsustainable tuna available to consumers in the survey.

Ariana Densham, Greenpeace UK Oceans Campaigner said:- "Tesco is at the bottom of the pile of supermarkets because as soon as they achieved their bold promise to use 100 per cent pole and line tuna in their own-brand tins, they immediately started refilling their shelves with 'dirty' tuna that is caught in a way that can kill turtles, sharks and rays. Oriental & Pacific is 100 per cent dodgy with zero per cent effort to clean up their act. This is pure hypocrisy from Tesco - the supermarket that promised to be totally up front about where the food that they sell us comes from is now rolling back their pledge to protect the oceans."

Greenpeace praise Sainsbury's as a 'Top Tuna Supermarket' for having remained at the forefront of tuna sustainability for many years. Nearly ¾ of all the tinned tuna Sainsbury's sells is sustainable which is more than any other retailer.

Ariana Densham continued:- "Sainsbury's, remains a market leader on tuna sustainability. For many years, their tuna has been 100% pole and line which is great news for sharks, turtles and rays. If Tesco wants to catch up with the front runners and win back consumer confidence, they must take this dirty tuna off their shelves today."

Hugh Fearnley-Whittingstall said:- "The Fish Fight and Greenpeace tuna campaign has been a huge success - our supermarkets and big tuna brands all told us they didn't want their names on unsustainable tuna, but a number of them are finding new ways to keep 'dirty' tuna on the shelves. Tesco made one of the biggest commitments of all to sell the most sustainable tuna, but as our new Fish Fight programme shows, they now stock a new brand called Oriental and Pacific, which is caught using methods that accidentally catch and kill endangered animals like turtles, rays and sharks. There's no information on Oriental and Pacific tins to tell shoppers how the tuna was caught. If they really care about our oceans then Tesco should take this tuna off the shelves today, and other supermarkets must follow suit."
Huyton businessman jailed for £1.1m cigarette fraud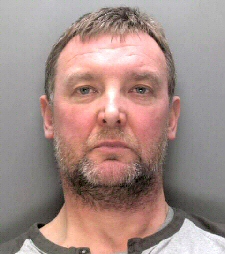 A businessman has been jailed today after over 5.5 million smuggled cigarettes were discovered at a Huyton industrial unit. Stephen Nicholas Riozzi, 53, of The Park, Huyton, was found at the industrial unit in December 2011 by HM Revenue and Customs (HMRC) investigators. The unit contained 20 pallets of cigarettes smuggled from China and over 182kgs of counterfeit hand rolling tobacco (HRT) worth an estimated £1.1 million in evaded tax. Sandra Smith, Assistant Director, Criminal Investigation, HMRC, said:- "Riozzi has profited from the illegal trade in smuggled cigarettes and counterfeit tobacco and now faces a full investigation of his assets in the UK and abroad. We urge anyone with information about the sale, transport, or storage of suspect alcohol or tobacco in the Merseyside area to contact us on 0800 59 5000. You can also report suspicious trading, tax evasion or smuggling via our website to help us tackle organised crime in the north west." When Riozzi was arrested, he gave investigators a false address and denied any knowledge of the illegal tobacco products. However, HMRC officers found over £56,200 and 6,310 euros in cash hidden in wash bags in his wardrobe at his real address. After being presented with the evidence of his illegal business activity, Riozzi pleaded guilty at Liverpool Crown Court in January 2014. The seized cigarettes are branded Golden Seaglles, which are manufactured in the Far East solely for smuggling by organised criminal gangs and are not legitimately for sale in the UK. The cigarettes and HRT have been recycled to fuel the National Grid.