Swimmer Holly Hibbott receives £2,000 SportsAid Award from Elton John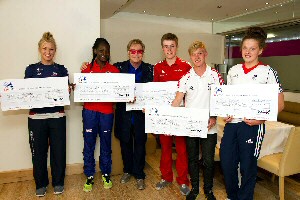 14 year old swimmer Holly Hibbott from Southport received a £2,000 boost to her sporting career on Saturday when Sir Elton John CBE handed her a cheque from SportsAid to help her achieve her Olympic ambitions.

The donation is one of the 1st to come from SportsAid's new Elton John Sports Fund after the charity raised more than £300,000 at an acclaimed concert by the artist at Stoke Park in Buckinghamshire on Saturday, 28 June 2014.

The fund will support some of Britain's brightest prospects from more than 50 different sports by providing annual awards of £2,000 to help with essential training and competition costs.

Holly said:- "It was a really good experience meeting Sir Elton John. He was really nice to us all and gave us a few words of encouragement for the future. It feels great to be one of the first athletes to benefit from his support and to have someone who believes in my ability gives me a lot of confidence. The support will help me in lots of ways like travel costs, training equipment expenses and accommodation for when I am racing away from home."

Next weekend Holly will be representing Great Britain at the European Junior Swimming Championships in Dordrecht in the Netherlands.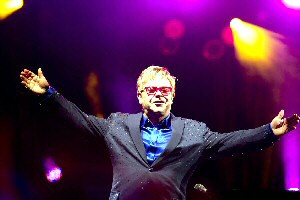 Elton John said:- "It was a special moment to meet Holly and the other athletes. Their successes are already very impressive, and with a little extra help and recognition who knows what they could go on to achieve. They are the reason we were all at Stoke Park for the concert. Working with SportsAid, we know we are helping the right athletes at the right time."

Holly was also inspired to meet Mark Foster, Karen Pickering, Duncan Goodhew; who have all benefited from SportsAid's support; and Keri-Anne Payne at the event.

Before the concert began Keri-Anne Payne said:- "I've spoken to quite a few of the young athletes who are here tonight and it's amazing to see what they feel when they are given SportsAid's support because of the confidence it gives them that someone believes in them and that they are on the right track."

Other SportsAid alumni who were there to show their support were Steve Redgrave, Katherine Grainger, Ade Adepitan, Derek Redmond, Gail Emms, Danny Crates, Anna Watkins, Mark Hunter, Zac Purchase, Richard Hounslow, Sarah Winckless, Shelley Rudman, Heather Stanning, Beth Rodford and Steve Williams.

Towards the end of a superb performance that included the classics Your Song, Rocket Man and Don't Let The Sun Go Down On Me, Elton John said to the crowd of 5,000 fans:- "Thanks to your support we will be able to fund young athletes for the next 8 years to help make their dreams come true. Thank you!"
4 men arrested following an attempted robbery in Southport
MERSEYSIDE Police have confirmed that 4 people have been charged with 2 counts of attempted robbery following an incident in Southport, in the early hours of this Friday, 4 July 2014. At about 12.45am on Hoghton Street, a patrol was flagged down by a man who reported a group of men had attempted to steal his car. The offenders attempted to pull the victim from his car, but the victim resisted and made off on foot. Following a search of the area by patrols, a taxi driver flagged police down near Hesketh Park and reported a similar incident in which a group of men had got into his taxi and taken a small amount of money from him. Both men received minor facial injuries but did not require hospital treatment. Officers conducted a search of the area and a short time later 4 people were arrested. They suspects have been named as Andrew Stenson, 25, from Aigburth Drive, Sefton Park; Tony Goulding, 24, from Richard Kelly Drive, Clubmoor; Harry Reid, 18, from Ling Street, Kensington L7; and a 13 year old male, have since appeared before Sefton magistrates on Monday, 7 July 2014. Enquiries into the incident are ongoing with officers checking CCTV from the area. Anyone with information about this incident is asked to call Merseyside Police on:- 0151 777 3810 or Crimestoppers, anonymously, on:- 0800 555 111.

Over by Christmas? Life in Liverpool during the First World War
LIVERPOOL'S libraries are joining together this summer to present a linked exhibition in 5 venues as part of the City's contribution to the national centenary commemoration of the First World War. The archives and special collections on display provide an overview of life in Liverpool between 1914 and 1918, revealing some of the experiences and views of the people who lived, worked and studied here.

Fascinating original documents, never publicly exhibited before, enable visitors to explore personal stories, the war efforts of Liverpool's university and colleges and the everyday experiences of women and children on the home front.

The launch event is being held at Liverpool Central Library on William Brown Street on Friday, 11 July 2014, from 2.30pm. Recently discovered archival film footage will be shown and samples of the War Cake recipe from the FL Calder School of Domestic Science will be offered with the light refreshments. The event brochure gives details of the five exhibition venues: the Central Library and Archive, the City of Liverpool College, Liverpool John Moores University, the University of Liverpool's Sydney Jones Library and the Victoria Gallery and Museum. A programme of talks and events led by lecturers and curators picks up on some of the main themes running through the exhibitions, and provides additional insights into the items on display.

Jenny Higham, Special Collections and Archives Manager, University of Liverpool said:- "It is fascinating to uncover the story of the University of Liverpool's First World War through its collections, and the personal stories they reveal allow us to view both the institution and the City in a different way. From the staff who sent their sons to fight, the medics, chemists and engineers who found themselves a vital part of the war effort, to the pacifists who dedicated themselves to assisting the casualties of war, the impact of their experiences was profound. The exhibition marks the first time the University's Special Collections and Archives have been brought into the public space of the Victoria Gallery and Museum, home of the University's war memorial, which provides a fantastic opportunity to widen access to the research collections."

Roger Hull, Research Officer at Liverpool Record Office in Central Library, said:- "The exhibition allows us to show some very rarely seen material including superb posters and demonstrates the role which everyone played in the City during the war, not least women who were asked to take on jobs in munitions factories and elsewhere. We have discovered a ration book and also an innovative method of the City Council using potatoes to make bread when the supply of wheat flour ran short. Every scrap was used with the peel going to feed animals. Some rare archive film footage has also come to light and will be shown including a short film of a recruitment drive in the Anfield area."

Valerie Stevenson, Head of Academic Services, Library Services, Liverpool John Moores University: "While planning for this exhibition we made some interesting discoveries in our own collections, the Liverpool School of Art ran metalwork courses for wounded soldiers and although we have no photographs of this, we can show students in the workshops around this time. We have also made the War Cake recipe from the FL Calder College in our archives – perhaps a little heavy by today's standards but very tasty and guests will have an opportunity to try it at the launch event. You will also be able to find out more about LJMU's Merseyside at War project. This online 'living' archive gives the people an opportunity to record their family's memories and experiences of the First World War and is creating a unique record of how individuals, communities and the region were affected by the war that many hoped would end all wars."
Jane Morgan MBE is new Deacon of Holy Trinity Church, Southport
Photograph by Allan Hobson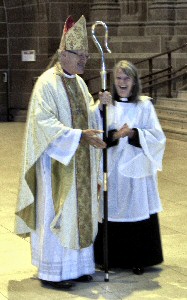 ON Sunday, 6 July 2014, a recent member of the Church in the Pine Woods (St Luke's, Formby), Jane Morgan MBE, was ordained as a Deacon and appointed to Holy Trinity Church, Southport. Jane has been very much involved in work in Shyira, Rwanda regarding the Maternity Hospital there. She hopes to continue with helping and advising at that hospital in the mountains, as well as progressing to become a priest. There were also 9 other people ordained in the Liverpool Anglican Cathedral at a special service led by the Bishop of Warrington.