Motorists in Manchester and Merseyside experience greatest drops in car insurance prices
IT'S great news for motorists in Manchester and Merseyside as they have enjoyed the greatest year on year decreases in car insurance prices compared to any other area of the UK (-19%), with premiums falling by £184 to stand at £808 on average. Drivers up and down the country will also be celebrating, as figures from the latest Confused.com Car Insurance Price Index, in association with Towers Watson, reveal that premiums are falling across the board. Dramatic year on year price drops of 15% have brought the average cost of a comprehensive premium down to £579. Though it's a case of 'everyone's a winner' for UK motorists, these widespread price drops have been particularly notable for drivers in who live in Manchester and Merseyside. Drivers in Wigan are enjoying cheaper average comprehensive car insurance premiums than any other area in Manchester and Merseyside, paying just £622.
Comprehensive insurance prices in Manchester/ Merseyside

Areas in Manchester/ Merseyside
Average Comprehensive Car Insurance
Wigan
£622
Warrington
£658
Liverpool
£838
Bolton
£841
Manchester

£869

Oldham
£926
Other areas in Manchester and Merseyside that have been impacted by these ongoing price drops include Oldham, where motorists have experienced the greatest yearly price drop in their car insurance. These motorists are now paying on average £926 for their comprehensive car insurance premiums, seeing a year on year decrease of 23%, equating to a price difference of £270. Yet no-one in the Manchester and Merseyside area seems to be feeling the benefits quite as much as younger drivers. In particular, young women (17 to 20) are experiencing a huge annual price decrease of £1,060, as their average comprehensive premiums now stand at £2,180. In fact, females of this age group living in Manchester and Merseyside have seen their average comprehensive insurance premiums nearly halve (41%) since the price peak they experienced in Q1, 2013 (£3,705 v £2,180). Males of the same age group saw a similar year on year price saving of £1,023, paying on average £2,605 for their comprehensive car insurance, equating to a decrease of 28%. This contrasts hugely with what these males were paying at the price peak they experienced in Q4, 2011, where on average they were paying a whopping £5,724 for their comprehensive car insurance; a decrease of more than half (54%).In contrast, the smallest annual price saving has been experienced by females aged over 70, who have seen a £63 price drop in the cost of their car insurance, where the average price comes in at £447. Biggest comprehensive insurance decreases year on year by age and gender.

Biggest comprehensive insurance decreases year-on-year by age and gender

Age range & sex
Year on year savings
Average comprehensive premium
17 to 20

Females

£1,060
£2,180
17 to 20

Males

£1,023
£2,605
2 to 25

Males

£450
£1,633
21 to 25

Females

£402

£1,232
26 to 30

Males

£226
£1,171
While both male and females across the whole of the UK have also benefitted from reduced premiums, in Manchester and Merseyside women have fared better than men. Females in this area are experiencing a year on year price saving of £209 compared to a saving of £164 for men for their comprehensive car insurance. However, despite car insurance prices falling significantly throughout Manchester and Merseyside, motorists in this region of the UK are still paying a significant £209 more than the national average, which now stands at £579. Manchester and Merseyside still ranks as one of the most expensive UK areas for comprehensive car insurance premiums (£808), outranked only by Inner London, where the average price comes in at £947.

Gemma Stanbury, head of car insurance at Confused.com says that:- "It is great news for motorists in the Manchester and Merseyside area, as they have enjoyed the greatest year-on-year decreases in comprehensive car insurance premiums compared to any other area of the UK. In the last year, motorists in Manchester and Merseyside have experienced significant year on year decreases of 19%, bringing the average premium down to £808 for this region. Motorists living in Oldham in particular have seen fantastic savings, where drivers have experienced the greatest year on year price drop of £270. The cheapest area for comprehensive car insurance in the Manchester and Merseyside region is Wigan, where motorists are paying an average of £622, which is £304 cheaper than those living in near by Oldham. Young motorists are also reaping the rewards in this area, with 17-20 year olds seeing the biggest year on year savings for the their car insurance, making car insurance far more affordable for young drivers. However, despite these huge price drops motorists living in Manchester and Merseyside, are still paying £209 more than the national average. We would urge motorists to not just accept their renewal premium price, but to shop around."

So what do you our readers think? Email your views to:- news24@southportreporter.com with your views on this issue!
FoodCycle seeking new partner charity in Liverpool to help reach out to people at risk of food poverty
ON 8 July 2014, FoodCycle Liverpool, a charity that provides nutritious community meals for people in need, announced that they are seeking a new partner to work with in the City. FoodCycle reclaims surplus food that would otherwise be wasted and uses these ingredients to create healthy, 3 course meals for people who are struggling to get by.
Each FoodCycle Hub serves around 1,500 3 course meals annually, using around 1,800kg of food that would otherwise be wasted. FoodCycle's services are fully covered by our own insurance, and all of our cooking sessions are led by a Hub Leader who has Level 2 Food Safety and Hygiene training, to ensure high standards of food safety are maintained.
Ossi, Centre Manager at Islington Mind, FoodCycle partner said:- "Across the UK, we successfully partner with organisations including Mind, the Salvation Army, Student Action for Refugees (STAR) and many more local community centres and churches. FoodCycle Islington offers a positive role model for the day centre service users, and offers volunteering posts to service users who are interested in doing voluntary work… It gives the service users an opportunity to share the space with people who don't have mental health problems, thus addressing stigma around mental health, and enables greater integration for the Islington Mind service users with other people from the community. I can't recommend this initiative strongly enough. It is health and well being promotion at its best."

Since FoodCycle began in May 2009, they have expanded to 18 locations and served over 100,000 meals. FoodCycle Liverpool was previously based at Asylum Link in Kensington, but unfortunately they are no longer able to host the service. If you have a kitchen and dining space that could be suitable for FoodCycle Liverpool and are interested in finding out more about working together, please get in touch with Robyn on:- robyn@foodcycle.org.uk or call:- 0207 729 2775 to discuss the opportunity further. They said that:- "We are looking for a venue that fulfils the following criteria:-

· A decent sized kitchen with cooking facilities.

· A dining area that can seat at least 25 to 30 people.

· Available for at least 1 mealtime per week (this must be the same day/time each week).

· The venue must be available free of charge, as FoodCycle Hubs work on the basis of a mutually beneficial relationship, where each partner stands to gain from the relationship."

CARNIVAL FEVER HITS LIVERPOOL AS BRAZILICA GEARS UP...
Brazilica - Photos by David Munn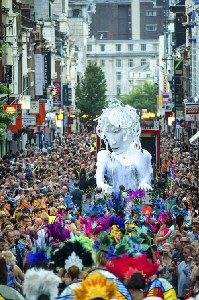 LIVERPOOL'S annual Brazilica festival returns this this week for the start of a fantastic 9 day celebration of Brazilian culture. There will be a fantastic selection of events taking place between 11 July to 18 July 2014, on the build up to the main Carnival Day on Saturday, 19 July 2014.

Kicking off this year's events with a bang on Friday, 11 July 2014, is the Brazilica 2014 Launch Party at 24 Kitchen St, Baltic Quarter. With the best tunes spun by Liverpool's favourite DJ's and the hottest Brazilian samba vibes, expect nothing less than a dance floor extravaganza to mark the start of Brazilica's biggest and brightest carnival spectacular to date!

There will be a Headdress Making Workshop at The International Slavery Museum on 12 July 2014 and 13 July 2014, 1pm to 4pm. This event is free to everyone, so prepare for the carnival by creating your own show stopping headdress and take a peek at the carnival costumes.

Once again a Brazilica film programme will be showing a triple bill of the finest Brazilian films around. On Monday, 14 July 2014, the first movie on the bill will certainly whet audience's appetite; Estomago follows the highs and lows of Raimundo Donato. In the great restaurant of life there are those who eat and those who get eaten, and Raimundo cooks in order to survive his journey from down and out, to celebrated chef, to prison convict. Featured at the 2008 Raindance Festival, do not miss out on this fabulous film which is being screened at The Brink on Parr Street.

Then City of God 10 years later is showing at FACT on Wednesday, 16 July 2014. This documentary re-joins the actors of 2002's Brazilian Crime Drama City of God 10 years after the Oscar nominated movie's release. Find out exactly what came of the stars of the movie and learn of their mixed fortunes over the last decade.

On 17 July 2014, Tropicalia will be shown at The Brink. This powerful documentary from director Mercelo Machado explores the scene and its key players of the Tropicalia movement; born in the late 60's it used music and visual arts as a voice to confront the cultural and political establishment. All films are free to watch so don't miss out on the chance to see these excellent examples of Brazilian film.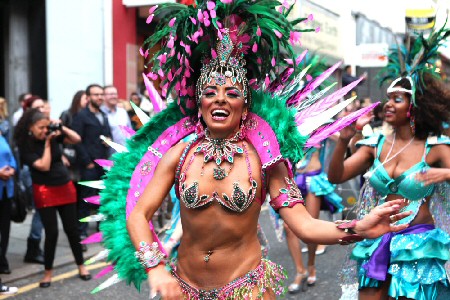 Then on Friday, 18 July 2014, Alma De Cuba will host the annual Carnival Queen Competition. The panel of judges will be hard pressed to pick a winner out of some of the UK's best samba dancers who will each showcase their best routine, most dazzling costume, and of course their sparkling personality and energy in the battle for the coveted title of Carnival Queen.

The main Carnival Day on Saturday, 19 July 2014, will see a huge samba band parade travel through the City filling the streets with colour, music and fun. A host of top Brazilian bands and artists will also play throughout the day and for the fourth year running, Williamson Square will host a music stage throughout the day and evening, presented by DJs from 107.6 Juice FM. Revellers will be able to eat, drink and be merry as they experience a great programme of music and samba dancing, with an outdoor 'cocktail shack' and stalls offering the best in Brazilian food.

There will be a wealth of events taking place throughout the day and night throughout the City, celebrating the very best of Brazilian culture. The Latin American food marketplace at Williamson Square where revellers can sample the delights of traditional Latin American food, enjoying a wide variety of dishes and soaking up all the atmosphere in the heart of Liverpool. The Kazimier Garden will also be serving up great music and even greater food at their Brazilian Barbeque from 2pm. Another perfect place to chill out in town, enjoy the music and bring the family.

Brazilica Street Soccer Festival will name the winner of the Brazilica Futsal Finals after the best 3 a side football teams compete against each other in the finals of this Merseyside competition brought to you by Halton Street Soccer and Futsal CIC. The Everton in the Community Stage, will also be bringing more music close to the action from 12pm to 6pm on Church Street.

For all the colour and beauty of Brazil, why not visit the Southport Flower Show Stand in Williamson Square. Beautiful Brazilian inspired displays will be on show, promoting their Brazilian themed Flower Show which takes place later this year. Tickets for this year's Flower Show will also be available to purchase at their stand.

Finally, closing this year's Brazilica, The Kazimier will host the carnival after party on 19 July 2014, from 10pm. With carnival DJ's and a special guest DJ set from Patrick Forge, the samba and Latin House vibes are set to keep crowds partying until 3am. A night set to be full of surprises, make sure and come down and enjoy the great music, dance and performances as we say goodbye to Brazilica for another year.
Tickets for this amazing Brazilica send off are just £5, so be sure to join us for the carnival party of the year! This year's Brazilica programme truly offers something for everyone; for more information on all of the above events please visit:- BrazilicaFestival.co.uk.
Working to cut energy bills
THOUSANDS of Liverpool households are being given help to cut their electriCity bills. The scheme operated by Liverpool City Council's Healthy Homes Programme provided 6 months paid work experience and training opportunities to 6 young people who supplied and/or fitted free low energy bulbs in the homes of vulnerable residents.

They also provided a free energy monitoring service which has helped residents to identify any potential opportunities to reduce their energy consumption and so reduce their energy bills.

Now the opportunity is now being repeated for another 6 young people aged 16 to 18 who are not in education, employment or training and live in Liverpool. The programme is due to start in September 2014.

The trainees on the first programme supplied and/or fitted about 2,000 energy efficient light bulbs in residents' homes or gave them out at events, including those run by the Healthy Homes Health Promotion Team, the City Council's Energy Efficiency Team, and other local community events.

In addition they also engaged with social landlords and other agencies, offering the energy efficiency programme to their tenants and clients.

All of the trainees successfully completed a number of training and development courses and they were supported in finding future work with 3, so far, going on to further employment and the others being supported in their efforts in finding future employment.

Cabinet member for Housing, Councillor Ann O'Byrne said:- "This is a great way of helping residents cut their fuel bills or help to get them out of fuel poverty by making small changes in their homes. And it is providing a unique opportunity for young people to get work experience in a growing area of private sector employment and learn many skills that future employers will be looking for. An open day will be held on Monday, 21 July 2014, when more information about the traineeships and programme will be available. To register your interest in attending the open day email:- healthyhomesprogramme@liverpool.gov.uk or telephone:- 0800121 754, giving your name, date of birth, address and telephone number by Friday, 18 July 2014."