Davina McCall heads to Liverpool for first ever Sky Ride event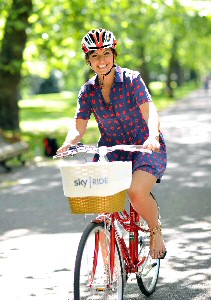 THE British Cycling and Sky, in partnership with Liverpool City Council, are delighted to have announce that Davina McCall will be attending Sky Ride Liverpool on Sunday, 7 September 2014. In what promises to be a momentous year for cycling in the UK, much loved TV presenter and Sky 1's Got to Dance host is a passionate cyclist and is supporting this year's Sky Ride campaign. Davina will join thousands of cyclists, of all ages and abilities, at Liverpool's first ever Sky Ride Big Bike Event. Liverpudlians will get the chance to enjoy a fun day cycling a traffic-free route through their City with their friends and family. There will be huge festival atmosphere with a whole host of activities and entertainment throughout the day both on and off their bike. Sky Ride is a national campaign between Sky and British Cycling encouraging thousands of people of all ages and abilities to get on a bike and discover the fun, freedom and health benefits cycling can offer. There has never been a better time to be inspired to get on a bike as excitement for cycling reached fever pitch this week when an unprecedented four million fans lining the first three stages of the Tour de France. There are even more events to look forward to with the Commonwealth Games in July and Tour of Britain also starting in Liverpool on the 7 September 2014.
Sky Ride Ambassador Davina McCall commented:- "I've been a mad keen cyclist for ages and I reckon what Sky and British Cycling have done to help transform cycling in the last few years is really amazing. I'm so pleased to be supporting this year's Sky Ride campaign... brace yourself Liverpool... my first Sky Ride event is with you in September!"

Tricia Thompson, Sky's Director of Cycling said:- "We're excited to have Davina on board as an ambassador and attending the first Sky Ride Big Bike Event in Liverpool. She is a huge cycling fan and it's hard not to be inspired by her passion for the sport as she's experienced the benefits 1st hand. Cycling in the UK has transformed in the last few years with more than a million more Brits now cycling regularly as a result of Sky's partnership with British Cycling. Together we want to inspire people to get out on their bikes and enjoy cycling, whether for a sport, a hobby or as a way to get fit."

Liverpool's Assistant Mayor and Cabinet Member for culture and tourism, Councillor Wendy Simon, said:- "It's fantastic news that such a household name like Davina is going to have her first Sky Ride experience in Liverpool. She is a great ambassador, and is the perfect example of someone who not only undertakes amazing sporting challenges, but also promotes the endless benefits of being fit and healthy. With the Tour of Britain's Grand Depart taking place on the same day, it's set to be an unforgettable event and we look forward to giving her a warm scouse welcome."

Sky Ride Big Bike Events give thousands of people the chance to ride their bikes safely on traffic free streets in the heart of major cities and towns across the country, whilst Sky Ride Local guided rides give cyclists the chance to explore their local area through a series of rides led by British Cycling trained ride leaders. To date over 750,000 people have taking part in free Sky Ride events and guided rides across the UK in the last 5 years. This year there are fourteen Sky Ride Big Bike Events taking place across the UK and 2,500 local guided rides running every Sunday across the summer. For those who want to create groups and organise their own rides completely free there's Ride Social. There are also events tailored specially for women with Breeze, which is British Cycling's biggest initiative ever to get more women into riding bikes for fun. There are 200 guided rides every week as well as Breeze Challenge Events taking place in 5 October to 12 October 2014, which will offer a 50km and a longer 100km bike ride for women seeking an accessible introduction to riding more challenging distances. Find a bike ride near you and sign up for Sky Ride Liverpool goskyride.com.
Blue Air to commence North West's only scheduled service to Bucharest with direct flights from LJLAe
LIVERPOOL John Lennon Airport (LJLA) has announced that Romanian airline Blue Air is to commence a 3 times weekly scheduled service from Liverpool to the Romanian capital Bucharest starting in December 2014. Flights will commence on 15 December 2014 to Bucharest Henri Coanda (OTP) International Airport, departing on Mondays, Wednesdays and Fridays through to the end of the Winter season, with flights departing at 09:45 on Mondays and 18:00 on Wednesdays and Fridays. Fares will start from just 32.90 Euros (approx £26.00), one way (excluding taxes and charges) with the airline operating a 162 seat Boeing 737-400 on the route. Blue Air have been operating for almost 10 years with a network of services from Romania to destinations across Europe, offering high levels of comfort and customer service with great value for money air fares. There is already high demand for services from Bucharest to the North of England with strong business links and a growing leisure market and a lack of direct air services linking the Romanian capital to the North of England. Strong business links already exist between the 2 regions assisted by the Romanian Consulate in Liverpool and this news follows on from the successful Romania Gateway 2018 event recently held at LJLA. This was aimed at promoting closer links between UK and Romanian central and local government and a diverse range of organisations across the North West looking to explore business opportunities in Romania. Mark Povall, Director of Air service Development for Liverpool John Lennon Airport commented:- "It is great to be able to welcome a new operator to the Airport and particularly pleasing to see the commencement of this important route after having worked closely with the Romanian Consulate and the recent Romania Gateway 2018 initiative. By working locally with these partners, we have been able to demonstrate to Blue Air a real desire for this service from Liverpool."

Gheorghe Racaru, Blue Air General Manager declared:- "Since its first flight, almost ten years ago, Blue Air has been permanently developing, and this meant new routes, fleet increase or new services that would offer passengers an extremely pleasant experience on board of our aircraft. It is my pleasure to announce that tickets for a new route Liverpool to Bucharest and return are available, 3 times a week, a destination which joins the other 26 routes already in place. The Blue Air team is permanently trying to find smart solutions, in order to provide its clients with multiple travelling options which would meet their demands. Making this happen could only be possible with the help of our trustworthy partners and, for this project, I would like to welcome the support and openness of the Liverpool John Lennon Airport representatives. In any business, trust and good cooperation among the parties involved is essential in order to obtain great outcomes and that is why I am certain that this new route will be a true success."

UKTI play to win as 'Business Meet Rugby Legends" at a Japan and Korea event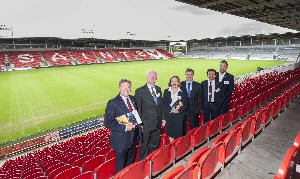 THE UK Trade and Investment (UKTI) have teamed up with the International Festival of Business 2014 and St Helens Rugby League club when it hosted a free event aimed at helping UK companies win business in Japan and Korea at the famous Langtree Park Stadium.

UKTI is targeting 'new-to-market' companies from around the UK seeking to internationalise their business for the first time, as well as UK companies already operating in Asia Pacific markets and looking for new opportunities in the wider region.

The event at Langtree Park explored current business opportunities in Japan and Korea, with keynote speakers including the CEO of Business Link, Japan, and John Murphy, Head of Trade Strategy from the British Embassy in Seoul, as well as advice clinics and a language and culture workshop.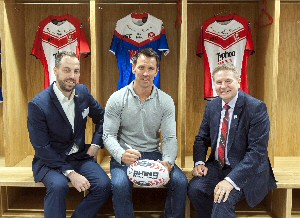 Afterwards delegates and hosts including Clive Drinkwater, Regional Director, UKTI and companies NGF Europe, Playdale Playgrounds and Barney and Taylor had the chance to see the stadium and meet the Chairman of St Helens Eamonn McManus and rugby legend Paul Sculthorpe MBE.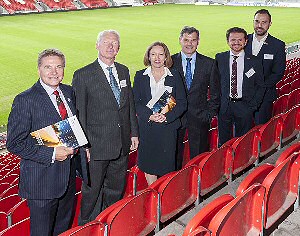 UKTI North West Regional Director Clive Drinkwater said:- "The event was a real success. Japan and Korea are important markets and UKTI can offer targeted assistance and advice to companies looking to trade there. We were able to invite three companies who already trade in the market who were able to share their experiences with the delegates, as well experts from overseas who can help with in-depth market knowledge and connections. I would encourage any businesses hoping to trade in new markets to get in touch with the International Trade Team to see how we can help."
Craig Phillips announced as new ambassador for Checkatrade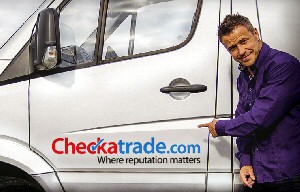 TV personality, DIY and construction expert, Craig Phillips, has been chosen by Checkatrade to join them as part of their team of ambassadors. Craig's appointment further highlights his excellent reputation within the trade industry and he supports Checkatrade's dedication to connecting consumers with reputable tradespeople, services and businesses.

Checkatrade is an online business which was established to take the headache out of finding tradespeople for consumers and is completely free to use. Tradespeople must pass strict background checks before they are allowed to become members and have to agree to allow public feedback on their profile. The innovative concept allows consumers much greater peace of mind when engaging a tradesperson, something that is also so important for their latest brand ambassador.

Craig's passion for all things construction and DIY has seen him work in the industry since the age of 18. Since the 1990s, Craig has headed up a series of successful construction businesses, employing over 30 tradespeople at any given time. He has also undertaken a multitude of independent projects, including major structural conversions and new builds.

In 2000, Craig was named the 1st ever winner of Channel 4's iconic 'Big Brother' and his rise to fame has helped him to build on an amazing career as one of the UK's leading DIY and home improvement experts. He has presented and produced over 850 DIY and home improvement shows for a variety of major broadcasters including BBC, ITV, Channel 4, Five, Sky One, UKTV Style and Discovery Realtime; reaching millions of construction fans in Europe, Korea, New Zealand and the USA.

Craig Phillips says that:- "I am delighted to join the team of Checkatrade ambassadors. It is so important to ensure that consumers can trust and rely on their tradespeople. I can't wait to get involved and spread the word about this brilliant service!"

Kevin Byrne MD and Founder of Checkatrade.com commented:- "We are delighted that Craig has agreed to be one of Checkatrade's ambassadors and look forward to working with him. Not only has he a great public profile and reputation, but is an expert when it comes to construction and tradespeople. It is important to us that we work only with credible people and having Craig on board as an ambassador reinforces that Checkatrade is providing an excellent, trustworthy service to our users."