Webhelp Proposes 10 Year Plan to Deliver Customer Centric, Digitally Focussed Contact Centres for Shop Direct
ON Friday, 11 September 2015, a spokesperson from Shop Direct told us that:- "There are no planned or proposed changes to Shop Direct staff at our contact centres in Aintree and Bolton." But, Webhelp, Europe's 3rd largest Business Process Outsource (BPO) provider, has created a proposal, that has been being put to trade unions on Thursday, 10 September 2015, to deliver digitally focussed customer experience centres for Shop Direct, the UK's 2nd largest pureplay online retailer, that will be able to provide the innovative and personalised contact options the customers of today and the future are increasingly demanding.

But in a press anouncement David Turner, chief executive officer of Webhelp UK, said:- "Consumer behaviour is continuously changing and as a digital retailer on a journey to becoming world class, Shop Direct needs to be confident it can continue to anticipate the ways in which customers will want to communicate with its brands in the future. Webhelp is a leader in developing innovative, personalised communication solutions that meet the needs of individual customers. Using a picture built up by analysing the interactions a customer has with a brand over time, Webhelp can anticipate how a customer will want to communicate in the future. This means we can ensure Shop Direct will have the necessary options to engage with their customers in a personalised and unique way that will keep pace with changing consumer habits. Far from a scripted, automated, 1 size fits all approach to customer service, Webhelp will be able to create customer service solutions that are as unique as Shop Direct's customers are."

Consumer habits have been changing very rapidly in recent years. Since 2012 Shop Direct has seen an increase of more than 700% in the amount of contact that has been conducted via social media and web chat sales have increased by more than 120% in the past year. But voice calls still account for almost 80% of all contact.

A report published by eDigitalResearch in July 2015, states that less than half of consumers (45%) said they were satisfied with phone as a touch point.

Turner continued:- "Shop Direct is still currently receiving a huge percentage of customer contact via traditional methods, such as telephone, however, it is clear that customers want to move onto digital channels, and the pace of change is increasing. Shop Direct has given this challenge to Webhelp and using our expertise in data-drive, digital transformation, we have been able to offer a proposal, which, if accepted, will ensure Shop Direct's customers could choose from a raft of digital contact options, including Whatsapp, virtual advisors and video messaging and will see more than 60% of contact becoming digital in 3 years."

Webhelp became Shop Direct's customer contact partner after the transfer of the contract from Serco on August 3, 2015. Since then Webhelp has been conducting a strategic review of the existing operations and looking at how best to take Shop Direct's customer service offering onto the next level. That review is now complete and today the proposal is being communicated and discussed with trade unions, staff and other interested parties.

Due to the reduction in call volumes anticipated over the next decade, together with the digital skills and infrastructure required to meet the changing customer needs that have been identified, it is proposed that the current Webhelp UK workforce operating on the Shop Direct account will reduce from 1,162 to 470. This will include the possible closure of the Webhelp operation in Bolton by Spring 2016 and the proposed phased closure of the Webhelp Aintree operation by Spring 2017.

It is proposed that there will be a Shop Direct centre of excellence established in Cardiff, with the remainder of operations being handled in South Africa.

Turner commented:- "It is crucial that we can deliver to Shop Direct the best possible digital customer contact offering. We believe that our track record and experience in South Africa, together with the technical capabilities in the Cardiff site, which we inherited from Serco, give us the best combination of quality skills and cost efficiencies necessary to make this a really successful partnership. This is purely a proposal at this stage and will be subject to thorough and meaningful consultation with trade unions, employee representatives and employees at each affected site."

Shop Direct chief executive officer, Alex Baldock, said:- "Shop Direct is on a journey to transform into a world class online retailer. We've made a number of great strides in that direction this year with the removal of the catalogue and the consolidation of some of our legacy brands into our two power brands, Very.co.uk and Littlewoods.com. But our progress does not end there. Our customers are increasingly embracing digital as their preferred method of communication and we need to be able to respond to that demand. We set Webhelp the challenge of developing a customer service capability that would serve our customers' needs over the next decade. They have responded to that challenge by reviewing the estate they inherited from Serco and recommending the proposals that have been outlined to the trade union today. Change can be difficult, but it is necessary and we are confident that the proposals outlined by Webhelp will ensure we can continue to develop the fantastic digital service our customers are telling us they expect from Shop Direct."

Webhelp UK are currently located at Aintree and Bolton, but if this "proposed" action takes place, would result in the loss of over 700 jobs in the North West of England.

Mike Aylward, Usdaw Divisional Officer, says:- "Our members are shocked and outraged by this decision. The staff have suffered years of unrest and uncertainty, despite giving great support and professionalism. They've seen their employer change from Littlewoods, to Shop Direct, to Serco and now Webhelp UK, only to be put under the threat of redundancy. These loyal employees have been badly let down and deserve much better than to see their jobs exported. Next week we will enter into consultation with the company on their proposal and we will be challenging the employer to find a way to keep the jobs in the UK at Aintree and Bolton. We are also calling on local politicians to do what they can to help. In the meantime we will be supporting our members throughout this difficult period as we fight for their jobs."

Does these affect you? If this does, please let us know your views and thoughts by emailing us to:- News24@southportReporter.Com.
Vevo Halloween is back!
YES, it's time! Dust your best fancy dress outfit off as the biggest Halloween party of the year is back!

Vevo will be hosting their annual Vevo Halloween event at Manchester's Victoria Warehouse once again, featuring an incredible line up of some of 2015 biggest names for 5,000 music fans. The event, which takes place on Saturday, 31 October 2015, will host full live performances from 2015 Vevo LIFT artists:- 'James Bay', 'Little Simz', 'Nothing But Thieves', 'Wolf Alice' and 'Years and Years'.

Vevo LIFT UK launched in 2011 as a way of celebrating new talent and introducing emerging artists to music fans. Vevo Halloween 2015 is a celebration of the year's LIFT artists and a rare opportunity for fans to see 5 of the best new artists the UK has to offer at one incredible event.

With a 'Circus of the Damned' theme and the return of Vevo's infamous Scare Maze, clowns will ensure gig goers are all kept on their toes. Vevo has commissioned award winning Shaune Harrison to create the prosthetics for the actors around the venue and in the maze. Harrison was the man behind the incredible prosthetics from:- 'Harry Potter, Marvel Films' and 'World War Z', with him on board Vevo Halloween 2015 will be 1 hell of a night to remember.

Tickets go on sale at 9am, Thursday, 10 September 2015, priced at just £5 (including booking fees) from Vevo's website (Guests have to be aged 18 and over)

James Bay, who won The BRITs Critics' Choice award earlier this year, released his debut album:- 'Chaos and The Calm' in March, hitting the top spot in the UK and achieving platinum status. "Ready to get spooky with Vevo and everyone in Manchester this Halloween. Can't wait! See you at the Warehouse."

Little Simz, the fiercely independent London hip-hop wordsmith who is making waves on both sides of the Atlantic, is currently putting the finishing touches to her debut album, which will be released later on this year. "For me, it's an honour to be part of Vevo Halloween and LIFT. To have Vevo supporting me, I couldn't ask for more than that, and I can't wait for the show on 31 October 2015."

Nothing But Thieves are set to release their debut album on 16 October, through RCA Records. Championed by Radio 1, they've toured with the likes of George Ezra, Arcade Fire and Twin Atlantic and have just launched their new single:- 'Wake Up Call'. "Halloween, The Warehouse, Manchester. Perfect. Can't wait to play, see you there."

Wolf Alice's debut album:- 'My Love Is Cool' was released earlier this summer, going straight in at No. 2 in the charts, following a breathtaking start to the year with sold out tours across North America, Europe and the UK. They recently performed at London's Brixton Academy and are now on their biggest tour to date.

Winners of the BBC Sound of 2015 poll, Years and Years have had huge chart success with their infectious electro pop with their debut album 'Communion' going straight to No 1 in the UK album chart. The trio are currently touring America and Canada and will be back in the UK in October for a string of shows across the country. Tickets NOW on sale!

Record number of runners attend Decathlon City of Salford 10K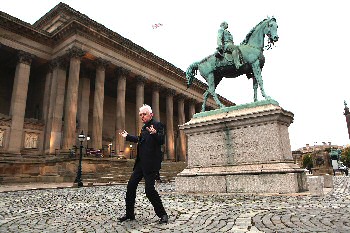 THE celebrated photographer Mike McCartney officially opened his new exhibition at St George's Hall Liverpool on Friday evening with the iconic venue as the focus. Entitled, Mike McCartney Luvs St George's Hall, the exhibition runs until Sunday, 18 October.

The evocative exhibition features 60 fascinating images depicting the Liverpool landmark and spans more than ½ a century, from the 1960's through to the present day. All of the images have been taken by self taught photographer Mike, alongside a small selection of his favourite shots of the stunning Grade I Listed building.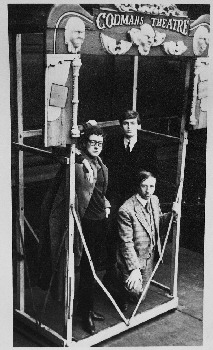 The exhibition will also mark the opening of a further public area in the fascinating Catacombs, which run underneath St George's Hall. This is a new gallery space, never before open to the public.

Photographer, musician and author, 71 year old Mike's career has taken an illustrious path, through music and the arts. The father of 6, lives with his family on the Wirral.

The Merseybeat era played a huge role in Mike's life. He was ⅓ of cult 1960's band Scaffold, alongside Roger McGough and John Gorman. Widely known for their satirical comedy act, things took a turn towards the music charts in 1967 when Mike penned their 1st Top 5 hit single, Thank U Very Much, a favourite of the Queen Mother and the then Prime Minister Harold Wilson.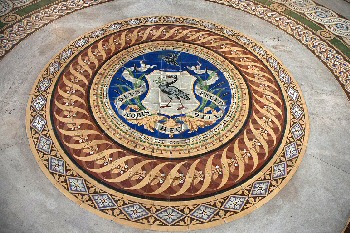 This was followed in 1968 by another hit song, Lily The Pink which reached the Number 1 spot and stayed at the top of the charts for five weeks. Already photographing fellow bands at this time, Mike was nicknamed 'Flash Harry' by The Beatles' manager Brian Epstein for always using a flash gun for his live pictures.

Mike is just as famous for his art as his music and poetry. He has staged exhibitions across the world, including Japan, America and Canada.

Mike's photographs resulted in the National Trust restoring and opening 20 Forthlin Road as a tourist attraction. This is Mike's childhood home in Liverpool, which he shared with his older brother Paul.

Mike's photographs have also been featured in Q Magazine's Greatest Rock and Roll Photographs of All Time, and have been shown worldwide on MTV's Rolling Stone 100 Greatest Pop Songs programme.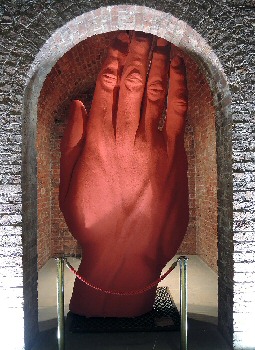 2 real honours for Mike are having 11 of his photographs bought for the nation and exhibited at the National Portrait Gallery in London; and also personally greeting the Queen at the Museum Of Liverpool to show her his exhibition, Mike McCartney's Liverpool.

Photographer Mike McCartney commented:- "When I was asked to do an exhibition for Liverpool's prestigious St George's Hall I was firstly chuffed, but then thought 'an exhibition of WHAT?' Initially I was planning a Liverpool based number of images with a few of the Hall thrown in, but when I searched through my vast repertoire of Scouse pics I was amazed at how long I had loved and photographed this magnificent building! In fact I've been snapping her and things appertaining her from the 60's, right up to now! Including Scaffold's first Black & White press photo in Codman's Punch & Judy Show frame... St George's ace organ and magnificent Minton Tiles... Marilyn Monroe in the Great Hall… The launch of our European Capital of Culture, with Ringo on the roof! Plus John Conteh, Les Dennis, Sue Johno, Doddy, etc inside... the start of Liverpool Gay Pride parade… the hall's various implements of torture!.. Santa Claus with my grandsons... plus a few secrets...to name, but 1! I hope you enjoy my 'Mike McCartney Luvs St George's Hall' exi, and your trip down Memory Lane"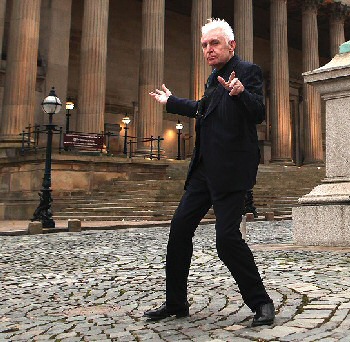 Alan Smith, General Manager at St George's Hall, added:- "Mike's work expresses a never ending sense of joy, colour and abounding pride in the images he records. The legacy of Mike's work are rarely outspanned by anyone else. There is a steely eye for detail, but also a beautiful ability to tell a story in his work, whilst allowing the viewer to discover their own tales as they view the images. All this is built on Mike's sheer ability as an artist and a photographer. It is very exciting to host Mike's work, and one of the spaces to show the pictures has never been used as an exhibition space since the hall opened in 1854. To recognise this milestone, the room will subsequently be known as the McCartney Gallery."

The exhibit runs until Sunday, 18 October 2015. It is open daily from 10am to 5pm. Entrance fee is just:- £2.50 payable on door.