Great Northern Event Expo puts the North West on the Map!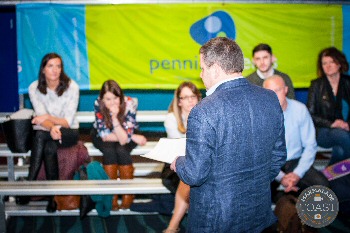 THE very 1st Great Northern Event, Expo was brought to the North West courtesy of Pennine Events Ltd. Premier Suite within the Macron Stadium, Bolton was transformed into an events extravaganza where event professionals and industry suppliers gathered to source new suppliers and new event ideas.

Hundreds of event professionals from across the North West came together to source new event ideas, as well as hear from industry experts on hints and tips to a successful event. Highlights of the day, included the:- 'Kendal Calling' and 'Festival No 6' organiser Jon Drape giving his Top 10 tips to avoid when considering safety issues on outdoor events.

A range of seminars happened throughout the day along with entertainment both on the Main Stage and throughout the show floor. Entertainers included Paul Heptinstall on Piano and Sax and dulcet tones of John Norcott from Ntertain.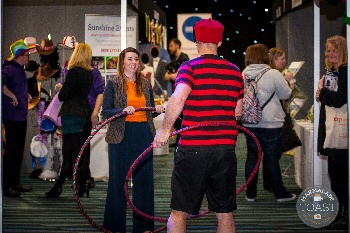 The seminar zone, café and chill out zone took place at the end of main hall, alongside a vast array of 50 exhibitors, with exhibitors and entertainers demonstrating new products and event ideas. Exhibitors ranged in specialisms from Venues such as Blackpool Pleasure Beach, Bolton Whites Hotel, Catton Hall Shooting Ground and Bartle Hall Hotel to event suppliers such as Eat My Logo, Marketing Incentives, Sunshine Events and Pop up Arena.

There was networking in the Chill out Zone relaxing on furniture provided by Tadah Furniture Hire.

The Great Northern Event Expo was the brainchild of Pennine Events Limited, speaking at the close of the event, the company's Managing Director Mark Sandamas said:- "We are delighted with the success of the inaugural Great Northern Event Expo and to see many event professionals coming together to demonstrate what a power house the northern event scene is becoming. We have had excellent response to the expo from both the event supply chain and event management organisations and we are excited to see this level of enthusiasm replicated at the next Great Northern Event Expo which will be held at Elland Road in Leeds on 15 September 2016."
Firearms recovered Bootle and Walton
ACCORDING to Merseyside Police, 3 firearms have been found in Liverpool and Sefton on Thursday, 24 March 2016. Officers discovered a sawn off shotgun and ammunition while searching a disused railway line near Warton Street, Bootle. After a while, 2 more weapons in the park near Moor Lane were found. Detective Inspector Nick Price said:- "The recoveries yesterday and today mean there are four less firearms on our streets that could be used to cause fear, harm or even worse in our communities. We are relentless in our pursuit of those involved in gun crime and will continue to carry out searches such as these to make our streets safer. Information from the community is vital in our fight against gun crime and these discoveries have been brought about through continued work with the community as part of our ongoing pursuit to reduce firearms possession and discharges across Merseyside. All of these firearms will be taken away and examined by crime scene investigators. I'd urge anyone who has any information about firearms in their community, to get in contact with officers from the Matrix Serious and Organised Crime gun crime hotline on:- 0800 230 0600 or Crimestoppers anonymously on:- 0800 555 111."

Fast Tag offers savings of nearly 30% from 1 April 2016



MERSEY Tunnel users are encouraged to apply for a Fast Tag to take advantage of the further toll reduction they will see from Friday, 1 April 2016.

Car drivers with a Fast Tag already benefit from a 30p reduction on the cash toll and this will increase to a 50p discount, with them paying £1.20 a trip as against the cash toll of £1.70. Proportionate discounts of nearly 30% will also apply to Fast Tag users of all other vehicles.

Fast Tags are available to everyone, not just regular travellers, and are issued free of charge. They offer 'stored value' meaning that customers' money stays in their Fast Tag account until it is used, no matter how long that is.

The cash tolls for all vehicles will remain frozen for 2016/17; a decision agreed by the Liverpool City Region Combined Authority (CA) in February following recommendations by a task group set up at the request of the CA to review the tunnel tolls.

It was also approved that all liveried emergency services vehicles, not just those on emergency call outs, can travel free through the Mersey tunnels, from 1 April, 2016 and furthermore there will now be free travel, on Christmas Day, for all tunnel users.

Phil Davies, Leader of Wirral Council, said:- "We have made good on our pledge to reduce Tunnel Tolls. Wirral residents who use the Fast Tag option for commuting to work can save a fiver a week, and even casual tunnel users could save a pound per round trip by switching to the Fast Tag option."

Cllr Liam Robinson, Chair of Merseytravel, said:- "The savings from the Fast Tag are too good not to take advantage of and they are available for everyone. From April, a car driver making 2 trips each weekday through the tunnel will now save £5 per week compared with paying the cash toll. Discounts for Fast Tags apply to all vehicle classes, so drivers of class 4 heavy goods vehicles such as articulated lorries will now be saving £2 each time they travel. This is about doing what we can as a City Region to help regular and local users."

► The Kingsway (Wallasey) and Queensway (Birkenhead) tunnels are part of the Liverpool City Region's Strategic Highway Network, with approximately 25 million vehicles travelling through them each year. They were built as a joint venture by the local authorities and, as such, their upkeep and maintenance remains outside of the National Highway Network and is not funded through Road Tax or general taxation.

► Merseytravel is the Executive body that provides professional, strategic and operational transport advice to the Liverpool City Region Combined Authority to enable it to make informed decisions. It is also the delivery arm, making transport happen.

► Merseytravel delivers transport projects that support the economic growth of the Liverpool City Region. The focus is on improving connectivity within the region and beyond, improving the customer experience from ticket buying to journey planning and maintaining the integrated transport network, including:- the Mersey Ferries and Mersey Tunnels, to ensure it is fit for the future, accessible and safe. The aim is to make it world class.

► Merseytravel works in partnership with central, regional and local government, the Local Enterprise Partnership, public transport operators, other Passenger Transport Executives, the business community, community groups and members of the public.

► Merseytravel owns and operates the famous Mersey Ferries and associated tourism attractions; the U-Boat Story, Spaceport, the Mersey Tunnel Tour, and the Beatles Story.
Toll class

2014 to 2015

2016 to 2017

2015/16

Cash

Fast Tag

Fast Tag saving

Cash

Fast Tag

Fast Tag saving

1

£1.70

£1.40

£0.30

£1.70

£1.20

£0.50

2

£3.40

£2.80

£0.60

£3.40

£2.40

£1.00

3

£5.10

£4.20

£0.90

£5.10

£3.60

£1.50

4

£6.80

£5.60

£1.20

£6.80

£4.80

£2.00