Cruise Terminal design concept contract awarded
LIVERPOOL City Council has appointed an international consultancy team led by Arup and including KKA Architects, Royal Haskoning DHV Engineering and cost consultants Turner and Townsend to produce a concept design.

They will come up with a robust, fully costed plan for a terminal capable of handling 3,600 embarking and disembarking passengers with baggage 3 times as many as the existing facility. The site would include passport control, passenger lounge, café, toilets, Taxi Rank, vehicle pick up point, coach layover area and a car park.

The former Princes Jetty at Princes Parade, close to the landing stage, is preferred location and a potentially suitable site.

The world famous Cunard Line which describes the City as its spiritual home has said the development could lead to the reintroduction of its transatlantic crossings from Liverpool, which last took place regularly in 1968.

It follows a doubling in the number of vessels visiting Liverpool since it became a turnaround facility in 2012 up from 31 to 61. Passenger numbers are up from 38,656 four years ago to an expected 86,365 in 2016.

Mayor of Liverpool Joe Anderson said:- "I am determined to see huge continued growth in the cruise liner industry in Liverpool. To do that we need a permanent building to replace the facility we have at the moment which has limited space. We are now commissioning detailed plans which will give us a clear picture of how much of a commitment we are going to have to make. Clearly there will be a cost to the construction of the facility, but the figures speak for themselves in terms of the economic boost we get from cruises coming to the City."

Garry Banks, Director of Arup and Project Director for the team told us that:- "We are delighted to have been awarded the contract we're a Liverpool based team and it really helps that we understand the strategic context of this project and its importance to the City region economy. The current facility has delivered an award winning service and it's now our challenge to look at how we can deliver a permanent cruise terminal design that ensures Liverpool can continue to deliver an award winning cruise experience and capitalise on this growing sector whilst accommodating larger ships with greater passenger turnaround. Projects such as this also enable us to continue to develop our teams in the City, employing local graduates and apprentices; meaning we not only grow and improve as businesses but we also contribute to the success of the City in the long term."

The cruise liner terminal is estimated to have generated £7 million for the City's visitor economy last year, up from £1.3 million when it was a port of call destination.

In May 2015, the Cunard fleet arrived on the River Mersey, creating an unprecedented Three Queens spectacle and once in a lifetime event that was seen by more than a million people lining both sides of the waterfront.
Liverpool was named the UK's best port of call for 2 years running, in 2013 and 2014, and scooped:- 'Destination Of The Year' by Seatrade Global, in September 2015. Later in 2016, Disney Cruise Line will be coming to Britain for the 1st time and Liverpool is 1 of just 2 English destinations they will sail in to.

Assistant Mayor and Cabinet member for culture, Councillor Wendy Simon, said:- "The River Mersey is hugely close to the hearts of local people and there is always a buzz when a big liner is in port. Much of what Liverpool has to offer cruise-ship visitors is right in the City Centre, alongside the waterfront where ships dock. The location, along with the warm welcome people receive when they arrive in the City, means Liverpool as a destination goes from strength to strength. We know there is an appetite from the cruise lines to come to Liverpool and it is vital that we give passengers the best experience that we can. A larger, permanent facility would enable us to do that."

Work will be completed on the study by the end of June 2016 and a final decision taken over the project later in 2016.
Growth of Liverpool's Cruise Liner Terminal

Year
Vessels
Passengers

2011

15

27,278

2012

31

38,656

2013

34

44,478

2014

47

57,844

2015

52

80,952

2016

61

86,365

Stop letting down disabled people! Local charity responds to House of Lords report
NATIONAL disabled people's charity Revitalise; which runs the Sandpipers respite holiday centre in Southport; has responded to the House of Lords report:- "The Equality Act 2010: the impact on disabled people" and echoed its call for society to become more inclusive and accessible for disabled people."

The charity is citing a number of recent studies which back up the Lords Committee's finding that the 'Equality Act' and public venues are failing in their duty of care to disabled people.

In a study of visitor attractions, Revitalise found that just 17% of the UK's most visited attractions had all their staff trained in disability awareness and 65% of disabled people had decided against visiting a tourist attraction because they found their accessibility information to be insufficient, confusing or difficult to obtain.

The charity also found similar problems on the high street, where over half (55%) of disabled people had experienced negative or unwelcoming treatment from shop staff.

Most recently, Revitalise discovered that the world of sport fared no better. The charity found that only 3 football clubs in the Premiership; the world's richest football league; had the recommended number of spaces for wheelchair users, in accordance with guidelines that have been in existence for over 10 years.

In the light of its own research and echoing the recommendations of the Lords Report, Revitalise is urging all public venues to up their game when it comes to their obligations under the Equality Act and stop letting down disabled people.
Revitalise Chief Executive Chris Simmonds said:- "This new report makes very sobering reading indeed. It has been 6 years since the launch of the Equality Act and only four years since the huge outpouring of public goodwill towards disabled people during the 2012 London Paralympics. Now, in the run up to the Rio Paralympics, it is very disheartening to find that however far we think we have come in making society more open and accessible for disabled people, we haven't come nearly far enough. Can our public venues really afford to ignore the needs of disabled people? The spending power of disabled people is worth around £212 billion annually to the national economy, but public venues risk losing out on this valuable income by not making simple and reasonable adjustments for disabled people, as they are obliged to under the Equality Act. So there is an economic as well as moral argument for public venues to do more for their disabled customers. Disabled people have every right to expect the same choices and opportunities as anyone else; is this too much to ask?"

Revitalise is a national charity providing respite holidays for disabled people and carers, combining 24 hour nurse led care with a real holiday experience, at Sandpipers and 2 other accessible UK centres. Excursions are an integral part of the experience and Revitalise makes a thorough assessment of the accessibility arrangements of each destination to which it takes its guests.
National Band Concert to be held with tickets just £5!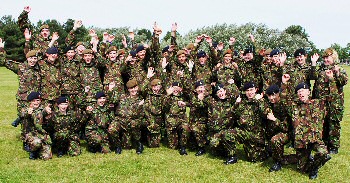 OVER 300 musical Army Cadets from all over the country attend at Altcar Training Camp, in Hightown, just outside Formby, Merseyside, each year for a week of musical instruction, training and assessment and this year (2016) they are again doing a concert as part of it. This event has been held for the last few years and is thoroughly enjoyed by all. As the training amid to selecting the best of them to perform as part of the National Army Cadet Band and Corps of Drums, the music is of an unbelievably high standard! This concert will then take place, on Wednesday, 30 March 2016, at 2pm, at Ince Blundell Village Hall, located on Lady Green Lane. Tickets are just £5 with concessions available at £3. They can be obtained via the Hightown Village Store. For information please call:- 01704 871927. The 1st ½ off all proceeds taken at this event from ticket sales will go to the Poppy Appeal, to help service and ex-service personnel, the other ½ goes to provide the instruments for the band.