Best yet at Southport Pleasureland after major investment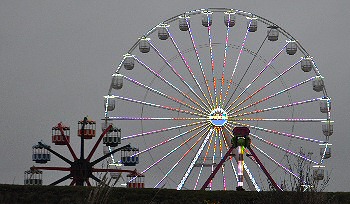 A new 'Southport Eye', now the Town's tallest non residential structure, began turning over Easter, part of a landmark £ multi million investment at Southport Pleasureland. The £5m 32 gondola observation wheel, built by the same company that manufactured the giant wheel at Liverpool, will give unrivalled views across the region and out to sea throughout the Spring/Summer 2016.

Further investment in transporting people comes in the shape of the North West's 1st Sega Prize Zone. Outside bringing the wheel to the Town, park owner Norman Wallis has spent close to £2m on new attractions, including:- a brand new indoor Sega 'playground' which has been built around a community of family friendly prize zone arcade machines featuring kids' favourite Sonic the Hedgehog.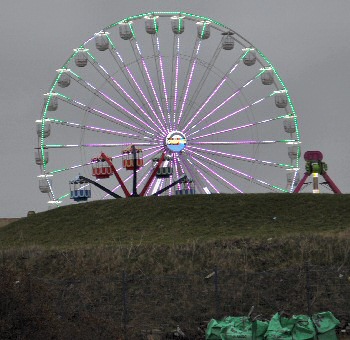 Interactive play goes beyond at the newly refitted Casablanca's Prize Zone. Traditional coin 'pushers' and children's skill games are balanced with high energy activities such as air hockey, making the indoor space perfect for parents to relax while kids explore. Little ones' rides sit alongside some of the wildest and most exciting simulators where youngsters can pair up to race each other through the twists and turns of spectacular circuits and sci-fi scenarios. Huge LCD screens help players integrate into Casablanca's striking imagined realities.

Pleasureland has also re-opened with other surprises still in store for later in 2016. Also we are please to hear that the much anticipated looping coaster is in a final testing stage and planned to open from April.

We are pleased to tell you that Norman has told us that:- "The park will keep its free entry policy over 2016 and its commitment to family fun with further work on landscaping and food and drink concessions."
To find out more visit:- SouthportPleasureland.Com.
Flood Charities Get £8.4 Million Boost from Government
CHARITIES supporting those affected by this winter's floods will get an £8.4million boost, Communities Secretary Greg Clark announced. The move is part of a multi million pound package of support for areas hit by Storms Desmond and Eva at the end 2015. Speaking in the Commons today Greg Clark confirmed that the Government will match, pound for pound, the funds raised by charities and community groups in flood hit areas. Mr Clark praised the dedication and commitment of charity groups and community foundations in raising the funds, and providing vital support to those "when they needed it most." Communities Secretary Greg Clark said:- "Whether it was helping with the cleanup operation, offering food and blankets or putting people in touch with much needed legal or financial advice, an army of volunteers offered considerable support to people when they needed it most. Having met a number of these community groups in flood affected areas, and seen for myself the incredible work they have done. We will match, pound for pound, the money raised by these groups to help local people who were hardest hit. It means an £8.4million boost to their fundraising efforts, meaning more of the thousands of families and businesses affected can benefit from this help to get back on their feet." Announcement fulfils a pledge made by the Chancellor of the Exchequer, in December 2015, to match the fund raising efforts of charities and community groups who sprang into action to help those affected by the record breaking levels of rainfall from Storms Desmond and Eva. The funds are expected to contribute to:-

► Clean up costs.
► Emergency repairs.
► Clothing.
► Food and drink.
► Heating and heating equipment.
► Basic furniture.

Charities and community groups will be contacted immediately to ensure that the funding reaches those in need as soon as possible.

Grassroots organisations given funding from PCC to cut crime and protect communities
12 grassroots organisations which work to cut crime and protect communities on Merseyside have been awarded a share of more than £132,000 by the Police Commissioner.

Jane Kennedy received dozens of bids from community groups, charities and 3rd sector organisations after opening up applications for grants from her Crime Prevention Fund for the 3rd year running. A total of 116 bids were submitted for grants of between £5,000 and £25,000 with the total combined value being requested amounting to more than £1.7m.

The aim of the fund is to help local groups protect their communities, by stopping problems before they occur, reducing the opportunities for crime and by preventing people from becoming involved with anti social and illegal behaviour.

Jane has announced the 12 successful organisations which will each be given a share of this round of funding to make a difference in their neighbourhoods. Many of the organisations focus on preventing young people getting involved with crime and raising their awareness of key issues.

Among the successful organisations was the Royal Court Liverpool Trust, who was awarded £20,000, to continue to run their hard hitting drama Terriers. Terriers has received rave reviews from schools for helping to raise awareness among young people of the dangers of getting involved with gun and gang crime.

The Commissioner also awarded £15,000 to the Ariel Trust to help run their 'It's not OK!' project aimed at providing resources to support teachers to deliver preventative education to young people on a range of issues, including domestic, homophobic and online abuse.

The funding will also go to Breckfield and North Everton Neighbourhood Council (BNEC) to help them deliver their Making Waves project which delivers both outreach and centre-based services for young people living in areas of high deprivation. £18,000 was allocated to BNEC to help run a free gym and fitness sessions, as well as gun and knife crime awareness workshops.
A scheme to improve the skills, lives and well being of unemployed young people in some of Liverpool's most deprived areas will also benefit from the grants. Employability Solutions received £9,000 to help run their 'This is my Story' project which focuses on tackling gun and gang related problems in the Speke and Garston area.

Other successful projects will look to increase awareness of forced marriage in schools which have been identified as having high risk students, a scheme to prevent repeat incidents of domestic abuse, increase knowledge and awareness of abusing legal highs and substance in schools, colleges, workplaces and youth clubs across Merseyside and a scheme which supports serious substance misusers to recover from addiction.

The funding will also be used to support Liverpool Pride by providing funding for its 'COME OUT of the shadows' campaign which will see popular landmarks across the City lit up to help build awareness of LGBT issues. The project will initially see the Three Graces, the Radio City Tower and the Wheel of Liverpool illuminated.

Jane said:- "Once again I received a staggering response to my invitation for bids for my Crime Prevention Fund. The number and quality of the bids I received demonstrates the wealth of fantastic initiatives taking place across Merseyside to prevent and tackle crime and keep our communities safe. I am delighted to announce that 12 organisations will in 2016 benefit from a cash boost from the Fund. Each of these organisations are taking an innovative approach to addressing the issues they have identified in the communities they serve. They each showed genuine passion and a real drive to make a difference. Providing these small grants to prevent crime before it occurs can have a huge impact in the long term by helping to deter people, especially young people, from entering the criminal justice system, reducing the number of victims and making our communities better places to live. I look forward to seeing all these projects being delivered over 2016."

Organisations who applied for the funding needed to show how their project would work to tackle the objectives set out in the Commissioner's Police and Crime Plan. These include tackling serious and organised crime, preventing crime and anti social behaviour, providing a visible and accessible neighbourhood policing style, supporting victims, protecting vulnerable people and maintaining public safety.

Applications needed to demonstrate how the initiative would deter individuals from committing crime, reduce the number of people entering the criminal justice system, or lower reoffending. They were also assessed to see how well they would protect vulnerable communities.
| | |
| --- | --- |
| Scheme | Proposed Allocation |
| Ariel Trust (It's Not OK) | £15,000 |
| Breckfield and North Everton Neighbourhood Council (Making Waves) | £18,000 |
| Community Safe | £12,000 |
| Employability Solutions | £9,000 |
| Evolve Tackling Legal Highs and Volatile Substance Abuse | £6,000 |
| Genie in the Gutter | £6,000 |
| Liverpool Pride Lighting Strategy | £4,460 |
| Merseyside Youth Challenge | £5,000 |
| Moving On With Life and Learning Ltd | £4,000 |
| Royal Court Liverpool Trust Ltd (Terriers) | £20,000 |
| Savera Liverpool | £14,300 |
| WEB Merseyside | £18,260 |
| TOTAL | £132,020 |