LJLA completes ₤3m latest phase of terminal improvement works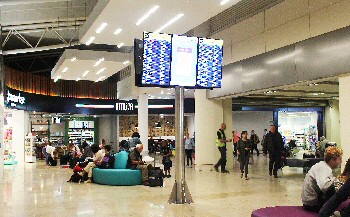 THE latest phase of development work aimed at further improving the customer experience for departing passengers at Liverpool John Lennon Airport (LJLA) has now been completed. In recent weeks, the Airport has seen a number of new retail brands start operating, new shops, bars and restaurants open up and the refurbishment and upgrade of approximately 2,000 sq m of the upper floor of the Airport's Departure Lounge. These works create a more comfortable and exciting space for passengers to shop, eat and drink, or simply pause for a moment before their flight. Based upon feedback regarding the type of shopping and eating facilities that passengers want to see at the Airport, almost ₤3 million has been invested over the past nine months at LJLA. High Street brands Dixons and Accessorize have subsequently opened new stores offering goods at Tax free prices, 20% less than on the High Street, along with a premium Cabin Bar that offers the best views across to the runway, a new Ritazza coffee shop with its extensive range of coffees and the Beer House with its selection of beers, wines and pub food.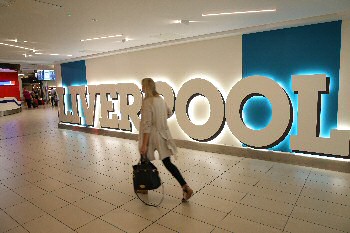 Other improvements have also included new and improved stores for existing retailers, completely new washroom facilities, large flight information screens, new seating and new lighting to create a lighter and brighter passenger environment. Once the summer season has finished for the Airport, work will then commence during the Autumn and Winter on the next phase of improvement works costing a further ₤2m, which will see an expansion and redesign of the existing World Duty Free shop and improvements to other areas. Lucy O'Shaughnessy, Liverpool John Lennon Airport's Commercial Director commented:- "Previous investments in a number of passenger facilities at the Airport have seen our customer satisfaction levels reach an all time high. We believe these latest improvements have created a real 'wow factor' for passengers as we welcome them into the Departure Lounge, building on existing positive passenger feedback and further enhancing the customer experience."

The One Show's Michelle Ackerley races to support success of Southport volunteers and runners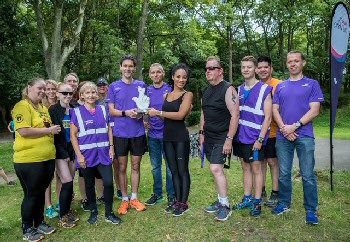 THE One Show Presenter Michelle Ackerley paid a visit, on Saturday, 26 August 201, to Southport to celebrate a well deserved win for parkrun UK. They have been voted Best Sports project by public vote in the National Lottery Awards; the annual search to find the nation's favourite Lottery funded projects.

parkrun's Visually Impaired (VI) Scheme is a free 5km run held in parks across the country, providing an environment for visually impaired people to run safely and to socialise. Southport's volunteers have been the most successful in the UK at helping visually impaired people get active.

Michelle Ackerley said:- "Parkrun are passionate about increasing the number of active visually impaired runners in the UK. National Lottery funding has helped the programme continue and supported the wonderful dedicated volunteers who help people go running in their community regularly, safely and for fun. I am thrilled to present this award to them today."

An influential Southport volunteer is Dr Simon Tobin who has been instrumental in embedding guided runs and has been an engaging speaker at events. He said:- "There are around 1.5 million visually impaired people in the UK, less than 10% of them are regularly active. It is so important to support and encourage visually impaired runners to connect with the community and keep healthy. National Lottery funding has also helped parkrun to host taster days to introduce new visually impaired runners to the parkrun family"

Mike Diaper, Executive Director at Sport England which awarded the National Lottery funding to parkrun, said:- "Sport England's research shows that visually impaired people are the least likely disability group to be active. This is a really imaginative way of changing that and enabling visually impaired people to become more active, both as runners and as volunteers."

So far, over 150 people with a visual impairment have started running, walking or volunteering at events. It's not just about the runners. Parkrun's VI scheme also focuses on encouraging more people to become volunteers who act as guides for visually impaired runners.

The winners of the seven National Lottery Awards categories will get a ₤5,000 prize, an iconic National Lottery Awards trophy and attend a star studded Awards ceremony in London broadcast on BBC One in September 2017.