Merseyside Fire and Rescue Service is currently recruiting for the next generation of firefighters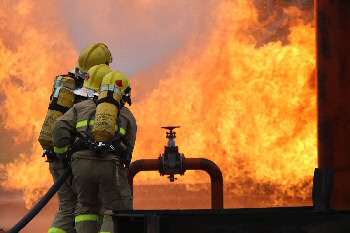 THE Merseyside Fire and Rescue Service have a number of firefighter posts on offer for its 2018 training course and is seeking applications from all sectors of the community.

Applicants who are successful following the initial round of recruitment will be asked to complete tests to assess their numeracy and literacy skills and undertake a physical assessment involving:- ladder climb, bleep test, dummy haul, step test and an assembly test involving firefighter equipment.

They will also be required to crawl a short distance wearing firefighter breathing apparatus, take part in a mock casualty evacuation, carry various items of firefighting equipment, including hoses, and complete a 50 metre swimming test.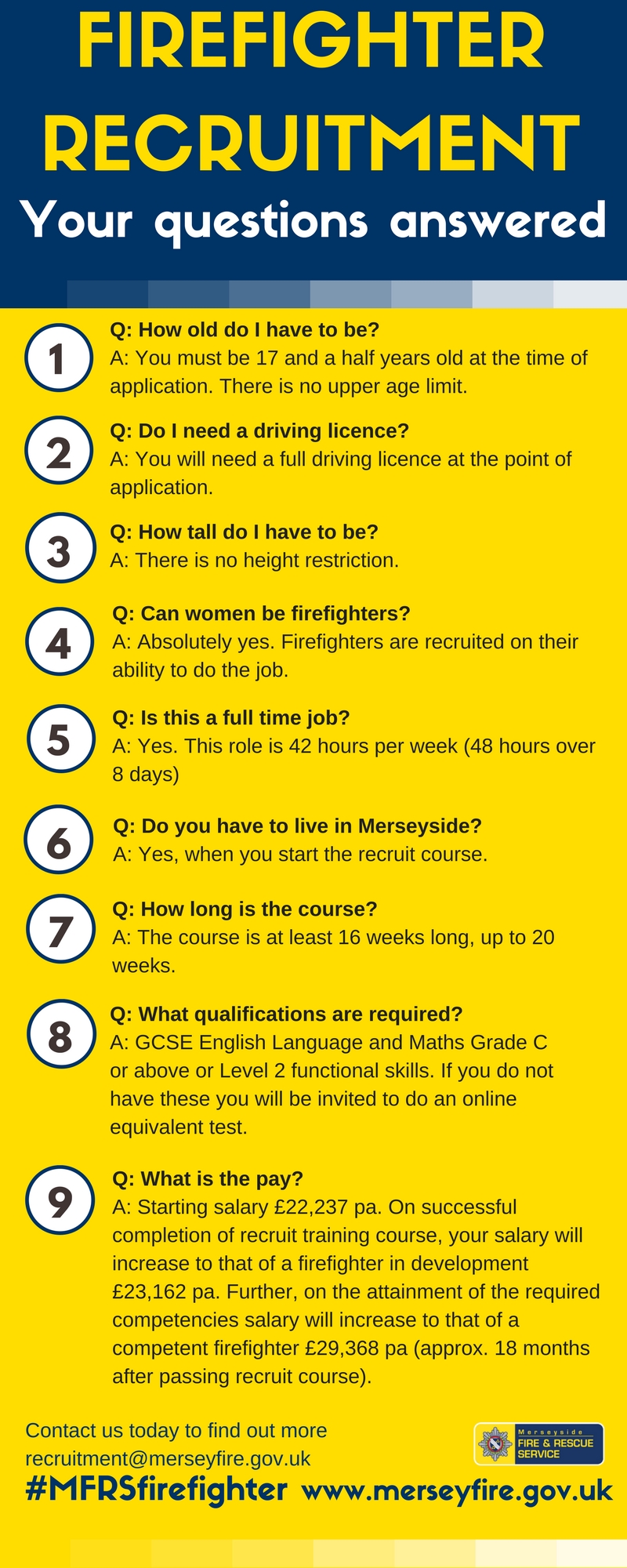 The candidates will then be invited to a formal interview with Senior Officers.

Applicants who successfully make it through the recruitment process will undertake a 17 week training course at the Merseyside Fire and Rescue Service Training and Development Academy in Croxteth where they will train in all aspects of firefighting and emergency response techniques.

Recruit firefighters will begin their career on a salary of ₤22,237, rising to ₤23,162 on completion of their training when they will pass out as firefighters in development.

Following the course, the firefighters in development will take part in regular competency assessments which, if passed successfully, will take their salary to ₤29,638 approximately 18 months after completion of their recruit course.

Deputy Chief Fire Officer Phil Garrigan said:- "We are delighted to be opening our application process for the next generation of Merseyside firefighters. Applications are open to anyone regardless of age, gender, race or sexuality. There is no upper age limit and we welcome applications from all sections of the community. We are passionate about our firefighter family representing the communities we serve and we want to hear from anyone who may be interested in the role, regardless of their background. A career as a firefighter gives you a chance to help people in many ways, apart from just tackling fires. Our firefighters are constantly engaging with communities across Merseyside, carrying out fire safety checks and promoting fire safety. They also rescue people from water, attend road traffic collisions, rescue people from height and respond to major emergencies such as floods, chemical leaks, train derailments, collapsed buildings and terrorist attacks. Our crews work closely with partner agencies including:- Police, Health Services and Local Authorities, to keep our communities safe and the new recruits can expect an exciting and varied career full of challenges and rewards. This is an excellent time to be joining Merseyside Fire and Rescue Service as we forge ahead with our commitment to build safer, stronger communities in Merseyside. We have a long and proud history and we look forward to our new recruits being part of our future."

Applicants must be 17½ years old at the time of application. There is no upper age limit or height restriction. GCSE English and Maths are required, at grade C or above.
As a firefighter, recruits can expect to work 42 hours per week (48 hours, over 8 days). Applicants must have a driving licence at the time of application and be residing in Merseyside by the time the recruit course begins.

For more information, and to apply online. Applications close at midnight, on 12 September 2017. Merseyside Fire and Rescue Service reserves the right to close the recruitment process early if a sufficient number of applications are received.

Local Hospital leads the way in trauma pain management
AINTREE Hospital is leading the way in managing pain relief of injured patients attending A&E by being one of the first Hospitals in the country to use Penthrox® (inhaled methoxyflurane). Also known as:- "'The Green Whistle,' Penthrox® is a patient controlled, inhaled medication, which provides rapid relief from acute pain. Aintree has been using Penthrox® to alleviate pain from musculoskeletal injuries, including broken and dislocated bones. Overcrowding in A&E is a well documented issue and Aintree is no exception. During busy times it was historically really difficult to administer pain relief for incoming patients and assess their injuries as quickly as we would like to. Now we are using Penthrox we can start patients off quickly with immediate pain relief, relieving their pain earlier than we ever could do before," explained Dr John Hollingsworth, Emergency Medicine Consultant, Aintree Hospital, Liverpool."

A major trauma centre in the North West of England, Aintree Hospital's A&E department receives around 280 trauma and injury related patients a day. In a Hospital as busy as Aintree, it is important that patients are seen, assessed and treated as quickly as possible, so waiting times don't become too long. Penthrox® is instrumental in helping to keep waiting times low as it can be used immediately in patients with injuries including dislocations and fractures. When asked about the reason for using Penthrox® and the results seen so far, Dr Hollingsworth explained:- "We saw a gap in the market for a drug like Penthrox that can be used quickly and easily in appropriate patients, to help manage their pain levels and also save valuable time in routine interventions like shoulder dislocations. In the past a dislocation could take over 3 hours to treat as it includes delivering intravenous morphine; waiting for the morphine to work; relocating the shoulder; X-rays and then post morphine monitoring. With Penthrox the patient can have pain relief administered, be treated and X-rayed and back out of the door in less than 30 minutes, saving the patient and Hospital time."

In addition to pain relief, some patients have also reported:- 'disassociation' when using Penthrox®, meaning they are able to disconnect the feeling of pain from their injury and are more relaxed when having their joint relocated or wound sutured. "This is a safe and very helpful state for the patient to be in, both for us as doctors and for patients, as the feeling of disassociation means patients are more relaxed and in turn the procedure usually goes more smoothly. Typically you can only achieve this feeling when using much stronger drugs that are not appropriate for everyday use in A&E." concluded Dr Hollingsworth.

* Penthrox® is licensed for emergency relief of moderate to severe pain in conscious adult patients with pain associated with an injury and trauma.
---
Birmingham Hospital Trust heading North to recruit nurses
A Birmingham Hospital Trust is looking North to Liverpool, in a bid to recruit some of the best nurses in the country, at a Royal College of Nursing jobs fair. Sandwell and West Birmingham Hospitals NHS Trust will meet with potential candidates from across the country and hope to give out job offers at the event on 5 September 2017. The organisation, which runs City, Sandwell and Rowley Regis Hospitals, as well as Leasowes Intermediate Care Centre, is looking to recruit qualified nurses, to join the staff already caring for patients across their sites. Paul Hooton, deputy chief nurse said:- "We know that Birmingham and Sandwell is a great place to live and work. By going to Liverpool this year, we hope to attract more talent to come to this wonderful place and help us improve our patient experience even more. This is an amazing opportunity for nurses who are looking for a job in a forward thinking, progressive and caring Hospital trust. We have won awards for our staff engagement and cutting edge research, so we are looking to attract the best nurses currently working in the UK. We will be showcasing our different specialties across the organisation and candidates will have the opportunity to speak to nurses who already work at our Trust. In particular they can learn about the valuable training opportunities that we offer and the excellent staff benefits that are available. We will be interviewing nurses who attend on the day and those who are successful will be given a conditional job offer."

The Trust will be recruiting at Stand 6, Hall A, the ACC Exhibition Centre, in Kings Dock, Liverpool, between 9.30am and 4pm. For more information about this event, please click on here.
---
Emergency services have attended an incident at Crosby Beach
MERSEYSIDE Police have confirmed that emergency services attended an incident that took place on Crosby Beach, at around 8pm, on Wednesday, 30 August 217, after they received reports of a concern for the safety of a man. The response came after a member of the public reported seeing a man in his 40s swimming away from the shore close to the marine lake, Waterloo. The man was then reported to have climbed onto rocks. We are told that the Coastguard, MFRS, Ambulance, and Police all attended and the man was brought safely into shore and has been taken to Hospital for assessment.