Shoreline Food Bank Manager, Julie Woods, receives Lord Mayor's Citizens 4 Good Commendation for Shoreline Food Bank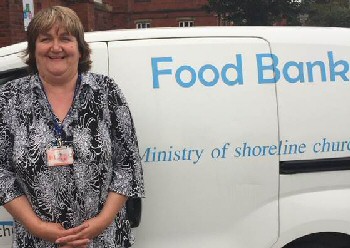 THE founded of Shoreline Food Bank been at a celebrating after receiving the Lord Mayor of Sefton's Citizens 4 Good Commendation at Bootle Town Hall. Julie Woods, the founder of the Shoreline Food Bank, in Southport, received her Citizens 4 Good certificate of recognition from the Lord Mayor of Sefton, Councillor Dave Robinson, for her good deeds and support she provides to the local community. She founded the Shoreline Food Bank, in Southport 6 years ago, and today is manned entirely by volunteers. It hands out up to 50 free food parcels every day to those who need them, including up to 5 families with young children, which means almost 13 thousand food parcels a year. These food parcels contain fresh savoury pies, fresh bread, fresh sweet pastries, fresh vegetables of the season, as well as tins of soup and beans, toiletries and biscuits. The food is donated from members of the public, bakeries, supermarkets, food stores and farms from the Southport area. "I am utterly delighted to receive this award. It's wonderful to get it for me, but it is really an award for ALL the volunteers, who turn up every weekday to pack and hand out fresh bakery, fresh vegetables and fruit to those who need food in Southport. Without them, we would not have such an active and busy Food Bank. I am also so grateful to normal people, local bakeries, local supermarkets, food stores and local farms, who so generously donate the food, which we give away every day. I am passionate about helping the most needy in our society and I have plans to open another food bank in Ainsdale hopefully later this year." said Julie.
---
Annual Running Day for Merseyside Heritage Transport Charity
THE Merseyside Transport Trust (MTT) will be holding its' running day event, on Sunday, 10 September 2017, to raise funds for the upkeep of its' fleet of over 50 vintage vehicles. This is a rare and unique opportunity to enjoy a ride on some of buses in our collection, some of which featured at The 'Light Night' event back in May. The event is also aimed to attract new members, volunteers, sponsorship and generate interest within the community. This event is in association with 'Heritage Open Days' (HODS).

The event will feature services between:- Liverpool, Pier Head, Mann Island, Aigburth Vale, Walton, Penny Lane amd the surrounding areas. Due to refurbishment works, our event will not be operating from Liverpool South Parkway Interchange as we have done in previous years. A souvenir programme and guide to the day will be available for just ₤5 and any donations you would like to make to the group would be most welcome.

Lee Wolfe, Events Officer for The MTT is leading the event & has been involved with the group for over 10 years. Lee said:- "This event is now in its' 12th year and has gone from strength to strength using a similar format. We have been consistently attracting large numbers which is encouraging for a small charity and always looking at ways to make this event a huge success. All funds raised at the event will go a long way in helping to keep our collection safe for the future. We rely totally on donations & the good nature of people."

Buses run generally every 15 minutes starting around 10:00am from Mann Island and will observe all normal bus stops along the routes. The event runs from approx.10:00 until approx.4pm. For more information visit their website, 'like' us on Facebook (Merseyside Transport Trust) or contact them via email.
---
Annual Running Day for Merseyside Heritage Transport Charity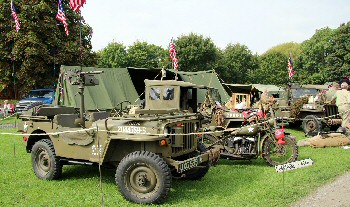 THE event is a firm favourite with American veterans who were stationed at the base during the war and after; and many of them make the transatlantic trip to Warrington every year to mark the occasion and get involved in celebrations. John Cotterill from RAF Burtonwood Heritage Centre said:- "We can't wait to welcome our local families over the weekend, it's the ideal way to pay tribute to those who served here. RAF Burtonwood is such a huge part of Warrington's history; thousands of American servicemen married local girls so it's a fantastic get together for so many people. It's also a great way for children and adults alike to get a real glimpse into wartime Warrington." As part of the event, Saturday night sees the Rock 'n' Jive Dance Night, starting from 7.30pm until midnight and featuring live music from the North West's multi talented band, The Retrobeats, and resident retro DJ GI. Jive will be spinning favourite tunes from the 40's, 50's and 60's. This lively and upbeat night is a sell out each year with free parking and a licensed bar, make sure you dress to impress. Tickets are priced at ₤11 per person or ₤14 per person which includes food. For those wanting to stay over and enjoy the full weekend there are special rates available at the Gulliver's Hotel, quote BW001 when booking. For more details visit:- GulliversFun.Co.UK call:- 01925 227157.

Laura Whitmore and Lisa Snowdon to clear out their wardrobes and Give up their clothes for Good
Photographs by Jason Bell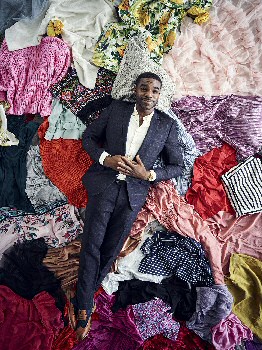 SOME of the UK's favourite faces in fashion, music and film have teamed up with retailer, TK Maxx to launch this year's:- 'Give Up Clothes for Good' campaign, encouraging people to donate clothes to raise vital funds for Cancer Research UK Kids and Teens to help beat children's cancers sooner. In the UK around 4,200 children and young people aged 0 to 24 are diagnosed with cancer each year.

TK Maxx is the biggest corporate supporter of research into children's cancers for Cancer Research UK and has raised more than ₤30 million for cancer research since 2004 through stock and cash donations.

As part of the UK's longest running charity clothing collection:- Laura Whitmore, Daphne Selfe, Ore Oduba, Jim Chapman and Lisa Snowdon were photographed by world famous photographer, Jason Bell, a long term supporter of the campaign who helped TK Maxx launch the:- 'Give Up Clothes for Good,' in 2004.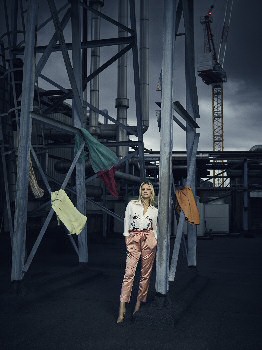 The clothes donated will be sold in Cancer Research UK shops with all the money raised going towards research into cancers affecting children and young people. Each bag could be worth up to ₤30* for Cancer Research UK Kids and Teens. Give Up Clothes for Good will help transform the items customers no longer need into funds for life saving research into children's cancers.

Louise Greenlees, President of TJX Europe said:- "We are so very proud to be supporting Cancer Research UK Kids and Teens' work to help beat children's cancers. With the help of the incredible generosity of our employees and customers, we have collected over 1 million bags of donated clothing and raised over ₤30 million for the charity. Just incredible. We hope everyone will dig deep into their wardrobes this September to support Cancer Research UK Kids and Teens and Childhood Cancer Awareness Month and donate all their unwanted items again this year."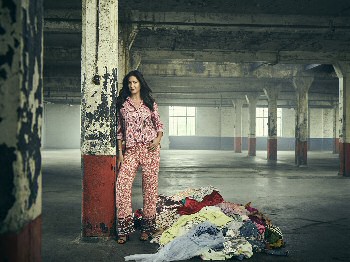 Frances Milner, Executive Director of Philanthropy and Partnerships at Cancer Research UK added:- "Thanks to campaigns like Give Up Clothes for Good, we're able to carry out more research to help find new, better and kinder treatments for children and young people with cancer. Survival for children's cancers has more than doubled in the UK in the last 40 years and Cancer Research UK's work has been at the heart of this progress. We'd love to see as many people as possible getting involved and donating a bag of clothes in their local TK Maxx store, which will help us raise money to beat children's cancers sooner."

'Give Up Clothes for Good' launches in store from September 2017 to support Childhood Cancer Awareness month. Look out for the special clothing bins in store where customers can drop their bags all year round. The campaign also provides an environmental benefit through the re-use and recycling of goods. In 2017, it was estimated that there are over 300,000 tonnes of clothing in household residual waste. 'The Give Up Clothes for Good' campaign has resulted in the collection of over 1.1 million bags of clothing and household goods. This amounts to over 5,600 tonnes of unwanted items that have a 2nd life and been diverted from landfill.
For more information visit:- TKMaxx.com.