Shiver me timbers… Mersey Ferries launches brand new Pirate Themed Cruises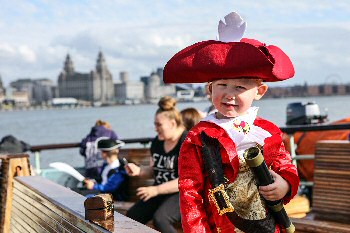 TREASURE hunting pirates will descend onto the River Mersey in September as part of a brand new swashbuckling family cruise organised by Mersey Ferries. To celebrate this year's Pirate Festival, on the Dock, 4 themed cruises will run across Saturday, 16 September 2017, all in the company of 2 rival Pirate Crews in the pursuit of hidden treasure.
Pirate Crews will welcome you aboard the 50 minute voyage which will feature face painting and hearty games for all the family as our Pirates make their way around the ship sharing tales of their journey at sea and teaching youngsters how to talk like a pirate, as well as look like 1.
2 story telling captains from each Crew will go head to head to decide who really does rule the 7 seas.
Families and pirate passenger stowaways will be asked to choose 1 of 2 Pirate Crews to join, before a thrilling battle takes place before hidden treasure can be uncovered.
Everyone will need their best singing voices at the ready and a fine sense of humour to discover the bounty.

Gary Evans from Mersey Ferries, said:- "We're really excited about the launch of our brand new Pirate Themed Cruises this year. They offer families the perfect opportunity to take to the seas during what promises to be a great weekend of family fun on Liverpool's waterfront, complementing the Pirate Festival on the Dock 2017. The 2 pirate crews are absolutely fantastic and they really go all out to create a memorable experience for all the family. There will also be plenty of fun and games on board the ferry so we really hope the cruises add an extra element of excitement for lots of families over that September weekend."

All 4 cruises will set sail on Saturday, 16 September, 2017, departing from Pier Head, Liverpool, at:- 12.30pm, 1.30pm, 2.30pm and 3.30pm.
For more information or to book tickets, call the Mersey Ferries ticket office on:- 0151 330 1003, visit any of Mersey Ferries terminals or visit the Mersey Ferries website.
The Pirate Themed Cruises are part of Mersey Ferries' biggest ever events programme, which includes River Explorer Cruises, for families, as well as special cruises for adults with everything from Summer Evening Cruises to Who Dunnit thrills and Themed Music Cruises. To see the full programme, can be found online.

Liverpool author teams up with Children's University for latest book launch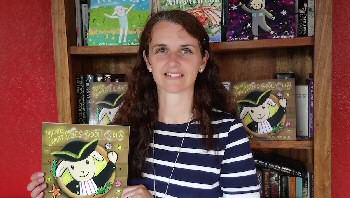 A Liverpool writer has teamed up with Sefton Children's University to help launch her latest book and inspire a passion for reading and writing among young people. Bestselling children's author and storyteller Jude Lennon will officially launch her new picture book Pirate Lamby and his Woolly Crew at Write Blend bookshop, in Waterloo, on 19 September 2017, at 4pm. In partnership with the Children's University, the event has been Validated as a Learning Destination giving youngsters the opportunity to participate in learning activities outside of School. The former Primary School teacher turned business owner will give a special reading of the book, which follows the adventures of Pirate Lamby, and will be encouraging children to write a book review to earn passport credits as part of their learning journey with the Children's University. The book launch also coincides with:- 'Talk Like A Pirate Day' so youngsters are encouraged to dress up in their favourite pirate costumes. Pirate Lamby is the 3rd book in 'The Lamby' series to be published by Miss Lennon and follows Astronaut Lamby and Floga with Flossie, which was released earlier this year and reached number 2 in the Amazon Bestseller charts just 2 days after being released.

Prior to the official launch Miss Lennon, owner of 'Little Lamb Tales,' is busy touring venues across the City introducing children to her books. She said:- "Pirate Lamby is already proving a hit with youngsters and I can't wait for the official launch in September. It's fantastic to have once again teamed up with Sefton Children's University for the book launch and I'm looking forward to working with children on their book reviews so they can earn some extra passport credits. A big part of the national curriculum focuses on pupils understanding and comprehension and writing a book review is a great way for youngsters to stop and think about the book they have read, the key messages, what they liked or didn't like about it and whether or not they would recommend it to friends. It's such a fun way to learn and really inspires a passion for reading and writing."

Laura Grigsby, Sefton Children's University manager, praised Miss Lennon's work and welcomed the event as a further learning opportunity for youngsters. She said:- "It is great to have Jude Lennon and her book launch events as a Learning Destination for Sefton Children's University. She has been a great ambassador for CU over the years including being a guest speaker at our Graduation Ceremonies. Don't forget to complete a book review to get your Passport to Learning stamped if you attend the book launch. Enjoy reading Pirate Lamby too!"

Prior to the launch at Write Blend, Miss Lennon will be giving an exclusive reading of 'Pirate Lamby' and his Woolly Crew to pupils, at Norman Pannell Primary School, after they won a competition. Then, on 27 September 2017, Miss Lennon will do an exclusive reading on the Wirral, at Concept Corner, which recently opened in Wallasey.