MANCHESTER HOUSE CARE HOME INCREASES CAPACity THANKS TO FUNDING FROM NATWEST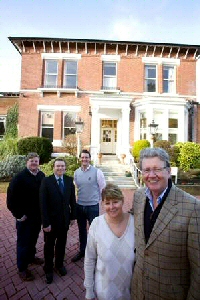 A family run Southport care home is undergoing a major refurbishment which will increase the number of places available. Manchester House Care Home is set to increase the number of registered places from 55 to 64 as part of the project which has been supported by NatWest. Located on Albert Road, the site is situated opposite Hesketh Park and is in easy reach of Lord Street and the promenade.

Manchester House is a registered care home with nursing options available to residents. The improvements will see the home updated with new windows, garden improvements and a complete redecoration which includes upgrade of fixtures and fittings. It is hoped the works will give Manchester House a more homely feel with smaller units.

Manchester House is part of the Dovehaven Care Home group which operates 12 facilities in the north west region. The business purchased and refurbished the home thanks to a loan from NatWest.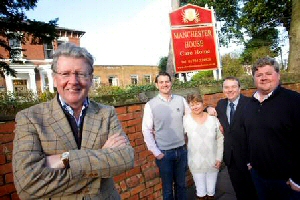 Family business Dovehaven was started 30 years ago. It is run by director Mark Gilbert who is assisted by his wife Wendi and two sons Luke and Miles.

Mark said the support he was given by Healthcare Relationship Manager David Hall was invaluable throughout the project. He said:- "Manchester House is a big nursing home that needed some updating. David is part of the NatWest Healthcare team and was able to advise us very well throughout. We are a family business which is committed to providing a high standard of care to the elderly. I started this company 30 years ago and my sons came on board nine and four years ago. I think to have young people in this business looking after older people and gaining the understanding of how a business like this operates is unusual, and I think it is one of the reason's NatWest has supported us on the refurbishment."

The improvements are expected to be completed by the end of the year. David said:- "We were very pleased to support the Gilbert family on this development and wish them every success with their continued business development."

Liverpool City Region wins EU funding challenge
THE High Court has ruled that a 65% cut in Liverpool City Region's European funding is unlawful. Lawyers for Liverpool City Region and Sheffield City Region brought a joint action arguing the reduction was disproportional compared to other areas. It is the first time a successful challenge has been made against EU funding allocations.

Documents provided to the High Court showed that, according to the Government's own estimates, the European Commission calculated Merseyside's share of EU funding for 2014-2020 to be around €350 million. However it chose to allocate only €202 million, with the balance being allocated to other, mainly richer, areas of the UK.

The Judge in the case has quashed the funding decision because the Government breached its legal duty to have due regard to the need to, amongst other things, eliminate discrimination and advance equality of opportunity. He has ordered the Government to reconsider its decision.

Mayor of Liverpool and Chair of Liverpool City Region Cabinet, Joe Anderson, said:- "This is excellent news for Liverpool City Region. The court has found that the Government has had complete disregard for its legal duty when making its decision. It is well documented that Liverpool is one of the most deprived areas in the country and as part of its process the Government should have fully assessed this to make sure there was no unfair discrimination when making its decision. The evidence presented to court shows that, based on the Government's own figures, ministers decided to allocate €150 million less to Liverpool City Region and almost €90 million less to South Yorkshire than they themselves had estimated our share of the UK pot to be. There is no doubt in my mind that they were guilty of cutting our funding unfairly. In my view this is sheer arrogance and I am pleased our case has been supported in a court of law. European funding is meant to tackle economic inequality, yet as the poorest area in the north west we were awarded far less funding per head than the rest of the region including wealthier areas such as Cheshire. The bottom line is that the Government took €275 million of funding allocated to English regions such as Liverpool and gave it instead to Scotland and Northern Ireland. They had claimed this was to protect them from being disproportionately affected by funding changes, yet in percentage terms we have lost twice as much as they stood to lose. I have described it previously as Robin Hood in reverse - taking from the poor to give to the rich."

Mayor Anderson added:- "I would like to thank colleagues in Liverpool City Region, Sheffield City Region and the European Parliament for their support in seeking to overturn this injustice."

Judicial review proceedings on behalf of the Sheffield City Region and Liverpool City Region were issued on September 26 and the formal case was submitted to the High Court on October 15.

The case was considered by a High Court Judge sitting in Leeds last week and the ruling was published today.