Average earners would need to take home up to £34k more a year, just to keep up soaring house prices
PEOPLE on average wages in parts of the North West would need to more than double their annual salary just to keep up with out of control house prices, new research by Shelter shows.

To investigate how out of sync house prices have become, the charity looked at wage and house price inflation since 1997 in every area of the region. This was then used to calculate what average annual earnings would be if they had risen at the same rate as house prices.

The results are staggering. In Manchester, the average annual salary would need to increase by almost £34,000 to be in line with the rise in house prices.

In Bury people on average wages would need an extra £19,000 each year to keep up with house price inflation, and in Bolton almost £16,000 extra would be needed.

Averages earners in Burnley would need the smallest pay rise, but here over £10,000 would still need to be added onto the average salary to put it in line with the rise in house prices.

The impact of the housing shortage has been widespread, with the latest Census showing a 6% drop in the proportion of home owners in the North West.

Meanwhile across the country the gap between wages and house prices continues to grow. In the late 90's the average house cost 5 times the average salary, but by 2012 it had jumped to a massive 10 times. This leaves thousands of people priced out of the property market and with no choice but to live in unstable private rented homes, or remain in their childhood bedroom well into adulthood.

The charity is warning that if house prices are left to rise further this will not only price out future generations hoping for a stable home, it will also makes things even harder for the thousands of families already struggling to keep up with their high housing costs each month.

Shelter is calling on the government to address the serious shortage of affordable homes as a matter of urgency, and give young people and families who work hard and save money each month the chance of a stable home.

Case study: Angelique (24) and her partner John (29) are currently renting. Angelique works as an engineer and John an IT manager but, despite taking home a decent wage each month, the high cost of renting combined with expensive property prices means that they don't think they will ever be able to afford a home of their own.

Angelique said:- "After rent, food and bills there's very little left each month, which makes saving enough for a deposit impossible. I always thought that if I worked hard and had a good job I'd be able to get a foot on the property ladder, but that's just not the case these days. It feels like the only way we'd ever be able to afford our own place is if we won the lottery!"

Campbell Robb, Shelter's Chief Executive, said:- "When you'd need to more than double your salary just to keep up with rising house prices, it is no surprise that the dream of a home of their own is slipping further out of reach for a generation. Politicians need to start meeting people halfway by committing to bold solutions that will get more affordable homes built. Otherwise future generations will find themselves priced out of a stable home, however hard they work or save. The reality is that successive governments have failed to build the affordable homes that this country needs, and as a result our housing shortage has reached crisis point. Despite the fanfare surrounding Help to Buy, pumping money into mortgage guarantee schemes is not the solution. This further inflates prices by increasing demand for an already limited number of homes, and will only make things worse for the next generation of first time buyers. The only solution is to build more affordable homes."
Brit Awards record labels face the music on unpaid interns
MAJOR record labels involved in this year's Brit Awards are amongst the latest targets of HM Revenue and Customs' (HMRC) continued crackdown on unpaid internships. In the run up to one of the music industry's biggest nights HMRC is writing to record labels and event companies warning them about the consequences for non-payment of the National Minimum Wage for any unpaid interns they take on. Michelle Wyer, HMRC's Assistant Director, National Minimum Wage, said:- "Non-payment of the National Minimum Wage is not an option, it's the law, and we're letting the music industry know that we've got them in our sights. If they are not playing by the rules, now is the time to put things in order. Last year we fined over around 800 employers, so our message is clear - if you are not paying your interns, but should be, come forward now and put things right to avoid a penalty." Employment Relations Minister Jenny Willott said:- "The music industry is often seen as a glamorous industry to work in, particularly for young people. However, that is no excuse for interns not to be paid at least the minimum wage if they are employed as a worker. We need to make sure that interns who want a career in music are getting a fair deal and are not being exploited." Letters to 35 record and events companies have been sent to set out the rules with follow up compliance visits due to begin later in the year to check the rules are being followed. Anyone concerned that they are being paid less than the National Minimum Wage should contact the free Pay and Work Rights Helpline on:- 0800 917 2368.

NatWest launch first fun app to teach children good savings habits
PRODUCED and designed by the makers of Wallace and Gromit; Aardman Animations; the app features NatWest's new animated savings characters, Pigby and Friends. The characters were introduced at the end of last year during the launch of NatWest's First Saver account, which aims to inspire children to save money.

The free-to-download app aims to help children learn about saving money through a fun game that features the user as a boy or girl pig character running a stall in an animated fairground. Pigby's friends hold other stalls so players can check how much his friends have saved and what they're saving for to inspire and spur them along.

The user is guided by Pigby through a fictional journey where he or she starts by selling ice cream at the fair to earn money and then faces opportunities to spend or save, with saving bonuses being offered at various points. In every 5 minutes of gameplay the child is taken to the Pigby Bank to deposit some of their hard earned pocket money. They are also able to set their own saving target for new or upgraded stalls and upon reaching their goals they unlock new items and levels to allow them to progress further.

Based on the insight that 68% of UK parents are worried about the long-term financial security of their children, the Pigby's Fair app has been created to help parents educate their kids on how to manage their finances from a young age, so that they are better prepared for later life.

Research conducted by NatWest also found that 20% of children aged 5 to 10 would like to save but can't stop themselves from spending and 58% say they are more likely to spend money received at Christmas rather than save it.

Heather Wright, Executive Producer at Aardman Animations says:- "Our core audience is children, so creating the Pigby's Fair app was the perfect project for us. We wanted to use a concept that children would enjoy and we felt a game based in a fairground was an ideal platform to educate young ones."

David Crawford, Head of Savings at NatWest, says:- "We appreciate that the idea of discussing money management may not be an interesting topic for children and that can make it difficult for parents to teach. We want to help parents give their children the best possible opportunities in a time where preparing for our financial future is considered so crucial. Aardman Animations were the obvious partner to create our innovative app and the Pigby and Friends characters. Aardman bring the ability to capture childrens' imaginations and we at RBS bring the savings expertise to help parents teach the next generation to save."

The app, Pigby's Fair, is available now and is free to download for everyone (not just customers) on both the Apple app store and Google Play.

For more information on Pigby's Fair app please visit:- natwest.com/firstsaver or head to your nearest NatWest branch.
PUBLIC VOTE TO CROWN BEST BUS DRIVER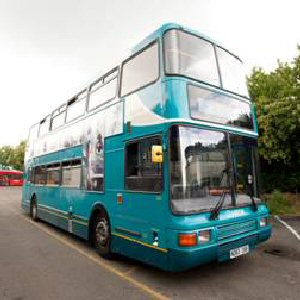 A Southport bus driver has been named as a contender for the title of Arriva customers' favourite 'Knight of the Road', following a national appeal for nominations. Gordon Maguire, who drives in and around Southport on the 43 and 46 services and to Wigan on the 375 and 385 routes, was shortlisted for the award after Arriva received more than 100 suggestions from passengers. There will now be a public vote involving five other drivers to decide on the winner in the North West and Wales region, who will then be put forward for the national title. Gordon said:- "I'm made up and it feels really good to be shortlisted for this award. I really enjoy meeting people and am nice to them, so it's great to get some recognition for that."

Debra Heaton, regional marketing manager for Arriva North West and Wales, said:- "Gordon thoroughly deserves to be nominated for this award because of his consistently positive attitude towards passengers, providing excellent customer service. Bus drivers are part of the local community so it is only right that the public will decide who will be crowned Arriva's Knight of the Road."

The Knight of the Road award is designed to recognise drivers who make a difference to customers when they travel on Arriva Buses, and is part of the Arriva UK Bus national recognition programme. It is the only award which sees Arriva customers decide on who deserves to win. The deadline for voting is Sunday, 23 February 2014, and the winner will be announced at the Arriva 'Made A Difference' awards ceremony in Birmingham on; 13 March, 2014. For more information about the award, and to vote for your Knight of the Road, please visit:- arrivabus.co.uk/KOTR.