Find out more about the Port Health Authority

A special event is being staged to raise awareness of the work of the Mersey Port Health Authority. Mersey Port Health Authority has jurisdiction for the Port of Liverpool, John Lennon International Airport, extensive areas of the River Mersey estuary and Northwest coastline. It provides safeguards for human and animal health against the introduction of disease from outside the United Kingdom and European Union.

The Authority is holding a public awareness day on Thursday, 27 February 2014, at the Atlantic Thistle Hotel, Liverpool, 10am to 3pm, which will enable members of the public, the shipping community and local businesses, to obtain a greater insight into the nature of the work and see how it is developing to meet new challenges.

There will be an extensive exhibition area where there will be information about important issues such as imported foods, shellfish, pollution, international health and international catering waste. Among the agencies who will be represented are Public Health England, IFCA (Inshore Fisheries Conservation Authority), Seafarers Centre, PASS (Public Analyst Scientific Services) and HMRC (HM Revenue and Customs).

Presentations will be given by Mersey Port Health Authority, the Foods Standards Agency, Public Health England and Peel Ports. And for those brave enough to risk it, they can sample the menu at Rentokil's pop-up Pestaurant which features such delights as pigeon burgers, chocolate mealworms and other bugs. Tips on dealing with pest problems will also be handed out.

Mercola Douglas, Chief Port Health officer, said;- "This day will give visitors, whether they are involved in the shipping industry, looking towards a career in this area or just want to know more about what we do, the chance to find out how the Port Health Authority operates and the scope of our work. There will also be a chance to find out more about such developments as the expansion of the port and issues relating to food safety."

To find out more or to register your interest in attending via email.
New Year traffic growth continues for LJLA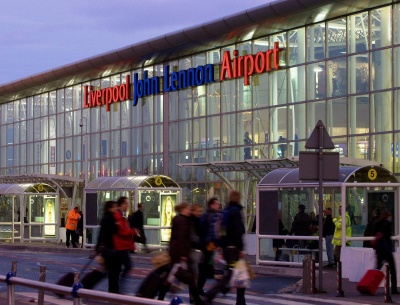 THE latest passenger traffic figures for Liverpool John Lennon Airport (LJLA) show that the encouraging passenger throughput seen over the New Year period continued throughout the rest of January, with total passenger numbers for the month up 5% compared to January 2013.

Ryanair, easyJet and in particular Flybe on their popular Isle of Man service, all carried more passengers for the month. This continues on from a good end to the year for the Airport, with December figures showing a 2% increase in year on year passengers.

The gloomy, wet and windy start to 2014 appears to be a factor in the increased travel patterns of the region's passengers from LJLA, with warmer destinations to the Mediterranean and the Canary Islands proving to be the most popular.

Robin Tudor, Head of PR for Liverpool John Lennon Airport commented:- "It's no surprise that low cost airlines Ryanair and easyJet with flights at great prices have been carrying more passengers to destinations with much better weather than we have seen here in the UK for some time. With the school half term rapidly approaching, we are expecting this trend to continue in the coming weeks too and our range of ski destinations are also perfect for any budding Winter Olympians."

Hundreds to be recompensed after Government 'bedroom tax' error
HUNDREDS of Liverpool people wrongly hit by the so-called 'bedroom tax', after the discovery of a legal loophole, are to receive rebates, following action taken by the City Council.

More than 700 local people are set to receive awards typically of £560 or more per claimant within the next 2 weeks, after a month of work, which has seen the Council's benefits service and the City's major housing associations examining their databases to identify exempt households.

Officers have looked at tenancy and housing benefit records and Council Tax liability details; as well as responding to tenants who have got in touch because they believe they are exempt.

With the initial 700 affected claimants now to receive rebates, totalling hundreds of thousands of pounds, partners are reviewing a further 1,000 cases which have been identified as potentially exempt.

It follows a pledge last month from the Mayor of Liverpool, Joe Anderson; when the error was announced by the Department for Work and Pensions; to identify affected claimants in the City and ensure they are recompensed. The Mayor also wrote to landlords asking them to halt any potential legal action over bedroom tax while enquiries were being made.

Mayor Anderson said:- "I promised to do everything in my power to make sure that any Liverpool resident who has been wrongly affected by this Government error gets back every penny they are entitled to. I have been delighted with the willingness of our social landlords to work with us to identify exempt tenants and to put any bedroom tax legal action on hold, while these assessments are on-going. At a time when so many local people are struggling, it's more important than ever that we work together to support them. Thanks to these efforts, more than 700 Liverpool tenants will be better off. And there may be more to come; we'll be working hard in the coming weeks to review 1,000 more cases. The Government's welfare reforms are having a devastating impact on the poorest and most vulnerable people in our society. This is just one aspect of the work we continue to do to assist all those who continue to suffer. We have already made over 6,000 Discretionary Housing Payments awards, totalling £1.8 million, to help people who are in arrears with their rent, and we have invested a further £350,000 in the fund for this year. We have also set up the Tackling Poverty Action Group, supporting food banks through the Mayor's Hope Fund and have given £1 million to credit unions to prevent people turning to loan sharks."

The Government's under-occupation penalty sees benefit reductions of up to 25% for working age social housing tenants who are deemed to have more bedrooms than they need. It was introduced by the Government last year, and affects around 11,000 people in Liverpool.

The Department of Work and Pensions announced in January that an error when drafting the legislation means that tenants are exempt from the penalty if:-

► They have been continuously entitled to housing benefit since 1 January 1996 (breaks of four weeks or less are ignored) and were under 45 years old in 1996, and:.

► They have occupied the same dwelling since that date (except for any period where a fire, flood, explosion or natural catastrophe made the property uninhabitable).

►Any tenant who thinks the bedroom tax exemption applies to them should talk to their landlord and let the Benefits Service know by letter, by email or by calling the City Council on:- 0151 233 3009.

The City Council is urging any residents threatened with eviction as a result of the under-occupation penalty to get in contact to see if they can make a claim for a Discretionary Housing Payment, to help them cover rent arrears. Tenants who want to make a claim should call:- 0151 233 3009 or can download a form to apply at:- liverpool.gov.uk.
Take the plunge and help change lives
THE UK's biggest fundraising swimming event is here! The Sainsbury's Sport Relief Swimathon will be taking place from Friday, 21 March 2014 to Sunday, 23 March 2014, and we'd love you to get your cossie or trunks on and join thousands of other swimmers at one of over 600 pools nationwide.

We've got 1.5, 2.5 or 5km distances to choose from. You can enter on your own or as a team. And, there's even a SimplySwim where you can set your own distance, so any budding Ellies you know can take part, too.

Whatever lengths you go to, the money you raise will help people living incredibly tough lives both here in the UK and around the world.

So go on, make Ellie and us proud by taking the plunge and entering the Sainsbury's Sport Relief Swimathon today.