FREE day time Hidden Histories Tour:- "The Seven Original Streets"
2014 sees the anniversary of the 1st World War and to commemorate the occasion the team at Shiverpool have launched a new tour called the:- 'HIDDEN HISTORIES'; of the 7 Original Streets' tour. Building on the incredible success of our night time ghost and history walks and our pilot FREE tours of Hope Street, this new tour will allow participants to discover the secrets and hidden streets of the most historical district of our fair City.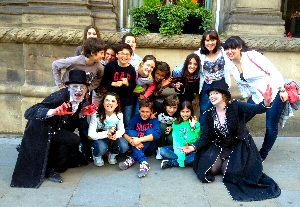 We believe that everyone should enjoy Liverpool's history and stories regardless of the size of their wallet. The Hidden histories tours are great for families as well and for people who wouldn't normally join Shiverpool's night time tours.
On this tour they can bring their families and set off in style and enjoy what Shiverpool has to offer in the day. You're hardly ever a tourist in your own City and this is a great way to start.

The journey begins at the Queen Victoria Monument, in the heart of Liverpool's Commercial District where you will be met by your very own Victorian styled guide. From there you will be transported through the City's archives, uncovering the location of America's secret Civil War headquarters, hear the tale of the murderous black widows and find out just where that third Liver Bird is hiding.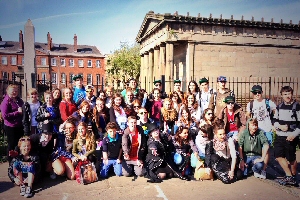 'HIDDEN HISTORIES' tours are family friendly, theatrical and lots of fun and will take place every Saturday and Sunday at 3pm. En route you will see the City's wonderful architecture, stunning views, breathtaking locations whilst your guide regales you with carefully crafted tales from the pages and pavements of Liverpool's incredible past.

Shiverpool are one of the best ghost and history tour operators in the UK, already offer an infamously spooky selection of the best guided tours, telling stories with integrity and ingenuity about the places you never even knew existed and their hidden histories.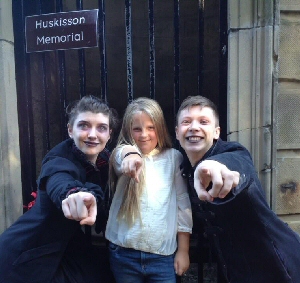 Lucy Carew Shiverpool Artistic Director says:- "Our street theatre style of delivery offers something different to both the visitor market and the people of our City. Hidden Histories also enhances and expands our tour offering, to remember the City's past can be a thrilling experience and we'll hope to open up the City's treasure chest to all keen history hunters who wish to explore. Free tours are great for everyone; a unique opportunity for locals and visitor's to Liverpool. Our Pilot scheme on Hope Street has had an outstanding response. With those who may not want to venture into off into the night and those families with tight budgets these tours offer our famous theatrical experience to everyone."

Tickets are FREE; but must be booked either over the telephone or online (subject to availability).
The tours are bound to be popular with both locals and visitors so book early to guarantee your place and don't forget your camera!
...TOUR DETAILS...
► Event:- Hidden Histories

► Every Saturday and Sunday at:- 3pm;

► Tours last approximately 1hr - 30mins and end in the Castle Street area;

► Tickets:- FREE;

► Call:- 0151 709 2030 to confirm places;

► You can also visit the website to book online!!!

Are you going to the Liverpool Charity Screening of 'The Book Thief'?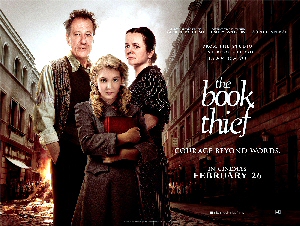 ON Tuesday 25 February 2014, at 6pm, Clapperboard UK are pleased to announce their 1st event of 2014 with a collaboration with Twentieth Century Fox and Picturehouse@FACT... The event will be a Liverpool charity screening of The Book Thief.

The film is directed by award-winning director, Brian Percival (About a Girl, Much Ado About Nothing, North and South, Downton Abbey).
The Book Thief is based on the beloved International best-selling novel, written by Markus Zusak and tells the story of Liesel (Sophie Nélisse), an extraordinary and courageous young girl sent to live with a foster family in World War II Germany. She learns to read with encouragement from her new family (Geoffrey Rush and Emily Watson) and Max (Ben Schnetzer), a Jewish refugee who they are hiding under the stairs. For Liesel and Max, the power of words and imagination become the only escape from the tumultuous events happening around them.
The Book Thief is a life-affirming story of survival and of the resilience of the human spirit.

Liverpool Director Brian Percival said:- "Clapperboard is a charity close to my heart and it gives me great pleasure that we're holding a charity screening in my home City where proceeds raised from the screening will go directly to Clapperboard's youth project."

Clapperboard UK Director Maureen Sinclair said:- "I'm delighted that we are screening Brian's new feature film, The Book Thief in association with Twentieth Century Fox and Picturehouse@FACT. I've known the Brian for many years and I'm very proud of his achievements."

A Question and Answer session will take place with Brian Percival (Director) immediately following the screening.

LISTING INFORMATION:- 'THE BOOK THIEF'

Date:- 25 February 2014

Location:- Picturehouse@FACT, 88 Wood Street, Liverpool, L1 4DQ

Performance time:- 6.00pm

Tickets:- £15, concessions £12 (Inc complimentary reception drink at Ma Egertons)

Box Office:- 0871 902 5737

Income raised from Clapperboard Presents…will go toward the Clapperboard Youth Project.
Community Spirit Making Comeback in North West England
NEW research from TSB reveals there is a desire to reignite community spirit with people saying it already feels stronger now than it has for the past 30 years.

In the North West, almost 64% of those surveyed said their community is important to them, and whilst 40% of consumers already feel involved, 27% would like to play a bigger part. However, 36% of consumers in the North West said not having enough time was the main barrier to getting involved in community activities.

Many in the 55%, see their community as the town or village in which they live. However, people also consider their community to be online via social networks 7%.

The 1940s are still seen as the glory days of a British community spirit which steadily declined towards the 90s. However, consumers believe community spirit is stronger now than it has been in the past 30 years. 42% of those surveyed in the North West said local celebrations such as summer fetes trigger them to get involved in their neighbourhoods.

Creating community figureheads:-

In the north west, the most recognised figures in the community are doctor 46%, postmen 38% and newsagents 31%. However just 8% of people think their bank manager is a prominent local figure. TSB wants to address this and has already started making changes which will make a difference:-

► TSB has introduced a named bank manager in each of its 631 branches who are ready to meet customers as soon as they go into their local branch.

► All branches are staffed by local people, who have an active interest in what's happening in the local community.

► TSB wants its bank mangers to be involved in their community which is why each and every member of staff is given a day to get involved in their local area.

► TSB is also actively hiring 150 people across the UK to bolster support in its branches and better serve the local communities in which it operates.

TSB's Managing Director of Branch and Business Banking, Peter Navin, says:- "The survey shows that consumers really care about their community, and so do we. At TSB we are keen to make faceless banks a thing of the past, which is why we've introduced a named bank manager in each branch, making sure they are recognisable and in the banking hall ready to help our customers. Our competitors are closing branches but we're bucking the trend and looking to expand to focus solely on serving local customers, fueling local economies and helping local communities thrive right across Britain."
City Councillor Demands Action On Sale Of Hippy Crack in City Nightclubs
LIVERPOOL'S youngest City Councillor Jake Morrison, 21, has condemned the sale of Nitrous Oxide in City nightclubs. Cllr Jake Morrison said:- "Club goers who are under the influence on alcohol and are offered laughing gas may be unaware of the dangers of unregulated use of Nitrous Oxide. Laughing Gas is predominantly used for medicinal purposes, under the supervision of qualified healthcare professionals. It is well documented that mixing Nitrous Oxide with Alcohol can be especially dangerous. It has the potential to starve the brain of oxygen, which can be fatal, and is only one of many risks. I do not think it is appropriate for this substance to be available in nightclubs. People need to be aware of the decisions that they are making. And we have a responsibility to educate young people in schools about the risks and dangers of this type of activity. It is all about choice. People do not know 100% whether they are inhaling Nitrous Oxide, they are just sucking on a balloon that has been sold to them full of gas. A 17 year old died in 2013 after inhaling a substance that he thought was laughing gas. I understand that people may think that laughing gas is harmless. People assume it is just like inhaling helium and having a squeaky voice for a short amount of time. I am concerned for the health of people in our City, and we must do all we can to educate and prevent harm to health."