Are Future Cabs Set to Revolutionise Hackney Cab Driving in Liverpool?

FUTURE Cabs Limited, a new taxi business soon to be based in Old Swan, plans to improve the fortunes of Liverpool's hackney cab drivers. The firm, which is currently in the market to hire 300 drivers, has a simple, but effective premise; it will allow the City's black cabs to operate as normal, but also give them the means to compete with the private hire industry. By doing so, hackney drivers will be able to tap into a growing market that has been previously unavailable to them and the public will have the opportunity to access these fit for purpose cabs at the same rate as private hire vehicles. Plus, Future Cabs will accommodate 5 to 6 passengers, which will make them cheaper per person than any other private hire company in the City.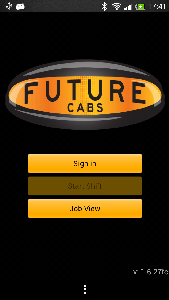 Technology is key to this new service. All Future Cab drivers are to be provided with a smartphone, equipped with a unique booking system that uses GPS tracking to show operators exactly where the drivers are in relation to bookings. The booking system then automatically picks the closest cab to the booking, so as well as an increase in workload and the ability to make some free calls on their device, drivers can expect to take planned, more efficient journeys that will optimize their fuel bill!

The Future Cab customer app will be free to download and give the public options of telephoning the booking office, or simply using their smartphone's GPS to securely call a hackney straight to their current location at a discounted rate.
Gerard Murphy, Director of Future Cabs Limited said:- "Far fewer people wave down taxis on the street these days. Customers ring cabs from the comfort of their homes and there are currently over 1,400 hackney drivers in Liverpool that aren't getting a share of that business. Future Cabs will bring hackney drivers together, providing them with support on the job and access to the latest technologies, as well as a way to generate lots of additional business from private hire customers. We are currently recruiting our first 300 drivers but the system could potentially be rolled out to every independent hackney cabby in Liverpool."

Private hire journeys that use GPS location tracking are safer, cheaper and more energy efficient than hailing a cab. Thanks to Future Cabs, large, purpose built vehicles will soon be available throughout Liverpool on this basis. A safe, comfortable future is on the way! Drivers can register their interest online now at:- futurecabs.co.uk/signup.
So are you a taxi driver? Do you think this is a good idea? What ever you think, pleas let us know your views by emailing us to our newsroom via:- news24@southportreporter.com, today, and let your voice be heard!

Community helps shape future of Anfield
ANFIELD residents are having their say on a new vision to improve the quality of housing and create new opportunities within the 'COBRA' neighbourhood.

The City Council is undertaking an independent Neighbourhood Renewal Assessment (NRA) for the area, which is bounded by Oakfield, Breck Road, Oakfield Road and Walton Breck Road in Anfield and contains around 570 properties.

The NRA is gathering evidence about physical and social conditions within the neighbourhood; which is a gateway to Anfield from the south of the City; and arrive at options on how to build a stronger, more sustainable future for the area.

The City Council is keen that the community is fully involved in the NRA, and local people were given the chance to share their ideas at a community planning event at the Anfield Breckside Community Corner l (ABCC), Richmond Park.

The event was facilitated by the Council and its consultants Pennington Choices and Triangle Architects. Representatives from local social housing providers Riverside Housing and Your Housing Group were also in attendance.

The Council is now pulling together all comments received at the event; from quality of housing and shops to environmental and public realm improvements; to be fed into the draft NRA report. The report will be completed in March, before being shared will the local residents at the COBRA Stakeholders meeting in the Spring.

Councillor O'Byrne said:- "Anfield is changing fast, and we want to make sure no resident is left behind. That's why we are driving forward with this assessment, so we can explore what steps we can take to build a better future for the COBRA neighbourhood. The area really is unique. Each street has its own character and there is a strong, positive community spirit. Residents are extremely passionate about their neighbourhood and they are very keen to improve it. We want to work with them. I'm delighted that our community event was so well attended, because we want to make sure residents are at the heart of our plans and have the chance to have their say. All views are being taken on-board, and I'm looking forward us continuing to work with the community to draw up an action plan which delivers good quality housing, better shops and improved local job opportunities."

COBRA stands for 'Community of Old Barn Residents Association' whose members represent the local community. The COBRA neighbourhood adjoins the area of Anfield which is currently undergoing £260m regeneration programme, including new housing, business and retail, new public space, a proposed expansion of Liverpool FC's stadium and a range of new community facilities.

Liverpool City Council has already carried out internal and external surveys of a range of housing within the area, and this research will feed into the draft NRA report alongside social and economic information. Residents, businesses and landlords have also been sent survey forms to get their views.

Neighbourhood Renewal Assessments are the Government's recommended method of generating options for neighbourhood regeneration in areas suffering housing stress and multiple deprivation.

Liverpool City Council has commissioned independent consultants Penningtons Choices and Triangle Architects to produce the NRA.

Residents who wish to provide the City Council with comments about the future of the COBRA neighbourhood, to feed into the NRA report, can do so by email, by Friday, 21 February 2014.